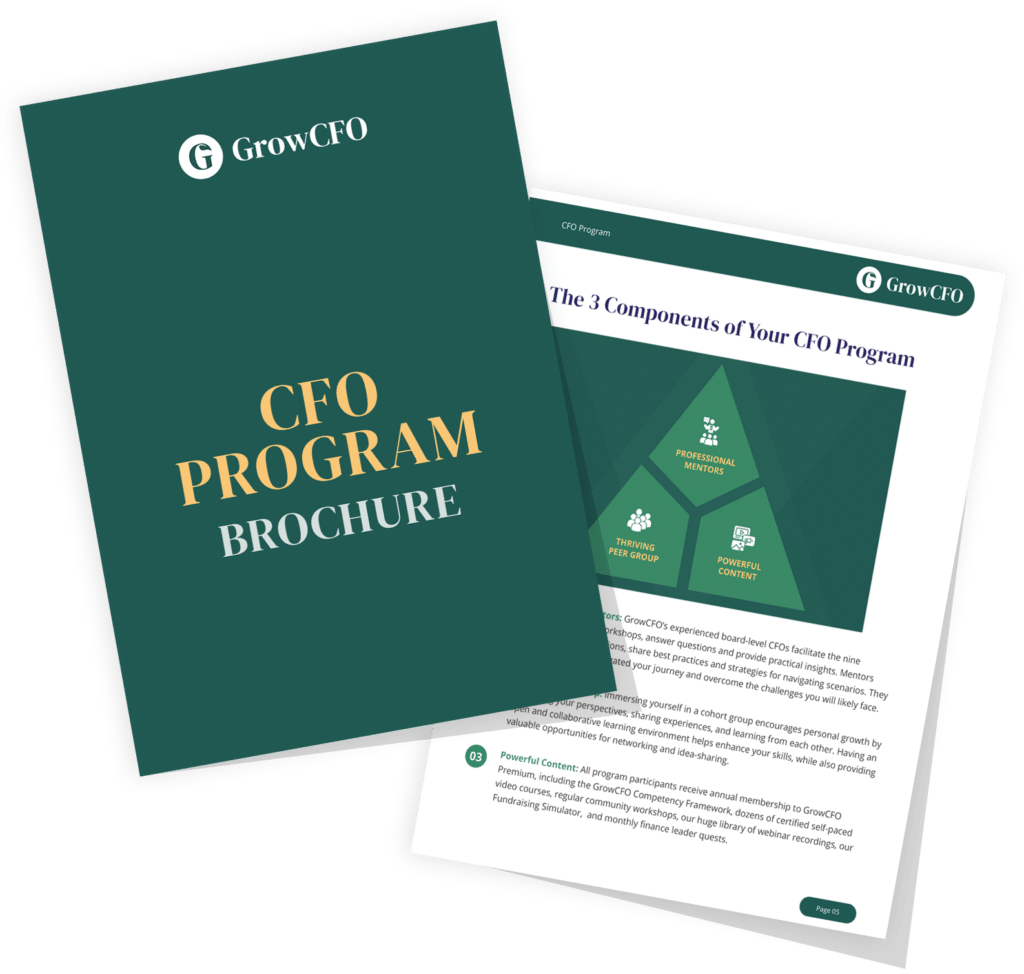 Download the CFO Program Course Brochure:
Our CFO Program is designed for passionate finance leaders who are keen to develop a well-respected finance function that provides vital support, influence and value creation across your business.
Alongside your peers, you will become the best version of yourself and act as a positive role model who challenges the status quo. You will learn how to develop a mindset for success, whilst living by your values and demonstrating a willingness to expand your perspectives.
To lead you to CFO success, we provide a tailored approach that emphasizes three key areas:

You will transform your team into an essential business function that creates value and transforms operations.

Strategic Business Partner
You will deliver data-driven strategic insights to challenge the Board, influence strategy and drive key decision-making.

You will develop into an externally-facing leader, a vital Board member and become the co-pilot to your CEO.
The next Cohorts start on:
4:00 PM BST / 11:00 AM ET / 5:00 PM CET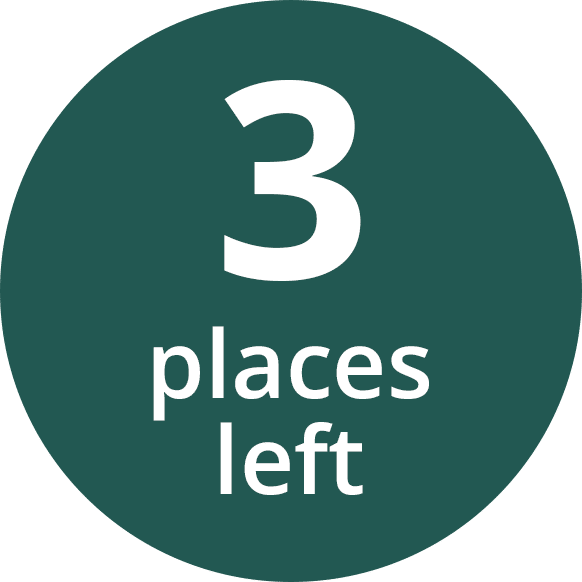 4:00 PM GMT / 12:00 PM ET / 6:00 PM CET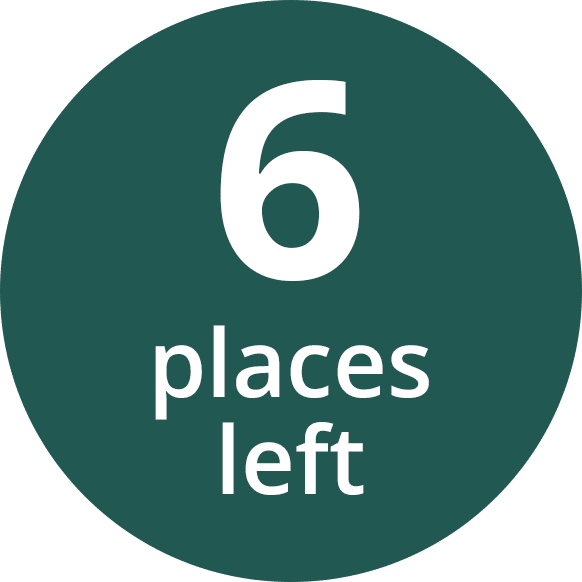 Who is the CFO Program for?
The Benefits of a Cohort Group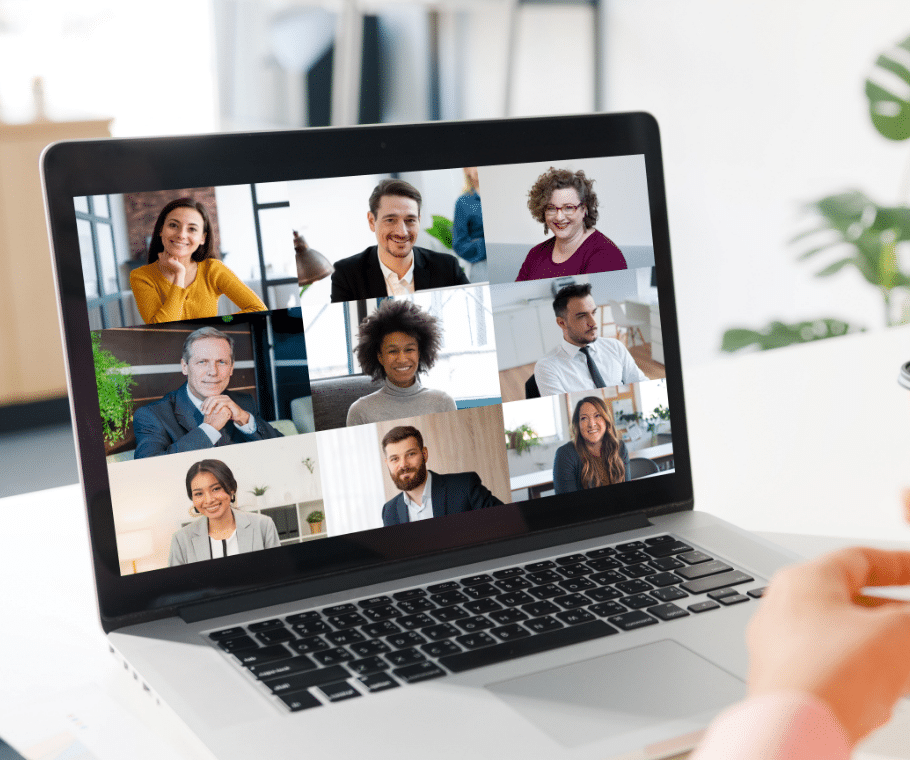 Peer Learning: Participating in a cohort group allows finance leaders to learn from and interact with their peers, who may have different backgrounds, experiences, and perspectives. This collaborative learning environment fosters a sense of community that enables participants to expand their knowledge and skills in a supportive and engaging setting.

Networking: The cohort group environment provides finance leaders with an opportunity to network and build relationships with other professionals who share similar career goals and aspirations. These connections can be valuable in terms of knowledge-sharing, job referrals, and future collaborations.

Enhanced Accountability: Being part of a cohort group also enhances accountability for finance leaders. The group provides a level of support and motivation to help participants stay on track with their development goals and commitments. Peer accountability can also be an effective way to ensure that participants are making progress towards their career objectives.
Meet the CFO Program Mentors
Each program cohort group is delivered by our experienced CFOs and professional mentors: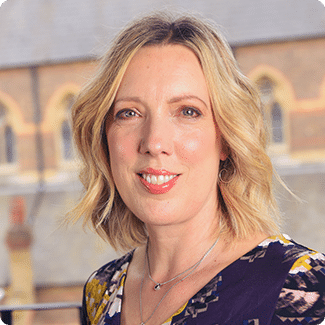 GrowCFO UK & Europe Lead Mentor | Experienced CFO | Executive Coach
GrowCFO APAC Lead Mentor | Experienced CFO | Executive Coach
Join one of our online preview events to learn more about this exciting program

Our nine modules will help transform you from a back office function leader into the co-pilot to your CEO.
Embed finance across the company
During this Module, participants will learn to build a financial culture that aligns your employees with the financial objectives of your company; implement policies, procedures and controls across the business; and capture the appropriate data to analyse performance drivers. This will help to transform your finance team from being regarded as a back office function to being seen as an essential business function.
Identify profit and cash initiatives
Within Module 2, participants will learn to build up strong relationships across the business; identify cost drivers and determine opportunities to create value. These will support a range of activities including embedding cost reduction initiatives, optimising cash flows and driving business transformation. This Module will help your finance team to change from being regarded as a results provider to being seen as a business value creator.
Oversee and drive business change
During this Module, participants will learn to oversee business operations outside of your finance function, drive efficiencies across your organisation and implement change management initiatives including finance transformations. This will support the alignment of financial and commercial strategies. This Module will help to transform you from being seen as an internal contributor to becoming an operational transformer.
Deliver data-driven strategic insights
Within Module 4, participants will understand how to create relevant insights from data, how to quantify the impact of different scenarios and how to write high quality board papers. This will allow you to communicate your analysis effectively, tell the financial story and determine the questions to be answered at Board level. This Module will help to transform you from a transactions processor into a forward-looking innovator.
Challenge your Board and influence strategy
During this Module, participants will learn how to challenge your Board during difficult conversations, deal with Board room dynamics and conflicts of interest, plus provide your unique financial and risk management perspective. You will also learn how to influence strategy by identifying significant business opportunities and determining funding options. This will help to transform you into a Strategic Business Partner.
Drive key decision-making
Within Module 6, participants will learn how to build trusted relationships across your business, provide the necessary information to help people make decisions and generate strong evidence to support your opinions. You will also learn strategies for chasing people to make decisions. This Module will help you to transform from somebody with a unique financial perspective into a truly valued Strategic Business Partner.
Represent your business externally
During this Module, participants will learn how to improve your gravitas, present your story effectively and generate confidence towards your business. This will help you with a range of external responsibilities including fundraising, investor relations, customer and supplier negotiations, dealing with authorities and becoming a leading voice in your marketplace. Participants will transform a department head into an external-facing leader.
Become a critical and influential voice
Within Module 8, participants will learn how to provide support to your colleagues, build strong relationships with each board member and impress your executives or NEDs during challenges situations. This will help to elevate your personal brand, add value during your Board interactions and consistently produce high quality output. This Module will support you towards becoming a vital board member.
Deliver the business plan
During this Module, participants will learn how to build a strong working relationship with your CEO, determine your complementary skill sets and work out the best way to support one another. You will also learn how to communicate effectively to your workforce and deliver the business plan across your organisation. This will help make you the first person that people will turn to for support and to become the co-pilot to your CEO.
Find out more about the CFO Program in one of our upcoming informational sessions.
The CFO Program offers the following activities during a 6-month period
1. Competency Framework: Rank yourself against the 45 CFO skills within The GrowCFO Competency Framework.
2. Online Program: Complete the nine CFO program online modules.
3. Competency Workshops: Attend live workshops led by GrowCFO's professional mentors to address your biggest skills gaps.
4. Competency Courses: Complete a selection of 45 online courses to address priority areas identified in your Competency Framework.
5. Cohort Group Workshops: Attend nine two-hour CFO program mentoring workshops delivered in a cohort of 6-8 peers.
6. Fundraising Simulator: Lead an entire virtual fundraising process as the CFO based on a real-life $12 million fundraise.
7. Virtual Boardroom: Play the role of the CFO in a live boardroom discussion chaired by a professional mentor to navigate challenging real-life case studies.
8. Professional Mentoring: Six months of one-to-one professional mentoring from an experienced CFO with at least ten years of board-level experience (this is optional and should be purchased separately).
9. Learning Plan: Document your quarterly progress against your GrowCFO learning plan for at least 12 months.
Graduating participants will receive a signed GrowCFO certificate to showcase within your CV and LinkedIn profile. This clearly demonstrates your commitment towards developing your skills and growing your network, making you a successful CFO.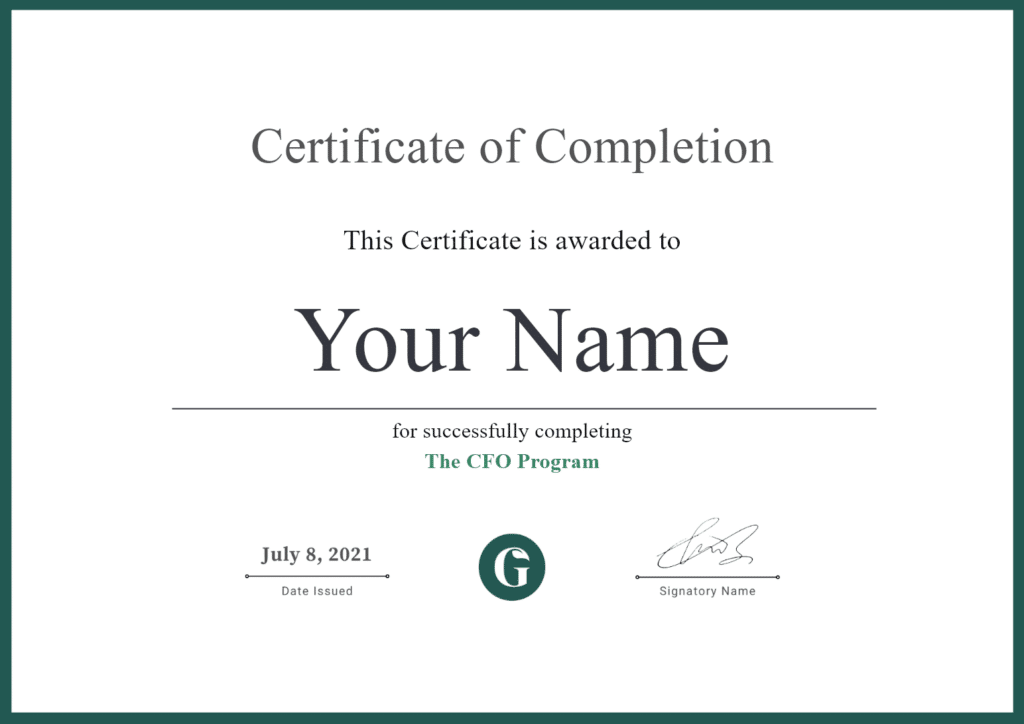 CFO Program Members Share Their Success Stories and Insights!
It has been a wonderful learning journey with a group of my peers. I enjoyed learning from the program lead as well as with my peers and gained many valuable insights into my own learning journey as a CFO.
I really enjoyed the CFO Programme and the programme leaders are great. Many thanks to the GrowCFO team for all of your fantastic help and support!
This is an amazing programme and I have hugely benefited from the quality discussions with the experienced finance leaders in my CFO Programme cohort group. The mentoring, coaching and teaching from the immensely experienced and knowledgeable professional mentor has made me much better-placed to succeed in my role. The ongoing access to excellent resources and exceptional peers also really helps. Thank you GrowCFO for making that difference!
The CFO Programme is an insightful and practical programme that facilities application throughout.
It has been an inspirational programme which gave me the chance to have time to reflect and think out of the box. It's been also important share our own professional experience for a technical and business perspective.
An insightful and thought provoking programme that will help you have a tangible impact in your organization as well as heighten awareness of the importance of relationships.
The course was a great opportunity to discuss and learn about the practical challenges of being a CFO from an experienced CFO and others in a similar position. The course covered a wide range of topics to help think through how to approach the day-to-day challenges.
I joined GrowCFO in December 2021. It's been the best thing I've actually done so far. I highly recommend the CFO Programme to anyone in my position. The amount of knowledge I've obtained from this course is unbelievable and has hugely benefited me. It has been a breath of fresh air to work through it with other people in similar roles. The course outlines all the areas that I need to be focused on to reach my goals and also the areas I wasn't aware that I need to focus on.
I loved that it combined theory with perspectives from peers – we could all see other perspectives on similar problems. It created more awareness for me and allowed me to reflect on how I behave.
The CFO Programme provided a great framework of content and focused discussion, whilst offering a safe space to enable open conversation and encouraging people to share their biggest challenges. This is a good way of carving out time to prioritise additional learning and development as both a person and a CFO.
I really liked how the programme helped me to get clarity on what being a CFO entails and to gain awareness of my blindspots.
The course provided a good overall picture of what is expected of a CFO. It also gave participants the opportunity to interact and to learn from each other's situation.
An interesting and insightful course that helps to guide you through the highs and lows of being a CFO! I really enjoyed and benefited from Catherine's experience and hearing how others in the group tackled similar issues
The CFO Programme gave me the time and space to reflect on myself, my role, and how I could refocus the value I can bring to my organization.
I really enjoyed listening to the different perspectives. The programme forced me to step out of the day to day and allowed me some reflective thinking time away from the busyness of work life.
It has been really useful to sit with like-minded individuals and to understand that you are not alone in the difficulties of navigating a career as a CFO.
GrowCFO brings an outside perspective, challenging questions, and a lot of empathy for finance leaders. Managing a company is such a mental game and having someone to accompany you throughout this journey is gold!
The combination of the group workshops and the one-to-one professional mentoring complement one another really well and it is great to share perspectives with people working in other companies.
A great programme for new CFOs to help guide them on their journey and it was really good to connect with people in similar positions.
The group sessions were of great value to me, helping me to reflect and think more critically of myself and how I can add more value to our business. Spending time with like minded individuals was great and Catherine who led the course made everyone feel welcome and got everyone engaging in topics and conversation.
Catherine is an excellent and engaging mentor. The course was structured and delivered in a logical manner, addressing all high level pillars of the CFO role.
An excellent programme and I would recommend this to any CFO looking to gain more insight into what it takes to do the role well.
As a relatively new CFO, this cohort was beneficial to me in helping me understand my strengths and where I have opportunities for growth. Participating in the series reinforced where I should be investing my time in the organization and increased my confidence as a key contributor to the business and our long-term strategies.
It has been really helpful to share insights and experiences with fellow CFOs who are part of my peer group.
CFO Cohort & Payment Options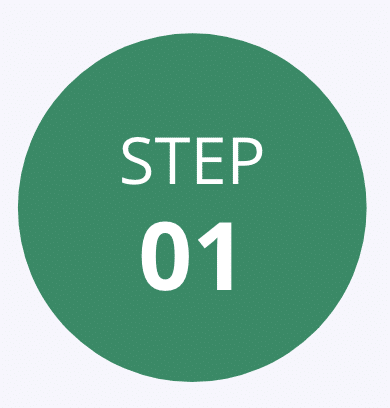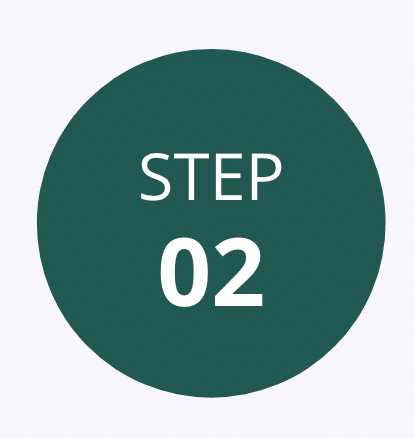 Choose which Cohort
you want to join
The next Cohorts start on:
4:00 PM BST / 11:00 AM ET / 5:00 PM CET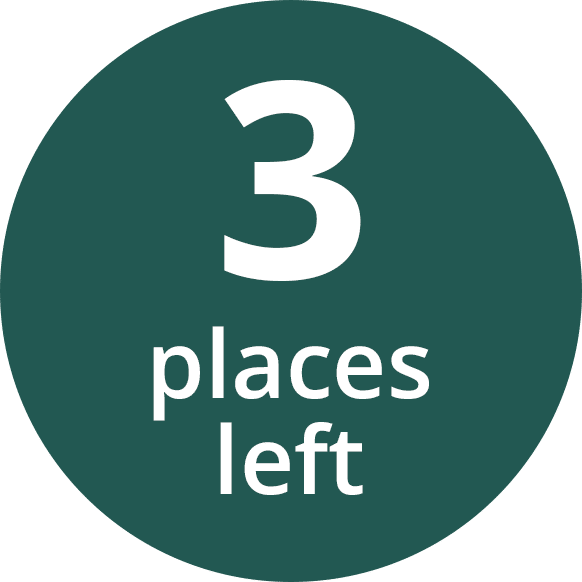 4:00 PM GMT / 12:00 PM ET / 6:00 PM CET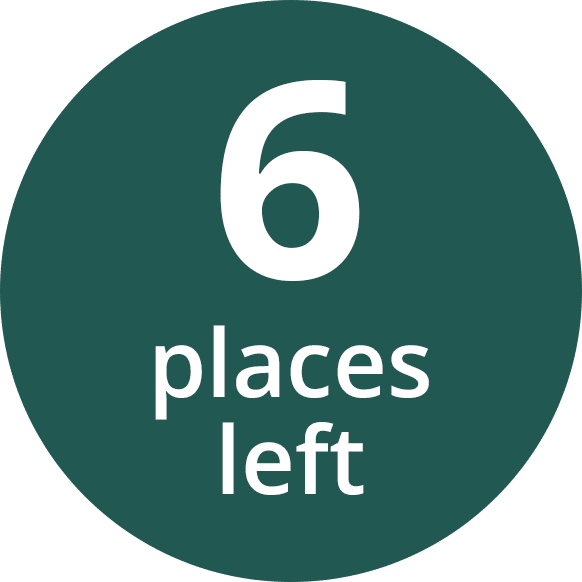 All prices are exclusive of sales tax
Frequently Asked Questions
Do you have any questions about the CFO Program?