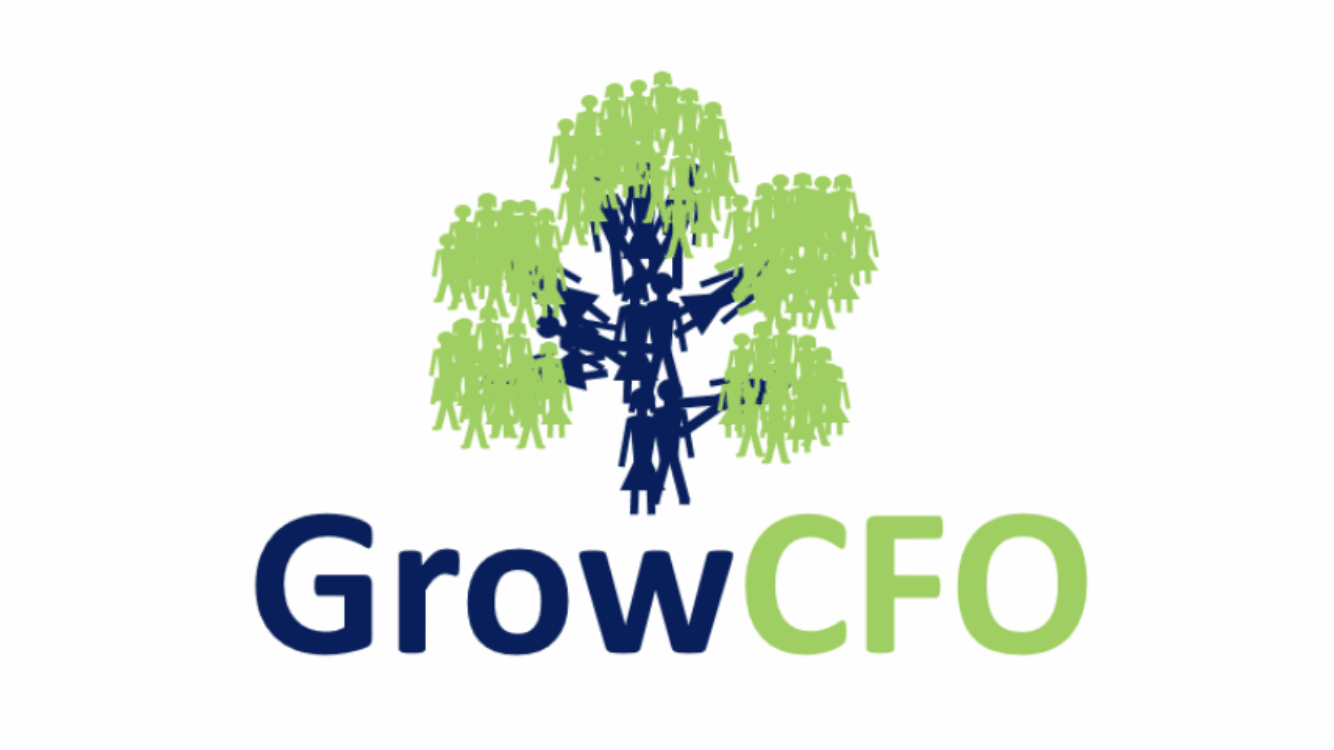 BECOMING A SUCCESSFUL CHIEF FINANCIAL OFFICER JUST GOT EASIER
Are you ready to break out of the finance function and go for your dream job? Not sure how to go about it?
The step up from being head of finance to taking on the top job as CFO is one of the hardest career changes you will ever make. You need different skills to work strategically with your new c suite colleagues and to manage your own finance function. You will need to step out of your comfort zone and master things you never needed to pass your professional exams and rise through the finance back office.
To become a successful CFO you will need to focus on 3 key areas: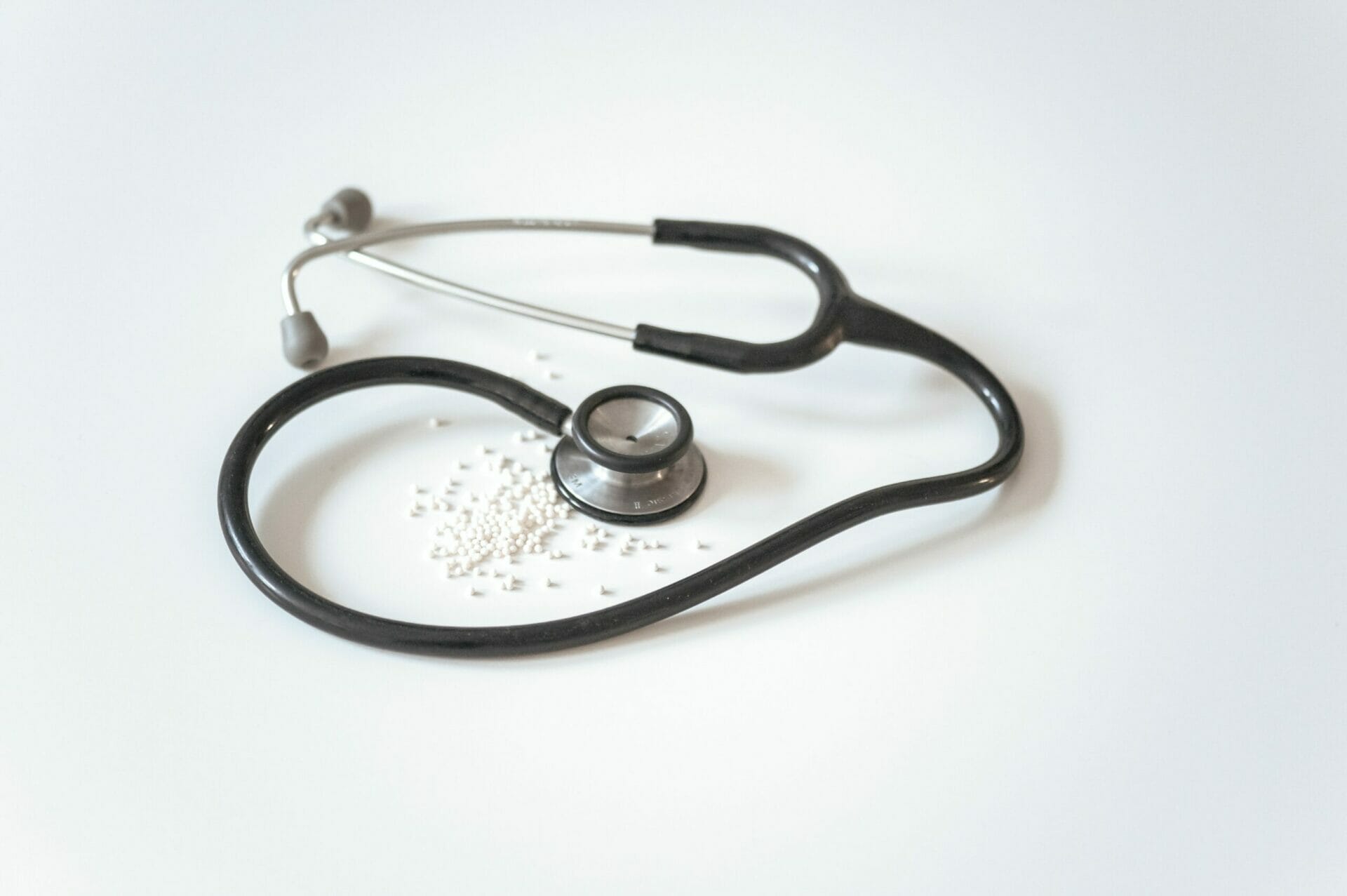 The Insightful Leader
You will Transform from a senior finance professional into a valuable strategic business partner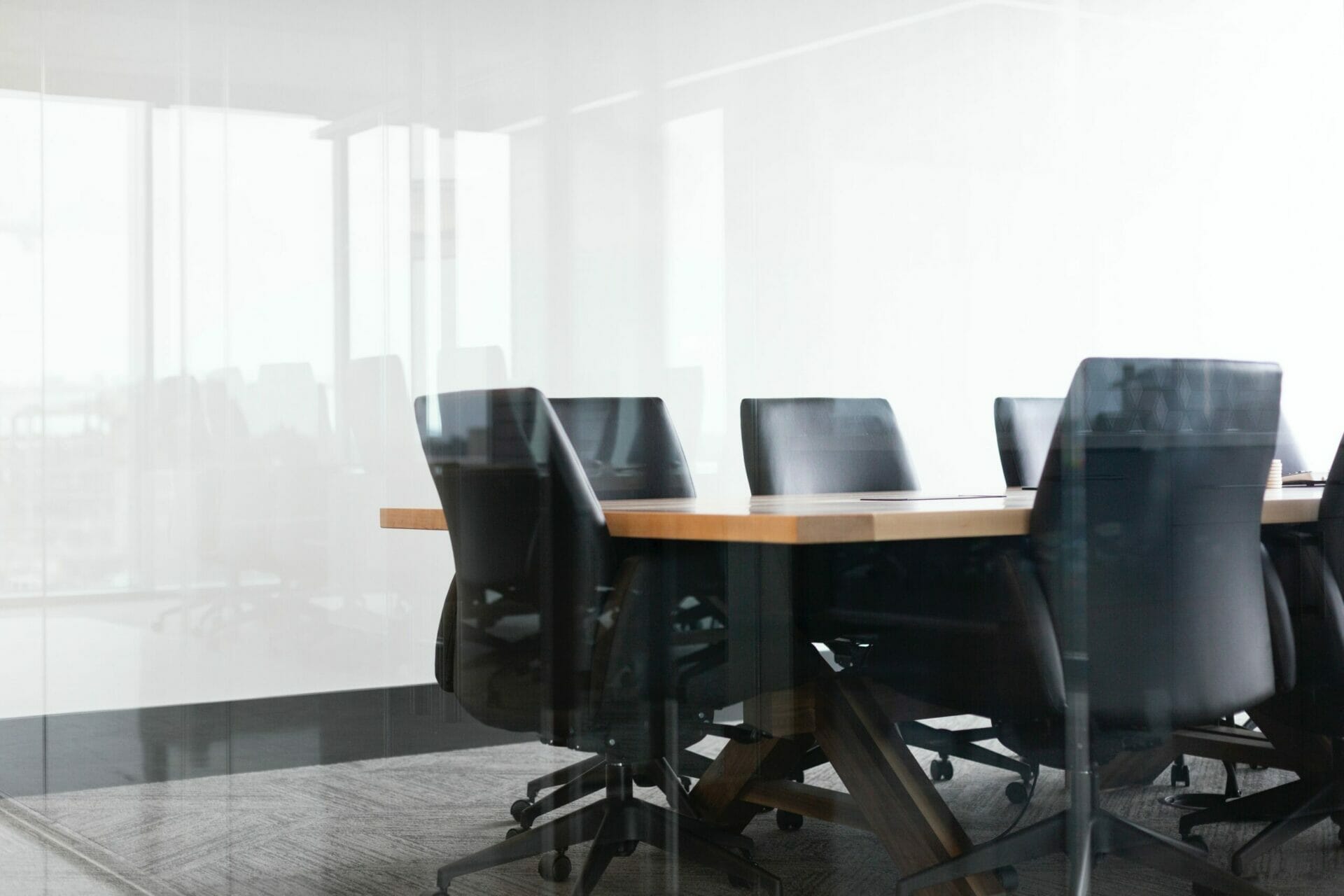 C-Suite Ready
You will progress from being one of the crowd in the finance function to working with the board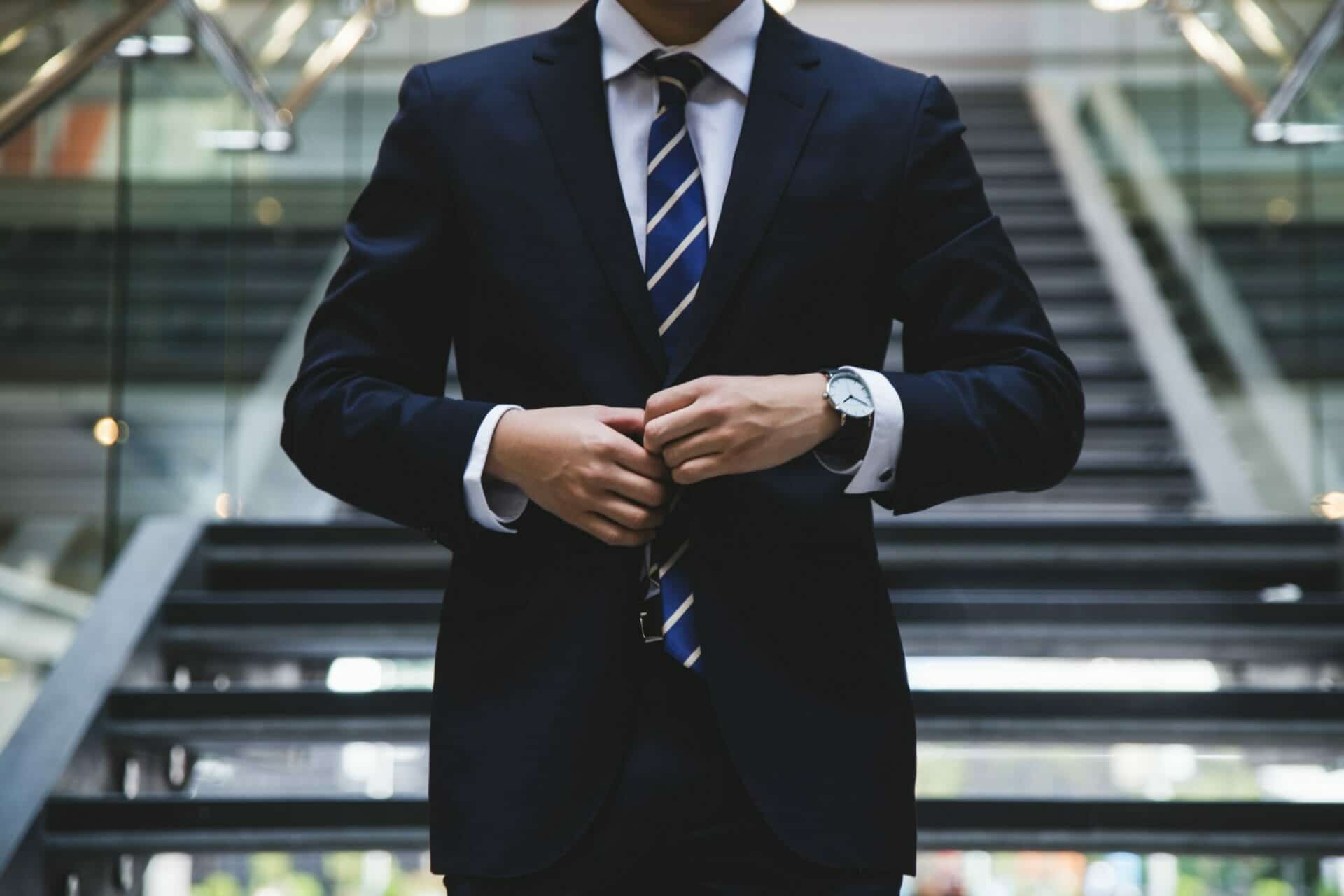 Owning the top job
You will progress from a CFO ready candidate into an impactful CFO taking ownership of your own finance team
The Future CFO programme follows a 9 step process to take you from senior finance professional to established CFO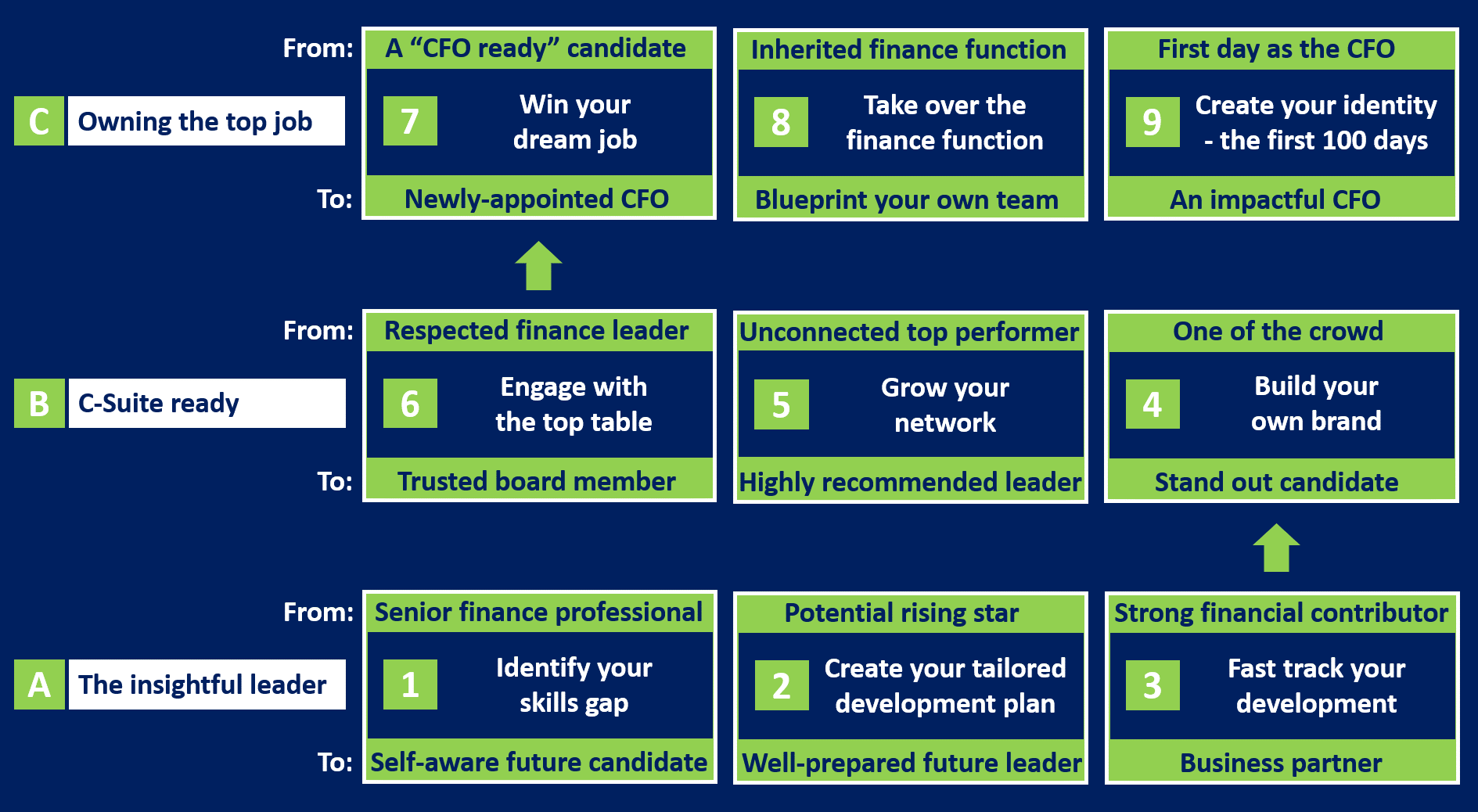 There are two ways to learn in the Future CFO programme
GrowCFO Learning Centre
The learning centre is the home of GrowCFO's online self service CPD accredited training programmes, including the online learning material for our flagship Future CFO programme. The programme is made up of 9 modules that will take you through the journey of becoming a successful CFO. We take you through the whole journey from the back office to the boardroom.
The learning centre gives you a roadmap with in-depth tutorials at every stage. There are self assessments to gauge your readiness, and toolkits to help you hone your skills. You can move through the roadmap at your own pace and tailor your personal development plan to align with your core strengths and the gaps in your experience
Future CFO Cohort Groups
You can supplement the online learning centre with group coaching a Future CFO cohort. Cohort membership is free if you are already enrolled in the learning centre. Each cohort consists of ten members who act as a support group for one another throughout our programme. Applicants should either be first-time CFOs or people who aspire to become a CFO within the next few years. The time commitment is around 1-2 hours per month, lasting for 12 months.
During the programme, you will build career development action plans using our exclusive CFO Readiness Toolkit, obtain group and individual coaching across your main development areas, receive free coaching sessions with executive coaches, benefit from a CFO mentor and become part of a fully-engaged cohort support group.
The 9 Future CFO Cohort sessions are run by expert coaches and  take you through the journey with a group of peers. You will learn from both the experts and those on the journey with you 
Identify your skills gap – Dan Wells & Andrew Waters
Dan and Andrew host a cohort group launch workshop to introduce the cohort group to your new peer group.  During this session, Dan and Andrew work with participants to identify your biggest strengths and development areas across each of the key competencies required by a successful CFO.  During this session, we work through your CFO Readiness Toolkit, designed by experienced CFOs, CEOs, Chairs, NEDs, Advisors, Headhunters and Investors.
Create your tailored development plan – Andrew Waters
Andrew hosts an individual workshop with each participant to assess your completed CFO Readiness Toolkit, finalise your skills gap analysis and create your tailored development plan
Fast track your development – Dan Wells; Andrew Waters; and Expert mentors
Dan and Andrew host a cohort group session whereby each cohort member presents their strongest competency area to the remainder of your cohort group to share knowledge and best practice across your cohort.  You will also be invited to follow-on mentoring sessions to cover your main competency requirements delivered by:
Stuart Trood (an experienced CFO mentor),

Sabrina Castiglione (an expert in building great teams),

Andrew Tallents (Leadership Executive Coach), and

Mark Rodel-Duffy (Experienced CFO and Transactions expert).
Build your own brand – Andrew Waters
Andrew leads a cohort group workshop to help participants elevate your personal brands covering your digital profiles, CVs and a number of other important initiatives. 
Helen Cowan, An executive coach who leads GrowCFO's women finance leaders community, has designed a personal branding workshop within GrowCFO and has recorded specialist videos for the training programme.
Grow your network – Andrew Waters and Kevin Appleby
Andrew and Kevin co-host a cohort group workshop to help you identify your influential contacts, determine your ambassadors and develop strong relationships.  This includes specialist training on how to optimise your LinkedIn network.
Engage with the top table – Patrick Dunne
Patrick Dunne provides his perspectives on the importance of the CFO's relationship with the CEO and the Board.  Patrick has written a fantastic book on this subject called "Boards", which explores many of these issues in great detail from his vast career experience during a number of roles including 26 years at 3i Group plc, a member of the FT NED Club Advisory Board and Chair of Boardelta.
Win your dream job – Andrew Waters
Expert CFO Headhunter Andrew Waters shares his vast experience of supporting hundreds of successful candidates throughout CFO recruitment processes in order to mentor your cohort group towards winning your dream job.
Take over the finance function – Stuart Trood
Experienced CFO/CEO Stuart Trood mentors cohort group participants regarding how to create your finance function blueprint.  This includes consideration towards your internal/external stakeholder requirements and your key objectives, team structure, required skill sets and technology systems.
Create your identity – the first 100 days – Kevin Appleby
Expert CFO business coach Kevin Appleby hosts a cohort group workshop to help participants to create your first 100 days plan within your new CFO role and to determine your six-step action plan towards becoming an impactful CFO.
I'm thrilled to be a part of the Future CFO cohort programme through GrowCFO. The course so far has provided such great insights from fellow professionals across multiple industries and is a great launchpad to enhance my knowledge and experience. Dan and Andrew have done an amazing job in delivering pertinent content as well as structure the cohort so that different views can be shared. This has definitely broadened my network and given me more focus on the areas I need to focus on as I move forward in my career!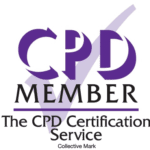 GrowCFO is an accredited CPD provider
You can use GrowCFO to fulfill your professional development needs with your professional accountancy body.