How GrowCFO Instantly Benefited From Power BI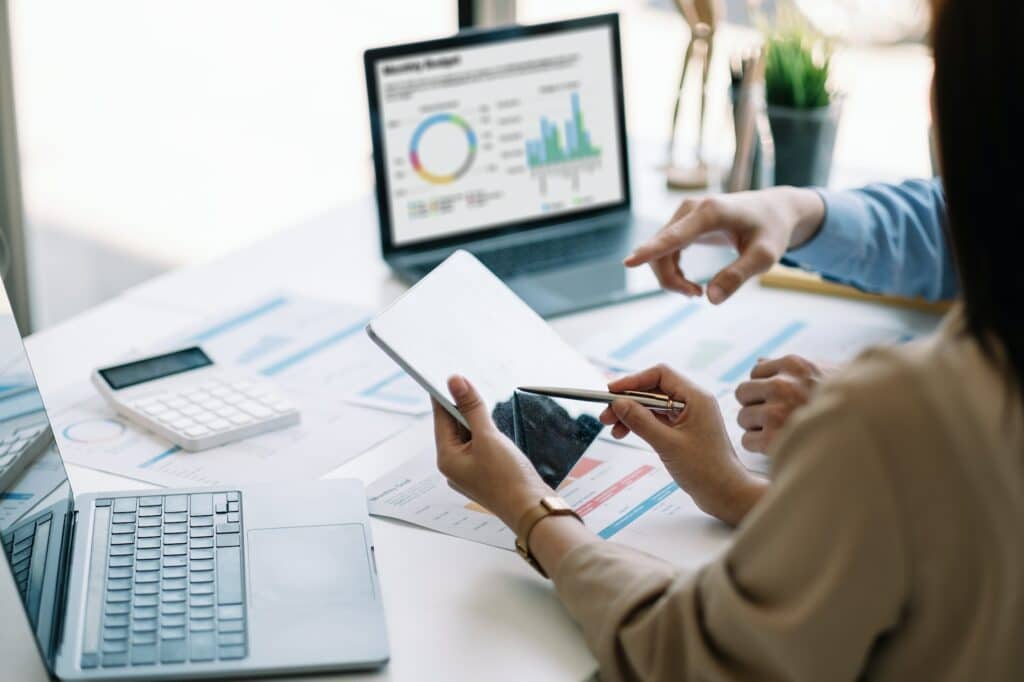 At GrowCFO, we understand that financial and non-financial data is essential in driving successful businesses. That's why we have harnessed the power of Power BI to automate our monthly financial reporting close process and create powerful, data-driven commercial insights at the click of a few buttons.

And we were pleasantly surprised at how quick, easy and cheap it was to implement Power BI after completing the training course…!


The Power of Data-Driven Insights
We believe that data-driven insights are key to unlocking growth opportunities, and with Power BI we are able to provide our team with an easy way to visualize their financial and non-financial data to gain a better understanding of trends and patterns in order to drive successful results.
As a learning and development business, GrowCFO tracks KPI metrics that are captured from a range of specialist market leading systems. For example:
LMS (Learning Management System): Course signups, user activity, learning progress.
CRM: Customer engagement levels, sales pipeline, conversion ratios.
Membership Database: Subscriber rates, geographical spread, average subscriber years.
Xero Accounting: Monthly sales, product mix, average customer spend.
Google Analytics: Daily visitors, page volumes, website performance.
By aggregating our financial and non-financial data into one platform with Power BI, we are able to view this data in real time and gain actionable insights that can help us identify trends and patterns that wouldn't be apparent otherwise. We believe that this invaluable resource gives GrowCFO the edge in understanding our customers, delivering their priority training topics, and staying ahead of the competition.
The integration capabilities that Power BI provides us with have made it possible to easily connect our systems, as well as extract dynamic spreadsheets from systems not integrated with Power BI. This ensures that all our data is accurate and up-to-date so that we can make informed decisions quickly and effectively.
Power BI help reduce the risk of human error and improve the accuracy of reporting. By automating tasks, such as data collection, analysis, report generation and presentation preparation, it streamlines our processes, freeing up time for more value-adding activities.
With an easily configurable dashboard, our users have real-time visibility of key performance indicators and trends. This helps to quickly identify areas to optimize, allowing us to make well informed decisions faster.
Power BI also provides us with powerful self-service dashboards that enable our teams to easily access, query and analyze data in real time. This allows our finance team to provide better commercial insights to our business operations and performance teams, which is critical for strategic decision-making.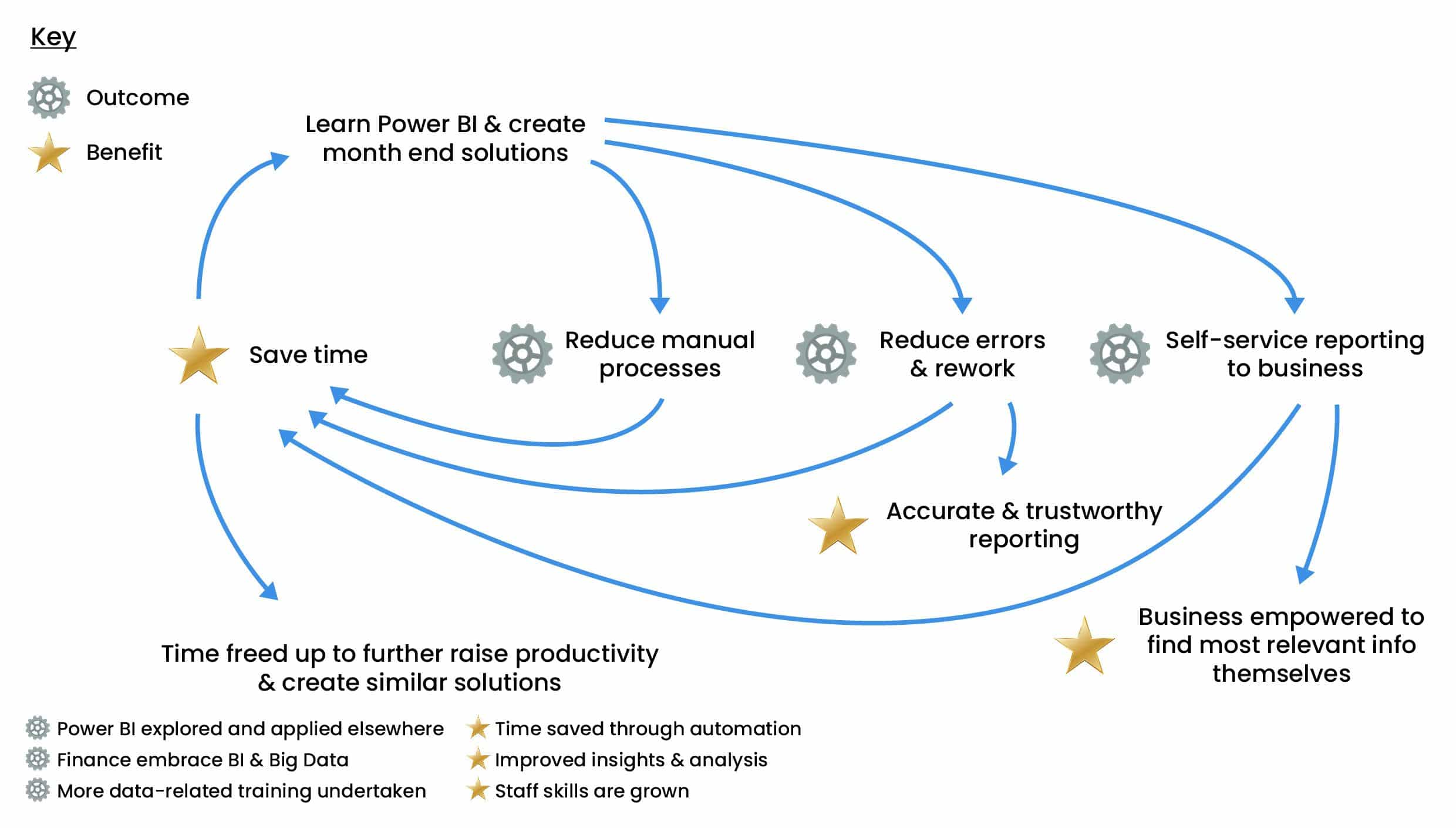 Implementing Power BI Reporting
Our GrowCFO finance team completed a market-leading training course for financial professionals called Power BI: Monthly Financial Reporting. Within minutes of completing the course, we were well on the way to automating our first Power BI reports.
Before long, we had pretty much fully automated most of our monthly financial reporting close process and now deliver powerful data-driven commercial insights in super quick time thanks to our adoption of Power BI.
Here are some examples of how we achieve this thanks to what we learnt on the course:
Google Analytics: With direct access to Google Analytics, the team can quickly aggregate and analyze data from any source. Google Analytics provides a wide range of tailored reports that are essential for analyzing performance such as unique visitors, split by device, geographical spread, time spent on website, clicks per visit, first page visited and consumer profiles. For example, this highlighted the performance of our biggest markets: North America, Europe and APAC, plus our significant growth across most other targeted territories.
Xero Accounting: There are various technology vendors offering proprietary connector software that easily integrates Xero accounting records into Power BI. This provides a complete view of the business performance in real-time, helping our team make informed decisions quickly and efficiently. Such reports include sales by country, mix of products, and gross margins. These dashboards instantly highlighted the key drivers behind our record financial results last quarter due to significant growth in one-to-one mentoring, business premium packages, and our professional CFO programmes.
Dynamic spreadsheets: Many of our systems are designed for niche companies within similar learning and development business models and hence have not yet been fully integrated into Power BI. Despite this, our finance team were quickly able to export the data from each system into dynamic spreadsheets or cloud-based Google Sheets and integrate these into Power BI. Within minutes, the team applied automated data transformations to map each system export file into powerful visuals that can easily be instantly refreshed throughout the year. For example, we can now easily track our explosive growth in subscriber numbers, analyze our membership by territory, and monitor word of mouth referrals. These automations removed virtually all the ongoing manual activities and significantly reduced the likelihood of human error. Such an approach can quickly be applied to virtually all systems with even the most basic data export functionality.
Through direct integration with Google Analytics, connector software for Xero accounting records, and dynamic spreadsheets extracted from other systems not yet integrated with Power BI, GrowCFO is able to quickly capture, analyze and report real-time data to give our leadership team the business intelligence we need to make reliable informed decisions.
This particular type of data plays an important role in our business as it gives us unparalleled insight into our customer's behaviours and preferences. With Power BI we can easily identify trends in customer behaviour that can be used to better target and tailor our services to meet our members' needs. This allows us to stay one step ahead of our competition as we are able to respond swiftly and make quick decisions based on meaningful data.
Although Power BI is often thought of as an expensive tool, the reality is that it is relatively cheap to purchase and maintain. It can be used on a subscription basis, meaning users only pay for what they use. As its popularity grows, so too does the availability of free resources and templates which help to make it even more accessible.
Most people trained on Power BI can implement it fairly quickly and instantly start to reap the many benefits it has to offer. Our team had never previously used Power BI and were able to instantly benefit from it after completing the boot camp course. This provided us with a robust return on investment and avoided us having to wait a long time for a project to be completed.
There are also many affordable data analytics and business intelligence agencies who specialize in delivering end-to-end Power BI solutions to finance teams. For example, DataToBiz proudly serves global clients across the US, UK, Mainland Europe, APAC, MENA and beyond, with an average fee under $10,000, and are highly-rated by independent US-based market review agency Clutch, winning their 2023 awards for BI, Big Data, AI and Cognitive Computing.
Power BI is quickly becoming the go-to tool for financial reporting and financial analysis. It automates tasks, provides more accurate forecasts, and allows finance teams to make better decisions in less time. With its easy integration, cheap cost and powerful capabilities, it's no wonder Power BI is rapidly gaining ground in the finance sector.
Power BI is a fantastic tool for any business looking to automate their monthly financial reporting close process and create powerful data-driven commercial insights. Put simply, Power BI has become an indispensable tool in GrowCFO's operations by helping to keep our business agile and competitive.
With Power BI, GrowCFO is able to quickly capture, analyze and report real-time data for the leadership team so they can make reliable informed decisions. By connecting our systems and gathering data from a range of sources, we can easily gain insight into customer behaviour which ultimately leads to smarter decisions, better customer experience, and improved business performance.
Many businesses are quickly realizing the power of data-driven decisions and the important role that Power BI plays in this process. GrowCFO is delighted to offer a market-leading training course for financial professionals called Power BI: Monthly Financial Reporting.
Register now for GrowCFO's dedicated Power BI for Finance Course to obtain specialist finance-based training to properly implement Power BI into your business.