#50 Becoming a CFO to fast growth startups with Andrew Tapson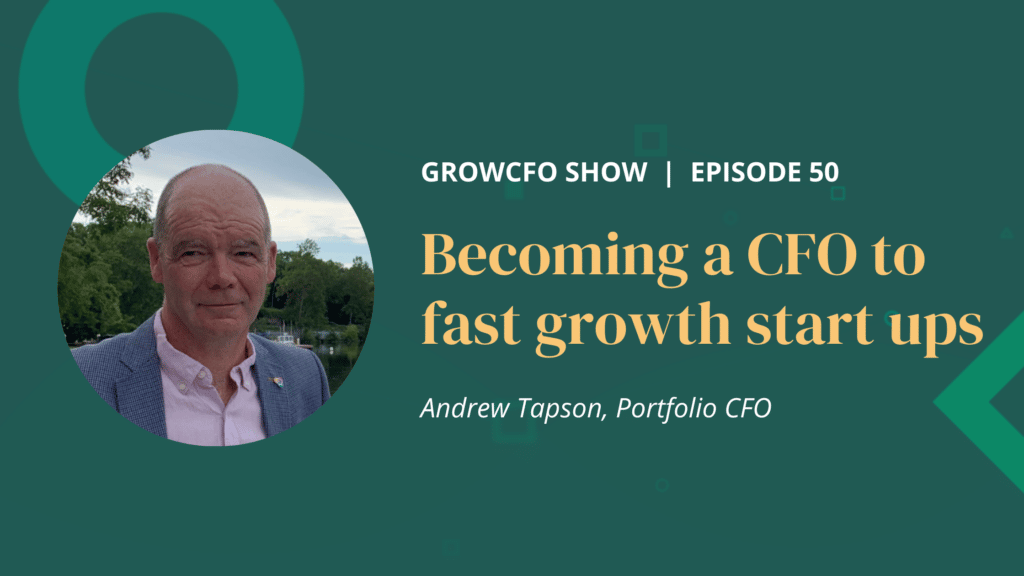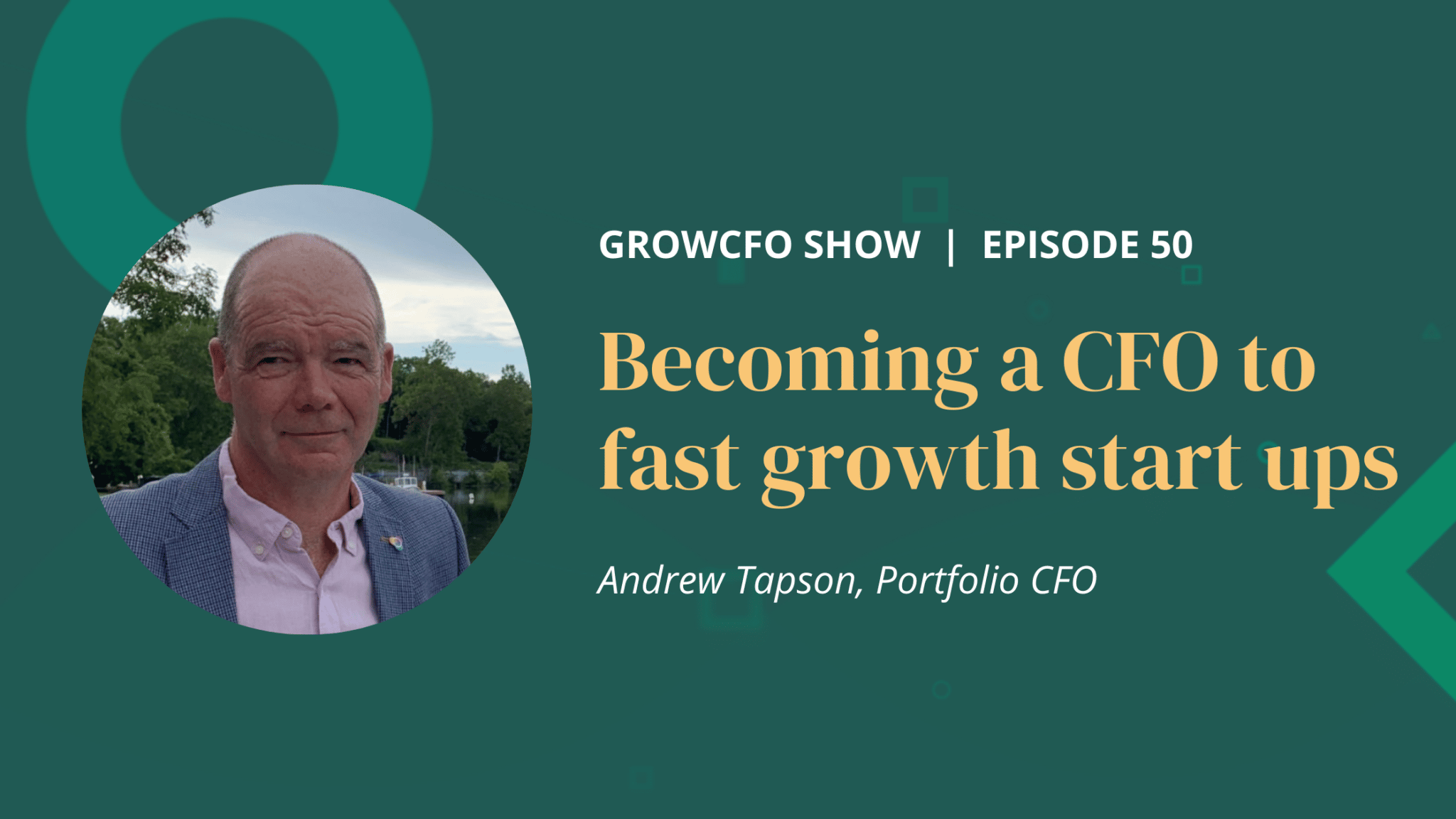 Kevin Appleby is joined by Andrew Tapson, experienced portfolio CFO, to talk about becoming a CFO to fast growth startups.
How did you start being a CFO for various companies?
As a teenager Andrew was surrounded by peers who were massively influenced by others and the group above. This is shown as 5 went on to be engineers and 5 to accountants! He at first wanted to be an accountant but then realised he wanted to get into business as he saw it as the place to be.
Andrew went to the big six (as it was then) for interviews. This lead to six offers. He decided to go with Arthur Andersen. This was because the people were interesting and they paid a bit more. The Big Bang then took place in London which led to Andrew working for a subsidiary of Bank of America. This set the tone for the next 30 years. It was all about finding a problem, finding a pragmatic solution and then executing it.
Andrew then became a finance director in Paris and then moved on to work for AT&T Capital. He continued to move to various places including Dutch bank ING. He then ended up as a CFO in 2011 and went on to be CEO.
How do you pick up the skills you don't learn in exams?
You don't go on courses in how to shut down companies. Andrew says it comes back to heads-up management. It doesn't matter where you are in an organisation, walk around with your head up, talk to people and be intensely curious.
Andrew is not keen on job titles. It didn't matter what his job title was, he just did what needed to be done. He used to call his job title the minister without portfolio.
Changing the description of a finance director to CFO puts it on the same level as CTO, CMO etc. This will mean you are looking across the business helping other people and your team as you are in it together. Andrew saw in larger organisations that the CFO became the focal point as much as the CEO.
Despite them having different skill sets, Andrew prefers when the CFO and CEO are walking side by side. This means if the CEO is seeing an issue, they have their trust lieutenant next to them. This will get them that different perspective and get better results. There needs to be a partnership there.
Why are you called to fast scale startups?
Start up businesses sometimes have a 5 people with all C titles. Andrew aims to make them all a team. At ING there was a scaled down board with four people together who trusted each other. Andrew describes a venn diagram where connections between people are in the middle. At this board in there were a lot of connections and complimentary skills.
Usually Andrew is found by fast scale startups when their Venn diagram isn't working, or there's a three-legged stool with one leg. Without balance there is bound to be mayhem. Andrew knows he is someone who understands team and partnership and has done a lot. He also knows how dangerous he is with all this knowledge but he is also good at knowing when to call another expert in. He emphasises that you need to know what you are not expert in so you can talk to someone who is more expert.
What are the differences of being a CFO at corporate and portfolio level?
Kevin and Andrew agree on a general rule that a CFO needs to have 3 things that they know about everything and also someone who knows the detail.
CFO-ing in corporate land compared to portfolio CFO-ing is having that network behind you. In corporate life, Andrew didn't really have that. Now his network is a lot more. This means he has people he would call on because they know something more in depth than he does. Within this network there is a strong degree of mutuality.
This level of trust comes from shared values. The key value with this is the trust. You hear about people going to help a founder and then stealing their idea. That is not what it is about for Andrew. It is more about helping younger people on their journey step by step. Andrew's role here is to show them the way, add to their skill set and value set.
Do you come across many similar problems faced by fast growth startups?
When you go in as an experience CFO, you've seen before the problems the CEO is facing and this can bring stability. Andrew will bring them assurance they are on the right path and can tell them they are going through similar problems to other people in their sector.
It does not matter what the product or sector is, the problems are similar. It is about the mindset. Andrew sees things in a particular was to help them. There is not a standard financial model. For each business it will be similar but different. Adaptation is key. You don't have to invent the whole wheel every time, but a part of it. Andrew says that if you take a generic framework and put it through a twist it'll work every time.
What did you decide to do next?
Andrew had a big corporate job come to an end and had one of those seminal moments where he thought whether he should stay or do something different.
He decided to do something different and moved from London to South Devon. He wanted to go back into work and he found there was nothing very corporate there, but there were a lot of small businesses. Andrew spoke to someone who was a portfolio CFO and decided to do the same. He started by going networking and going to events, finding small businesses and it has worked.
The transition to fast growth startups came during the pandemic. With zoom this lead to Andrew having clients in London, Cornwall, Bristol etc. He realised his mindset as well as his skill set was absolutely transferable from closing down £3 billion companies to starting up less than £1 million companies.
What is one skill you think is important in being successful?
All the businesses Andrew has ever worked with are not run by robots, but people. It is about finding time to teach yourself one skill you can put on the table. The best one, Andrew says is being a really good listener.
Most good leaders are good listeners. Andrew advises people at early stage to become good at listening. It turns so many things into a different perspective. You can see things differently when you really listen. When Andrew was walking on the floor at ING he let people talk. He would ask how they're doing and what's bugging them. It is too easy as a leader to be in broadcast mode.
Find out more about GrowCFO
If you enjoyed this podcast you can subscribe to the GrowCFO Show with your favourite podcast app. The GrowCFO show is listed in the Apple podcast directory, Google podcasts and many others. Why not subscribe there today? That way you never miss an episode.
GrowCFO is a great place to extend your professional network. You can join GrowCFO as a free member today and take part in our regular networking events and webinars.
Premium members also have access to our extensive training centre. Here you can enrol in our flagship Future CFO or Finance Leader programmes.
You can find out more and join today at growcfo.net
Podcast: Play in new window | Download