#37 CFO Programme Overview with Dan Wells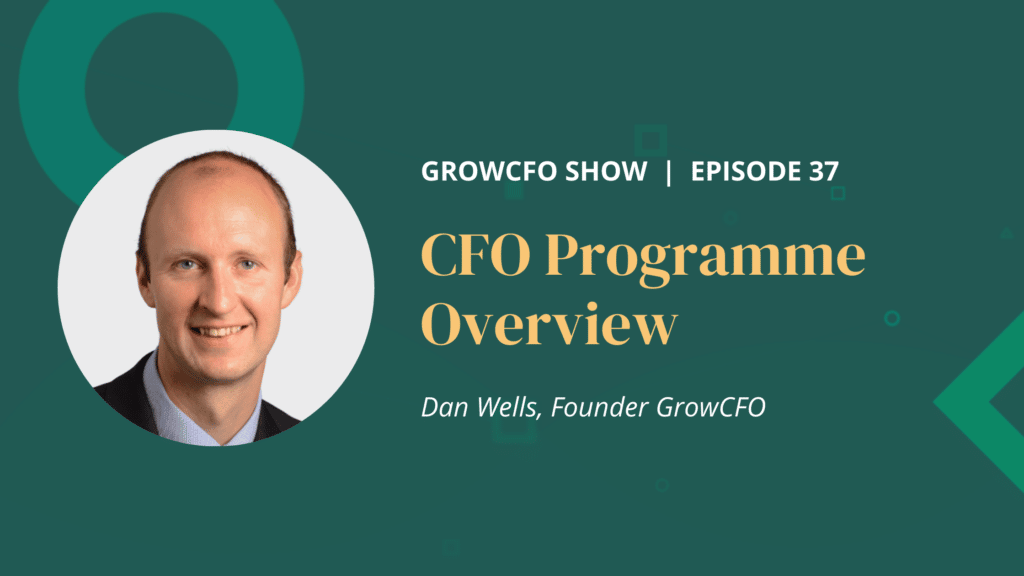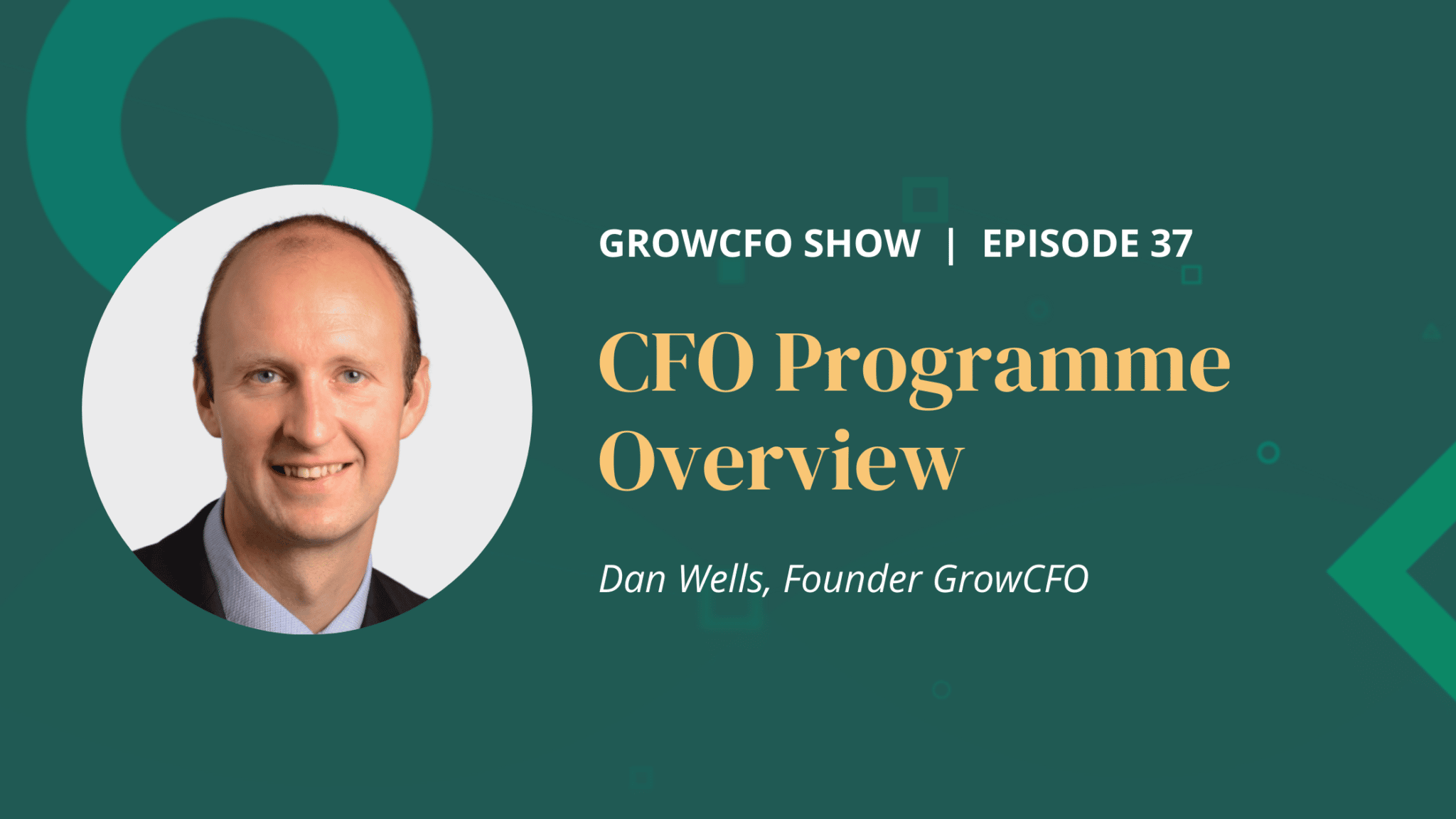 Do you feel that you are delivering your full potential within your finance leader role? During this week's episode of The GrowCFO Show, I talk to GrowCFO's Founder and CEO Dan Wells. Dan explains how your CFO Programme will help you to maximise your performance within your finance leader role.
What is the CFO Programme?
The CFO programme is a blend of workshops, self assessment, and online learning. This programme will take you from being a back office function leader to becoming the co-pilot to your CEO.
There are two elements to the programme as described below:
Nine group mentoring sessions lasting 90 minutes covering our nine modules over a six-month period. We deliver these online with a maximum of six people. Each session is run by an experienced CFO and professional mentor, with additional input from other CFOs and also CEOs. During these sessions, you will also build up a strong peer group buddy support network.
Six months of one-to-one executive mentoring support from an experienced CFO, with flexible timing. Each session lasts for 90 minutes, including a bonus up-front strategy session. You will also get ad hoc support during this period. In addition, you will benefit from a strengths assessment, workbooks and tools to support your mentoring journey.
What are the key activities in the CFO Programme ?
There are three key topics within the programme:
Catalyst for Change helps you to transform your team into an essential business function that creates value and transforms operations.
Strategic Business Partner supports you to deliver data-driven strategic insights to challenge the Board, influence strategy and drive key decision-making.
Inspirational leader will develop you into an externally-facing leader, a vital Board member and the co-pilot to your CEO.
We've broken down each of the three sections into three modules, giving nine modules in total. You can find out more and take your first steps to join the programme here:
Here is a diagram that provides an overview of your nine modules: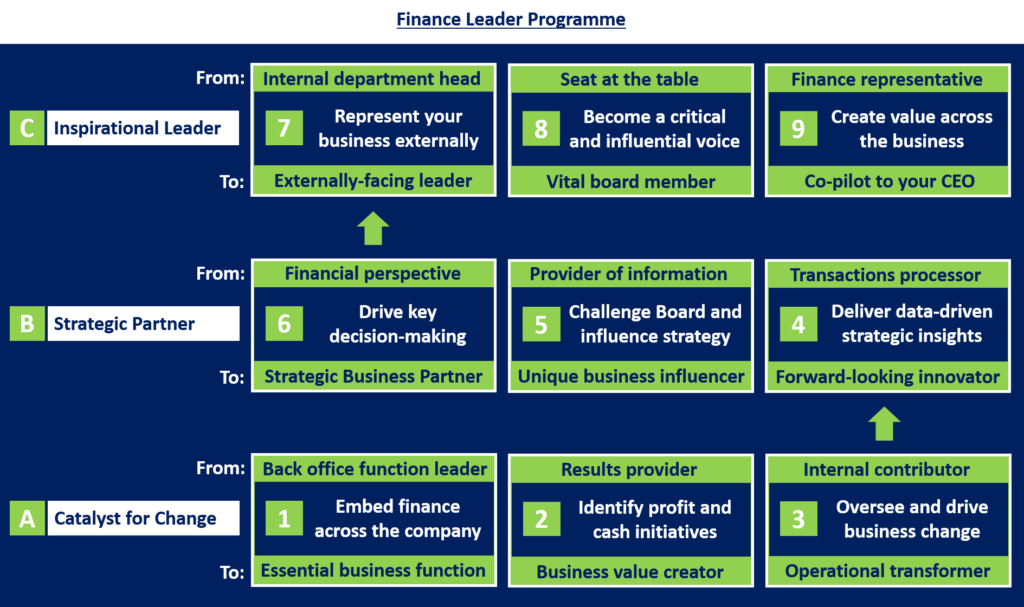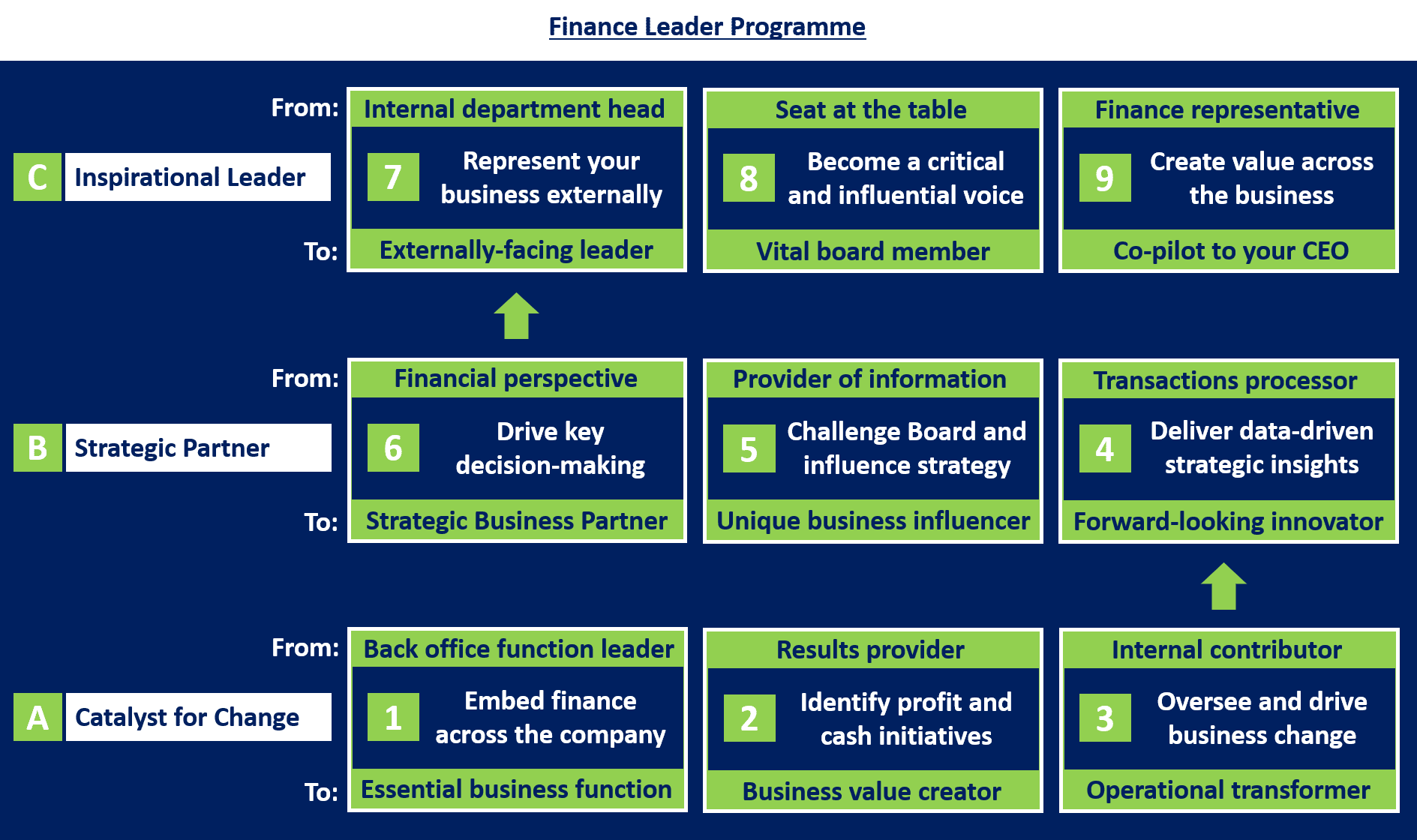 What will you achieve?
Our CFO Programme will help you to:
Discover and work with your areas of strength and development objectives;
Determine ways to overcome any barriers to your success;
Provide different perspectives when thinking through issues; and
Improve your knowledge and confidence to maximise your performance.
Mentoring is a great way of supporting your development and personal growth by 'stretching' you, helping you to move out of your comfort zone and closer to your full potential.
Who is the CFO Programme designed for?
Our CFO Programme will appeal to passionate finance leaders who are keen to develop a well-respected finance function that provides vital support, influence and value creation across your business.
To qualify, you should be leading a finance function and reporting into the board. For example, acting as the CFO, Head of Finance, Finance Director, VP of Finance). You may be fairly new into the role or still learning the traits of becoming a successful CFO. Participants understand the importance of investing time to help achieve your full potential.
Alongside your peers, you will become the best version of yourself and act as a positive role model who challenges the status quo. You will also learn how to develop a mindset for success, whilst living by your values and demonstrating a willingness to expand your perspectives.
Who leads the CFO programme?
All activities are led by an experienced CFO and professional mentor.
Our mentors are experienced CFOs who have made the journey before, conquering the challenges that our mentees will face. Think of us as your motivator, sounding board and biggest supporter – your number one career buddy!
The programme will also feature various guests who can provide additional perspectives across several of the workshop modules.
How long does the CFO Programme last?
The programme lasts for six months and requires a time commitment of around one hour per week.
Your peer group workshop dates will be communicated to you in advance so that you can fit them into your diary. Each of these will be arranged around your existing commitments to avoid any clashes.
Participants can also select the most convenient dates for your individual mentoring sessions by liaising directly with your mentor.
How do you get started?
Finance leaders should click here to fill in our short online enquiry form. You will then receive a message from a member of our GrowCFO management team to schedule a call. Following that, you will be able to make an informed decision about whether this is the right programme for you.
Podcast: Play in new window | Download