Power BI Financial Reporting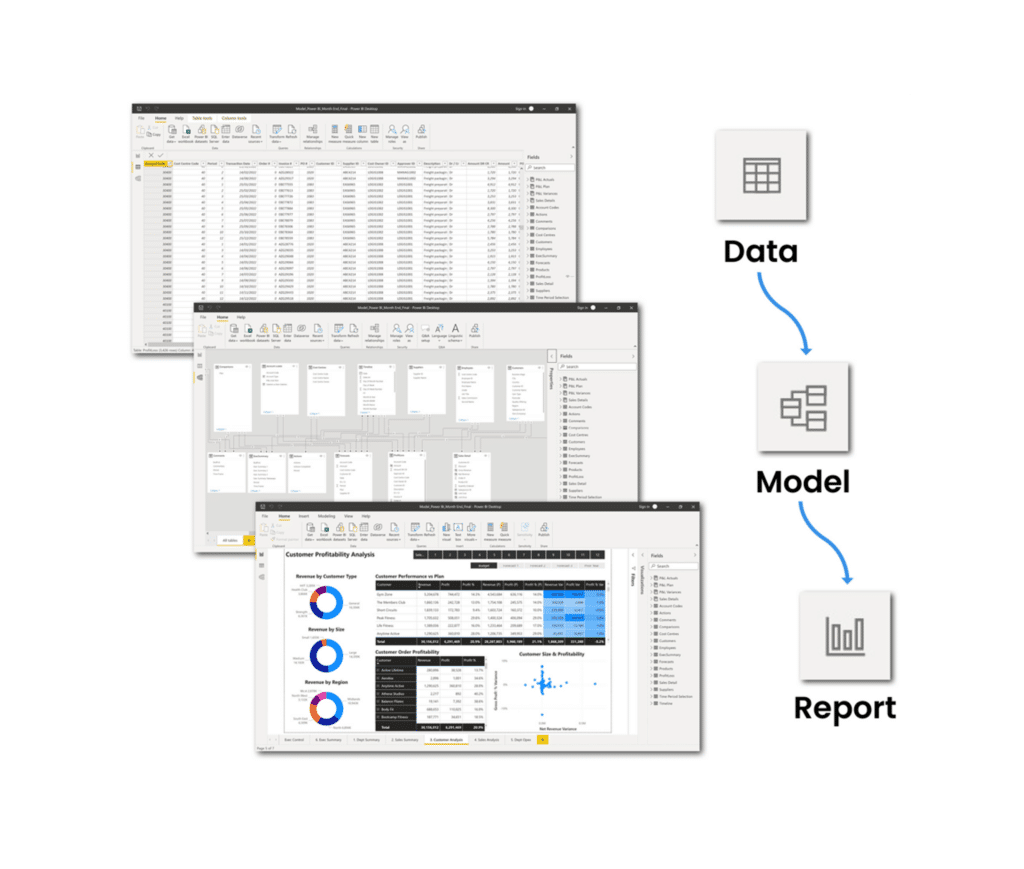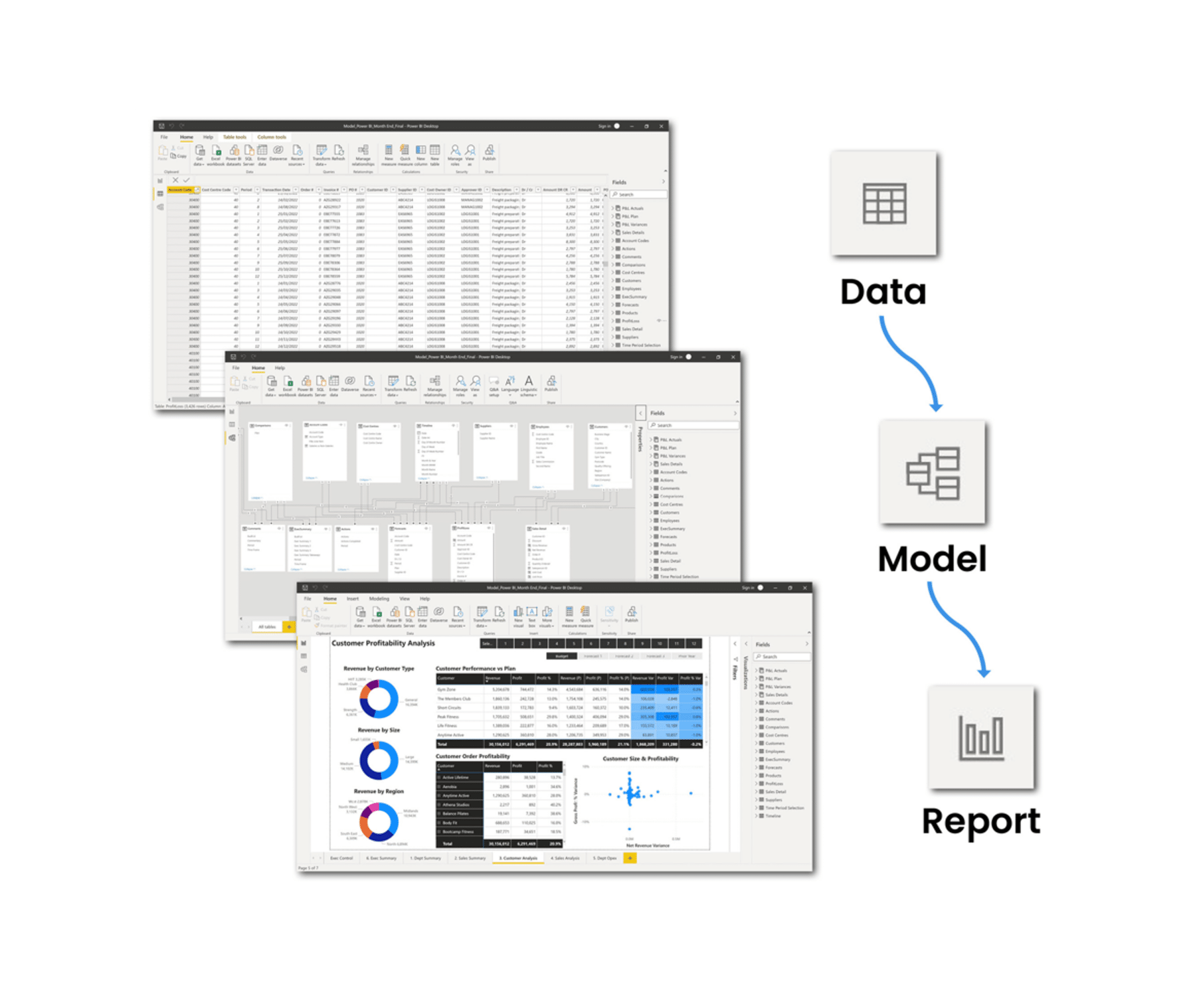 Microsoft Power BI is rapidly becoming one of the most essential tools for the modern finance function and monthly financial reporting process. Finance is constantly under pressure to innovate and deliver greater value. Most finance teams are struggling to fully support their business in its current form. This will only get harder as it continues to scale and evolve. To achieve this, you must leverage the latest market-leading tools, such as Power BI. To help modernize and automate your monthly financial reporting close process.
What is Power BI Financial Reporting?
Power BI is a revolutionary data visualization tool capable of transforming your organization's financial data and reporting process. Using Power BI financial reporting, you can quickly and easily create stunning interactive dashboards that provide real-time insights into how your business is performing. Utilizing intuitive visuals, users can quickly identify patterns in their data to make strategic decisions.
Power BI is built into the Microsoft ecosystem and shares similarities with Excel, making it easy for finance team members to adopt. Microsoft is the leader in Business Intelligence (per Gartner) and Power BI will likely become the industry standard. It offers a complete solution to combine, transform and utilize both financial and non-financial data from many sources by performing advanced, standardized calculations, to create an array of powerful visualizations.
Power BI can help you reduce the risk of human error and improve the accuracy of reporting. By automating tasks, such as; data collection, financial statements, analysis, report generation and presentation preparation, it helps to streamline processes, freeing up time for more value-adding activities.
With an easily configurable dashboard users can have real-time visibility of key performance indicators and trends. This helps to quickly identify areas to optimize, allowing you to make well informed decisions faster.
Power BI can also provide powerful self-service dashboards that enable users to easily access, query and analyze data in real time. This allows finance teams to provide better commercial insights to their business operations and performance, which can be critical for strategic decision-making.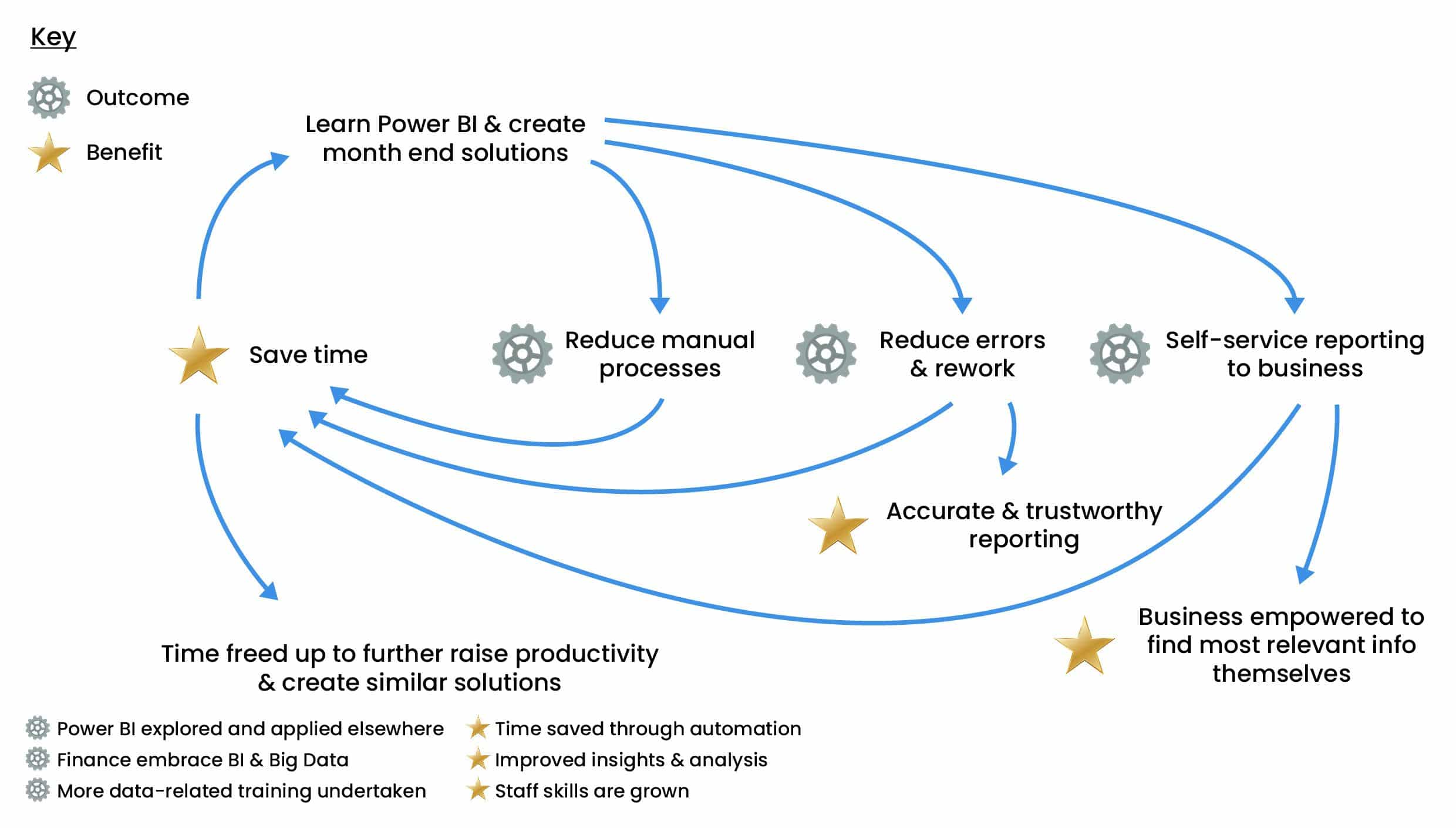 Power BI is a fantastic tool to help you modernize and optimize your monthly financial close process. By streamlining workflows, automating mundane tasks and providing powerful insights, Power BI can help your finance function to become more efficient, accurate and agile.
Here are six ways in which Power BI is transforming the month-end financial reporting process:
Compilation: Power Query connects to many data sources and automatically applies the data transformations when refreshing each month.
Data Mapping: Data Model relationships are created between Power BI data tables, allowing attributes from one table to pass to another.
Calculations: Calculations do not require maintenance or refreshing, as they reference entire columns or tables, rather than cell ranges.
Data Analysis: Easy to generate powerful data analysis and visualizations by dragging and dropping standardized customizations. 
Insights: Visualizations like funnels, scatter charts and tree maps engage the audience and tell the story by applying dynamic filters.
Revisions: Recipients access cloud-based reports via a link and always see the latest version which will update any changes in real-time.
By automating mundane tasks and providing real-time insights, Power BI helps to reduce risk of error and improve accuracy of reporting, while allowing users to make informed decisions faster.
Power BI drives a flywheel. It can free up time to reinvest in productivity initiatives and more automation. In turn creating more time for higher valued tasks, whilst also improving the quality of work and level of powerful commercial insights. 
A small time investment to embed Power BI into your month-end reporting will save you significant time into perpetuity by automating manual processes; reducing errors and removing unnecessary elements of business partnering. The time saved can be redeployed to adopt Power BI into higher valued tasks, such as big data and business intelligence.
Data integrity is critical when it comes to financial reporting and Power BI delivers on this front. Using row-level security, access can be restricted by user or group, ensuring that only authorized users are allowed to view the report data.
Power BI creates clearly structured and clean data models sourced consistently from the same locations. This helps to ensure that data is consistent across the organization, and provides trust in the integrity of your financial reports.
Power BI also has built-in notifications, which can be used to alert users when new data is added or changes are made. Any changes are clearly captured and tracked for auditing purposes. This helps to keep your financial reporting process running smoothly and efficiently.
Power BI dashboards are self-service, fully interactive and can be accessed from anywhere. This allows business users to access their data anytime, anywhere on any device. A dashboard is a single page that contains multiple visualizations that tell the story of your data in concise and impactful way.
Dashboards also provide powerful drill downs for even deeper analysis. With the click of a button, users can uncover more details about any piece of data. This allows them to quickly identify patterns and relationships the data that would otherwise be difficult to discern.
Power BI also offers powerful forecasting capabilities which allow finance teams to make accurate projections based on historical performance and trends. Predictive analytics are becoming increasingly important for businesses to stay ahead of the competition and remain profitable.
Although Power BI is often thought of as an expensive tool, the reality is that it is relatively cheap to purchase and maintain. It can be used on a subscription basis, meaning users only pay for what they use. As its popularity grows, so too does the availability of free resources and templates which help to make it even more accessible.
Most people trained on Power BI can implement it fairly quickly and instantly start to reap the many benefits it has to offer. This provides a robust return on investment and avoids having to wait a long time for a project to be completed.
Power BI is quickly becoming the go-to tool for financial reporting and financial analysis. It automates tasks, provides more accurate forecasts, and allows finance teams to make better decisions in less time. With its easy integration, cheap cost and powerful capabilities, it's no wonder Power BI is rapidly gaining ground in the finance sector.
How to Access Power BI Financial Reporting
Power BI is available through Microsoft's cloud-based subscription service Office 365. The basic Power BI plan is free, while more advanced plans are available at very reasonable prices. As a result, it's becoming increasingly popular amongst finance teams of all sizes and budgets.
Most companies surveyed in the GrowCFO community have either already implemented or are considering implementing Power BI into their finance function. If you're looking to get up and running with Power BI, it is highly recommended that you take some time to familiarize yourself with the different tools available and obtain Power BI training aimed at finance professionals.
Implementing Power BI Financial Reporting
The Power BI learning curve is not as steep as you might expect. It has an easy-to-use drag and drop interface with built-in intelligence that assist users to quickly create visuals and gain insights from their data. Most finance professionals have reasonable working knowledge of spreadsheets, which helps you to get started using Power BI.
You will need specialist finance-based training to properly implement Power BI into your business. GrowCFO's dedicated program Power BI for Finance Course is the ideal way to quickly implement Power BI into your finance function. The course takes two days to complete and you will then be ready to start benefiting from generating financial statements in Power BI immediately.
This program is designed to help accounting and finance professionals with no prior knowledge of Power BI, to automate your monthly activities and report better insights. Participants will learn how to use Power BI to connect, transform and report data visualizations through live workshops, short lectures, video walkthroughs, challenging exercises, regular quizzes and a comprehensive slide deck.
Everything is broken down into simple easy to learn steps. By the end of the course, you will be ready to instantly implement Power BI into your monthly financial close process. Generating an immediate ROI through ongoing time savings and highly valued insights.
Here's a video about the Power BI for Finance Course:
Power BI is a game-changing tool that can revolutionize the way you manage month end financial processes. By leveraging its intuitive visuals, automated tasks and self-service dashboards, it can help to simplify your data analysis and improve the accuracy of your reporting. Implementing Power BI today will help to reduce risk, improve accuracy and provide better commercial insights to your business operations.
Register now for GrowCFO's dedicated Power BI for Finance Course to obtain specialist finance-based training to properly implement Power BI into your business.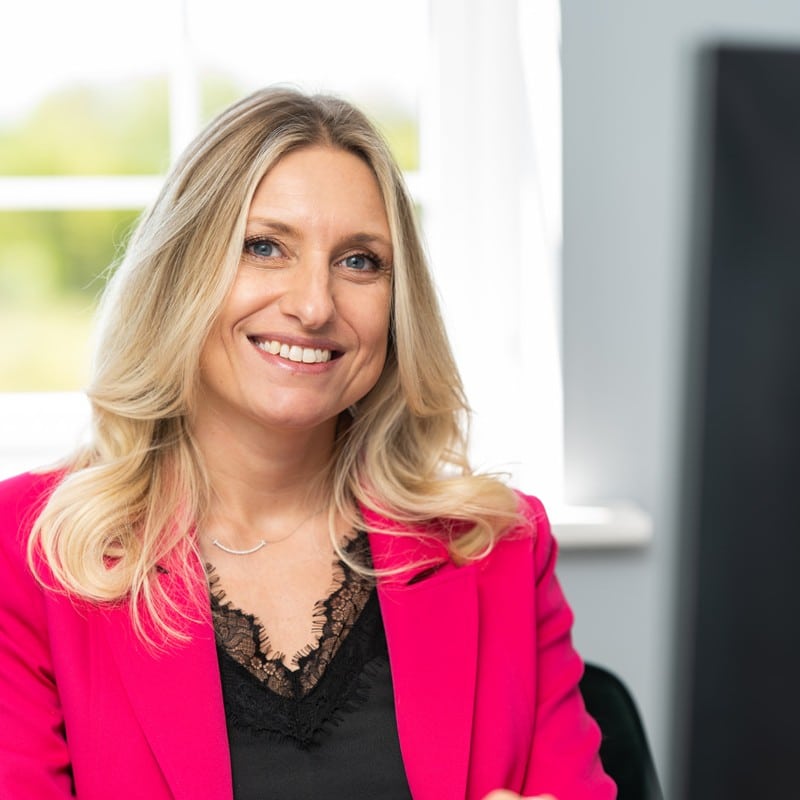 Zoe Allen
CMO, MELT Marketing
The course was well-structured and combined self-directed at-home learning with live training. Dan is incredibly knowledgeable and patient, breaking down complex topics into easily digestible lessons. I highly recommend this course to anyone looking to enhance their data visualization skills and unlock the full potential of Power BI.
Mohammad Naeemi
Islamic Relief Worldwide
Liked the course overall, comprehensive and insightful. Provided sufficient material for practice and the prep videos were really helpful in understanding the different areas of Power BI application.
Idiris Shariif
Islamic Relief Worldwide
I found the course very helpful.