#59 Heat Map for Change with Susana Serrano-Davey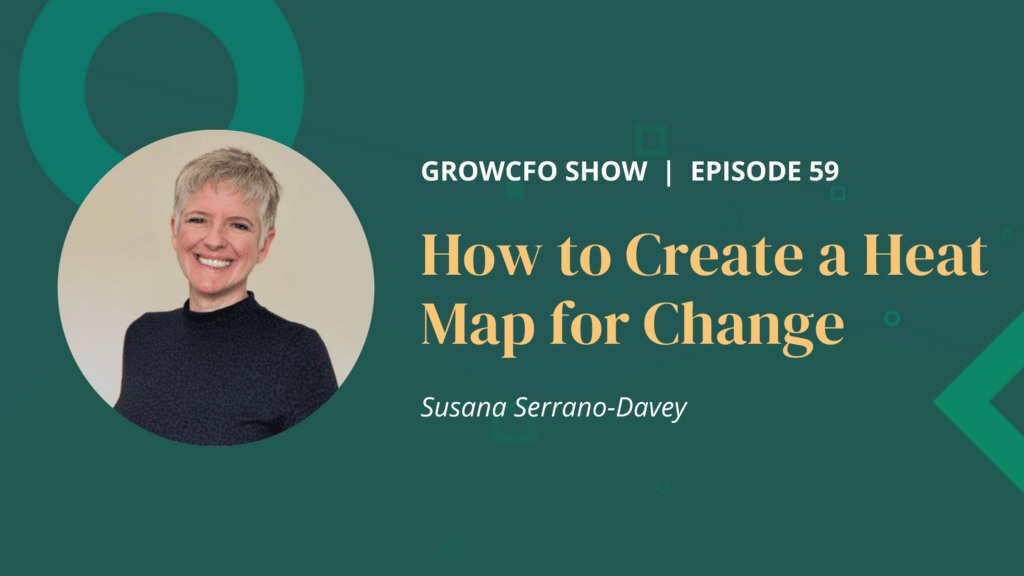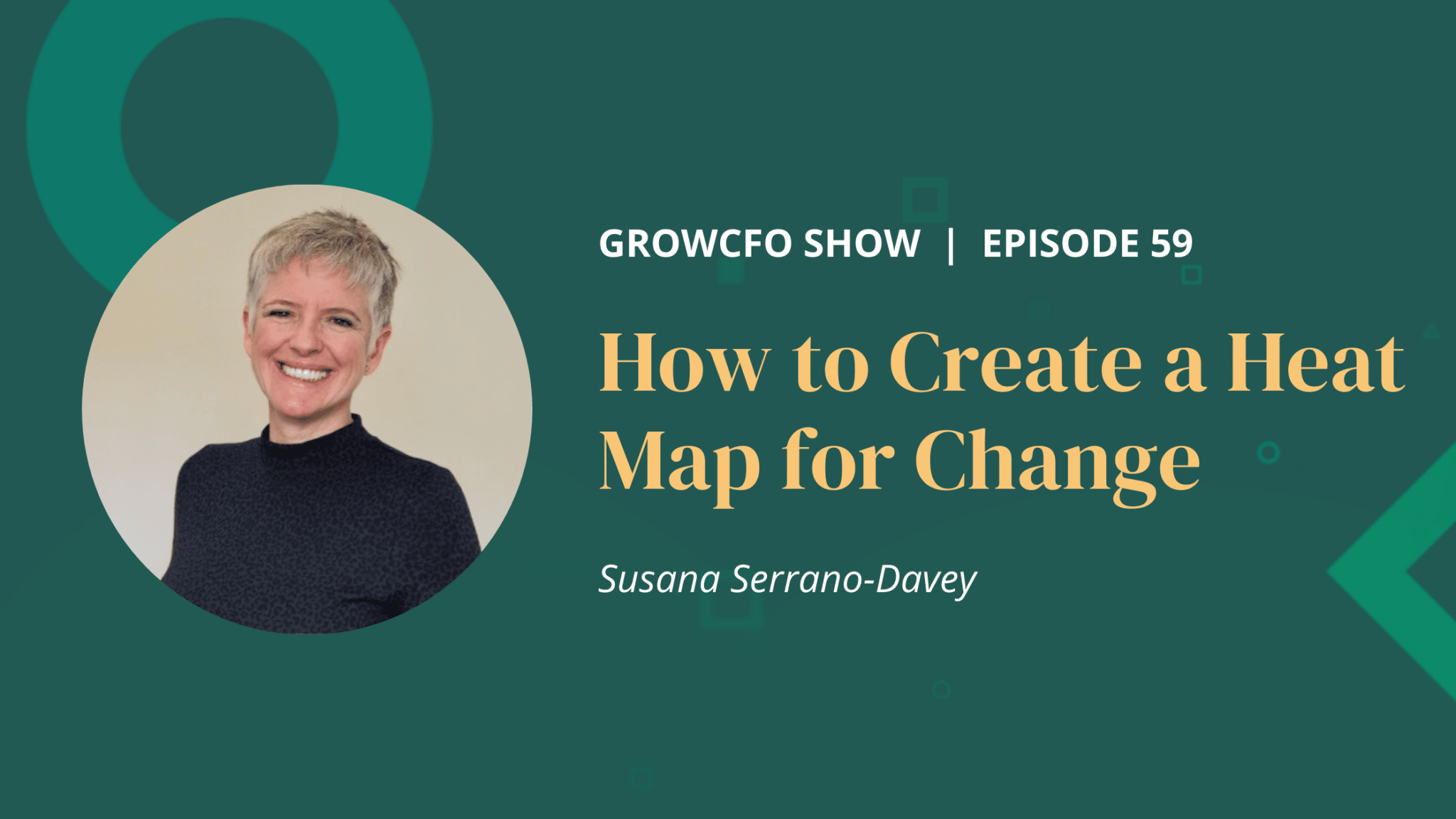 One of the first tasks you have as a new finance leader is creating a blueprint for your finance function, and the other parts of the business you have responsibility for. Susana Serrano-Davey tells us how she uses a heat map for change to determine what needs to be done and in what order.
Susana outlines a five step process to create a heat map for change.
You have just arrived in your new finance leader role. Chances are you have been hired to fix stuff. Besides the things you know you have to fix there will be other things to change. You may well have your own opinions on what the solutions are and what needs to be done. Susana councils us to proceed with caution and follow a process.
Step 1: Dont start too quickly
You need to be mindful of your new situation. You need to get to know the organisation. How does your leadership style work within the culture of your new employer? The first few weeks are all about discovery, building relationships and finding out how things work around here. Until you understand these it's too early to implement change.
Step 2: Beware of the pitfalls
Change will fail if you haven't taken the time to build relationships. Take time to meet with the key stakeholders, and to really understand the nature of the problem.
Make sure you ask the right questions. Why are things not working? Why those particular things? There may be a variety of issues to explore. Why is it so difficult to report? Why are we getting the wrong numbers? Or, why are suppliers not being paid? Why aren't we closing on time? Whatever the question there are reasons behind it you need to know about.
Make sure you involve the people at the coal face in the solution. They will know more about the problems than you do. They will buy into the solution and the business change if they think they created it.
Don't be a know-it-all super CFO. Be humble. Even if you think you have seen it all before. Then you can build from that.
Step 3: Draw a Heat Map for Change
The heat map is simple. It's a 2×2 matrix. Take your team off-site to populate the heat map. This way you get consensus about the problems, their importance and their ease to fix. First look at the problems and agree on your level of concern about each. Rank them red amber or green. Park the greens, and then map the reds and ambers on the matrix according to ease of fixing.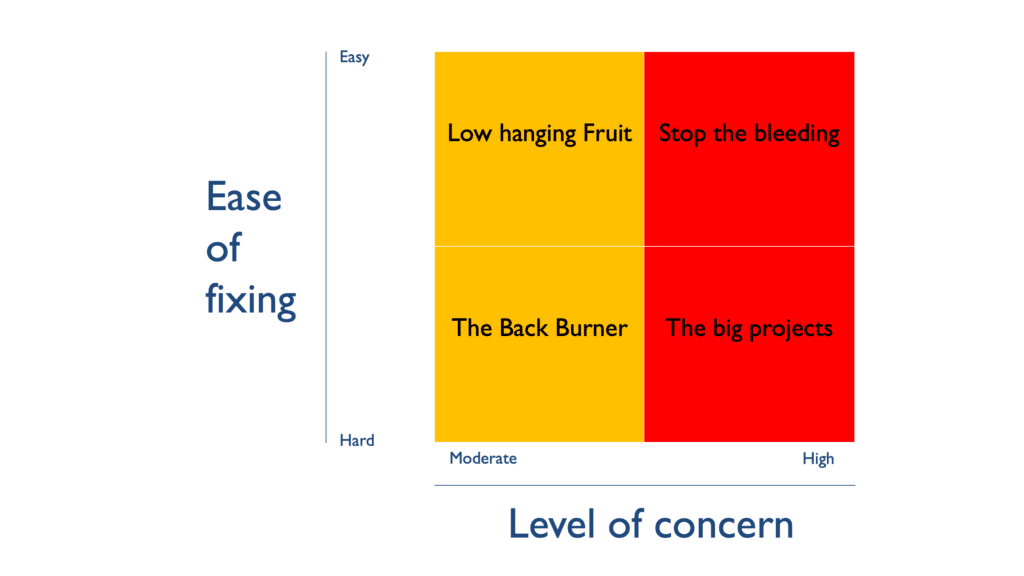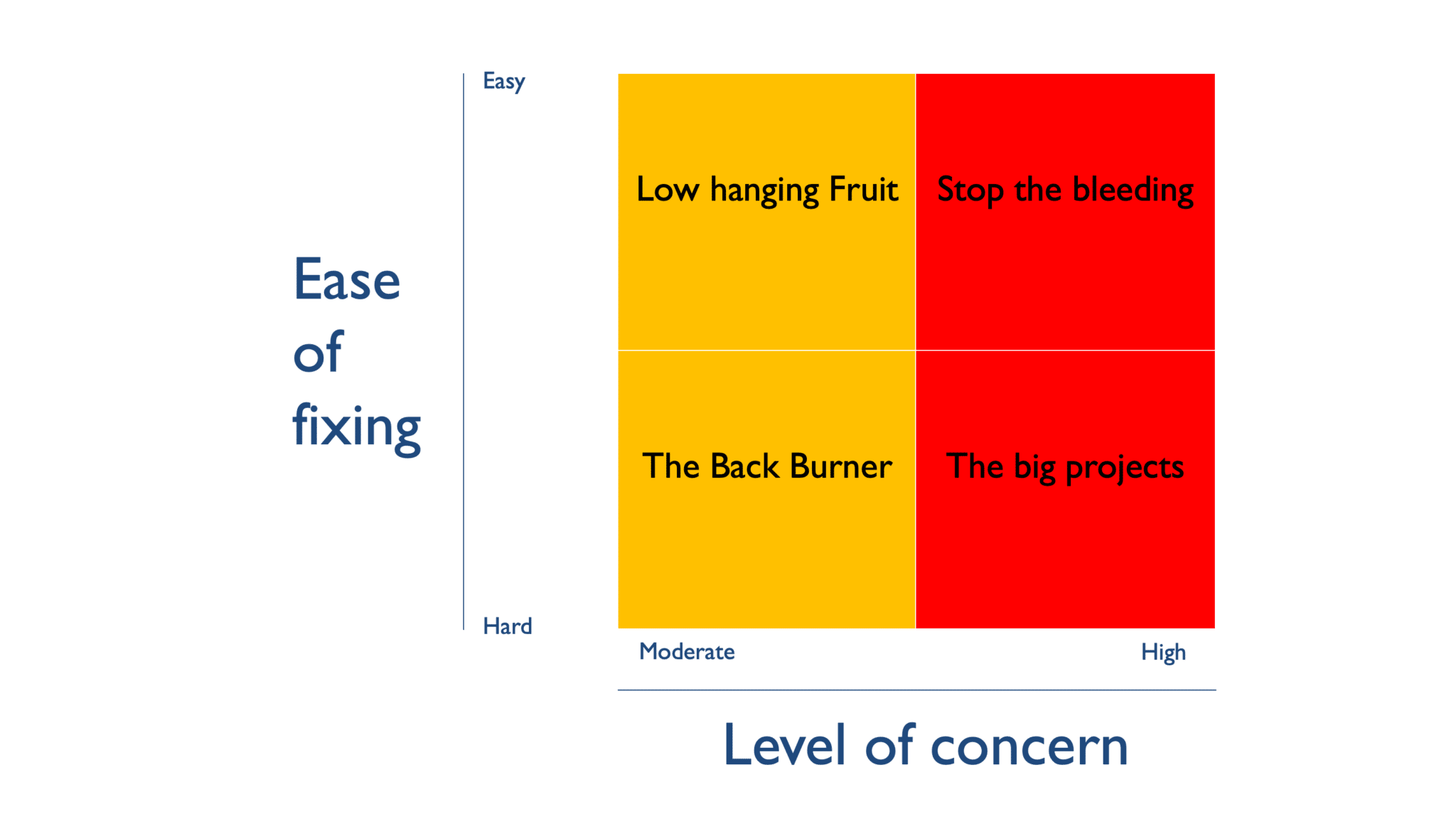 Step 4: Build a plan
The heat map will help you identify what needs to be done. It helps you prioritise what comes first. You need to turn this into a plan that identifies specific tasks, assigns responsibilities, and sets a timeline. Plan in detail for the first 90 days and an outline for the quarters that follow.
Stop the bleeding first. This will create some quick wins with a big impact. Then think about the big projects. You may want to take in some low hanging fruit. This will give you some further successes to celebrate while the longer-term changes are being worked on.
Step 5: Implement
Implement the 90-day plan. At the end of 90 days take time to celebrate success. Review what went well, what could have been better and plan the next 90 days. Before you plan again you need to update the Heat Map for Change and make sure that any new or changed priorities are reflected in the plan
---
Find out more about GrowCFO
If you enjoyed this podcast you can subscribe to the GrowCFO Show with your favourite podcast app. The GrowCFO show is listed in the Apple podcast directory, Google podcasts and many others. Why not subscribe there today? That way you never miss an episode.
GrowCFO is a great place to extend your professional network. You can join GrowCFO as a free member today and take part in our regular networking events and webinars.
Premium members also have access to our extensive training centre. Here you can enrol in our flagship Future CFO or Finance Leader programmes.
You can find out more and join today at growcfo.net
Podcast: Play in new window | Download