#134 Risk Management and the Banking Crisis with Isaac Strulowitz, CFO of CoVenture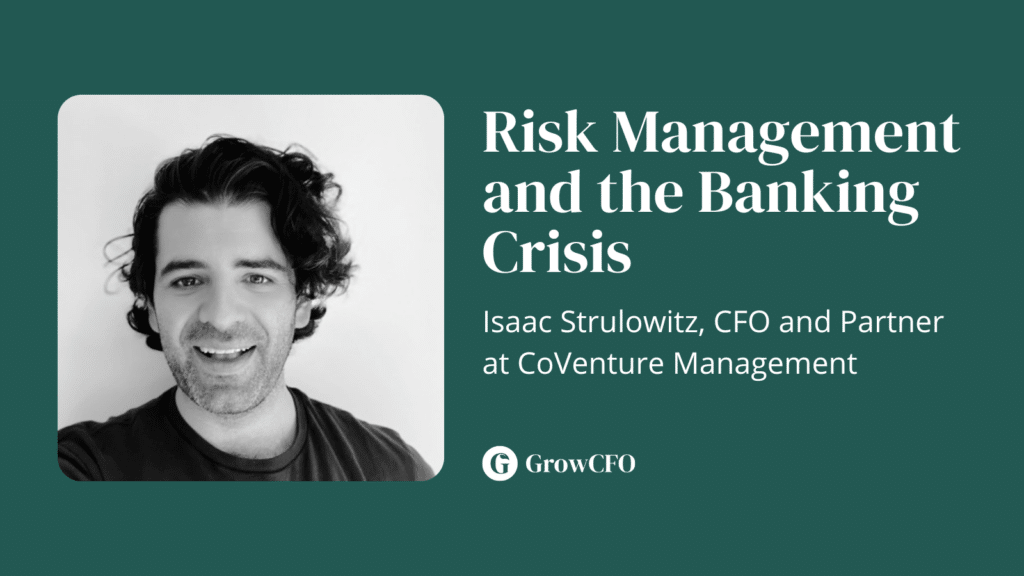 Isaac Strulowitz is the CFO of CoVenture. Isaac joins Kevin Appleby on this episode of the GrowCFO Show to talk about how Isaac and his team at CoVenture were affected by the recent banking crisis and the things they put in place to manage the financial risks they were presented with. Their approach to risk management in general has changed as a result, and Isaac provides some great advice on managing risk for other finance leaders to take note of.
Summary
Isaac talked about his career path and how he became a CFO. He also discussed the challenges he faced in his new role and how he learned along the way. Isaac discussed the rapid growth of CoVenture from its early stages to a team of 28 full-time equivalents. He emphasized the importance of competence, humility, and empathy in his leadership style and acknowledged the need to bring on individuals with complementary skill sets as the team grows.
Isaac discussed how CoVenture was well-prepared for the banking crisis in mid-March and how they have since focused on risk management and diversification. He advised other CFOs to identify vulnerabilities in their business models and devise plans to mitigate them, while also being mindful of the impact of AI and the current credit crunch.
Kevin and Isaac discussed the impact of the current crisis on the FinTech industry, the importance of cash flow, and the skills needed to become a successful CFO, including a strong foundation in accounting and the ability to weave together a narrative backed by numbers. They also discussed the need for operational conservatism and the importance of striking a balance between inhibiting growth and preparing for the worst.
Kevin and Isaac discussed how working remotely during COVID initially allowed for more productivity, but as the team grew, it became harder to maintain that level of productivity and communication. Isaac shared how he found quiet pockets of time during the day to do his best work and how CoVenture is trying to figure out the best hybrid model for their team.
Links
Timestamps
Introducing Isaac Strulowitz, co-founder of Co Venture. (0:11)
The culture shock of becoming a CFO of a startup. (2:56)
How did you get started in venture capital? (5:27)
How he's picked up the leadership skills to manage a rapidly growing team. (7:57)
What's going on in the banking sector right now. (11:13)
Diversification and risk management as a lesson learned. (13:26)
How often do you think you should be reviewing the risk register? (16:35)
Cash is king more than ever before. (19:03)
What would you be advising to aspiring CFOs? (21:16)
How have you managed to maintain your thinking time? (23:53)
Podcast: Play in new window | Download