#146 Providing Pragmatic and Useful Training for Finance Teams with Oliver Deacon, Former CFO at Microsoft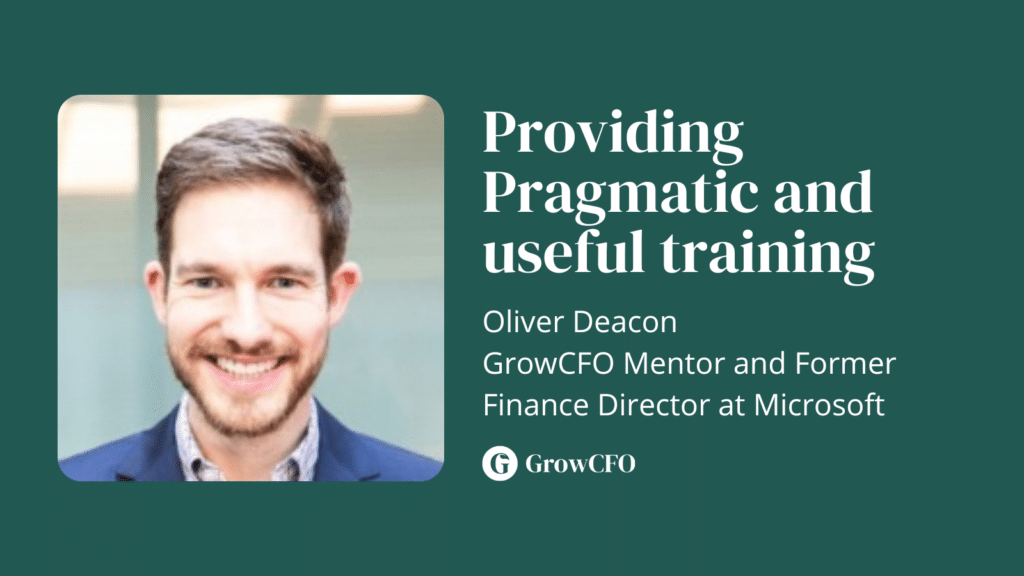 Oliver Deacon is a member of the GrowCFO Mentoring team. He runs the GrowCFO Business Partnering and Finance Transformation Boot Camps and is a former FD at Microsoft. Oil joins Kevin Appleby on the GrowCFO Show to talk about why these boot camps deliver results for the people attending them. Boot camps don't focus on providing training on the theory, they provide pragmatic and useful training for finance teams concentrating on the practical application of tools and techniques that deliver results.
Why do boot camps provide pragmatic and useful training for finance teams?
Boot camps are known for providing pragmatic and useful training due to several key factors that distinguish them from traditional education formats. Here are some reasons why boot camps tend to offer practical and applicable skills:
Focused and Intensive Curriculum: Boot camps are designed with a concentrated curriculum that focuses on teaching specific skills or technologies within a short period. This intensity ensures that students are immersed in the subject matter and learn only what's directly applicable to their goals.
Hands-On Learning: Boot camps emphasize hands-on, experiential learning. Students engage in practical exercises, projects, and real-world scenarios that allow them to directly apply what they're learning. This approach reinforces understanding and promotes the development of problem-solving skills.
Project-Based Approach: Many boot camps structure their training around case studies that simulate real-world challenges. This approach encourages critical thinking, collaboration, and the application of theoretical knowledge to solve practical problems.
Rapid Skill Acquisition: Boot camps condense the learning process, enabling students to acquire practical skills quickly. This is particularly valuable in rapidly evolving fields where professionals need to keep up with the latest tools and technologies.
Instructors with practical Experience: Boot camp instructors typically have very relevant experience and practical expertise. This means they can provide real-world insights, share industry best practices, and offer guidance on applying theoretical concepts effectively.
Networking Opportunities: Boot camps often foster a sense of community among participants. Students come from diverse backgrounds and industries, providing opportunities to network, collaborate, and learn from their peers' experiences.
Summary
Oli and Kevin discussed upcoming boot camps, including business partnering and finance transformation. They also discussed the need for pragmatic and useful training to help teams apply their learning.
Oli and Kevin discussed the importance of practical training that enables finance teams to take immediate action and make a difference in their work. Oli shared his experience in providing training that empowers participants to apply what they learn and make an impact in their roles.
Oli and Kevin discussed their business partnering book camp, which aimed to train finance professionals to become effective business partners. They emphasized the importance of influencing and slimming down information to generate real business impact and described the structure of their two-hour interactive sessions over six weeks.
Oli and Kevin discussed the finance transformation boot camp and how it has evolved over time. They highlighted the need for finance teams to undergo major transformations and the lack of knowledge and tools to initiate these changes.
Oli and Kevin discussed the need for a course that helps finance teams with finance transformation, including selecting software systems. They couldn't find an existing course, so they built one themselves based on their own experiences and principles.
Kevin and Oli discussed the different topics covered in their finance transformation boot camp, including software selection, strategy planning, process optimization, data analytics, and measuring key performance indicators. They emphasized the importance of getting the right data and using tools to transform and analyze it effectively.
Oli and Kevin discussed the importance of change management in finance transformation. They emphasized the need to engage and involve the right people early on, address resistance to change, and empower individuals to contribute to process improvement.
Oli and Kevin discussed various topics related to finance transformation, including the application of lean principles in finance processes and the need for training and guidance in areas such as forecasting and budgeting. They also mentioned upcoming boot camps on business partnering, finance transformation, and Power BI.
Oli and Kevin discussed the challenges of learning and using Power BI in finance. They highlighted the need for a practical and focused course that provides the necessary steps and code to effectively utilize Power BI for financial reporting and analysis.
Links
Timestamps
How do you deliver pragmatic and useful training? (0:12)
Business Partnering Boot Camp: The importance of influencing your team. (2:49)
The Finance Transformation Boot Camp. (8:58)
How to transform your month-end close (11:54)
How do you select IT systems? (14:21)
What are you going to measure? (20:04)
How do we make sure people feel included in change? (24:21)
The Power BI Boot Camp. (28:25)
The difference between MS Excel and Power BI. (32:52)
Podcast: Play in new window | Download