#140 Is Now the Right Time for International Expansion with Dr Shan Nair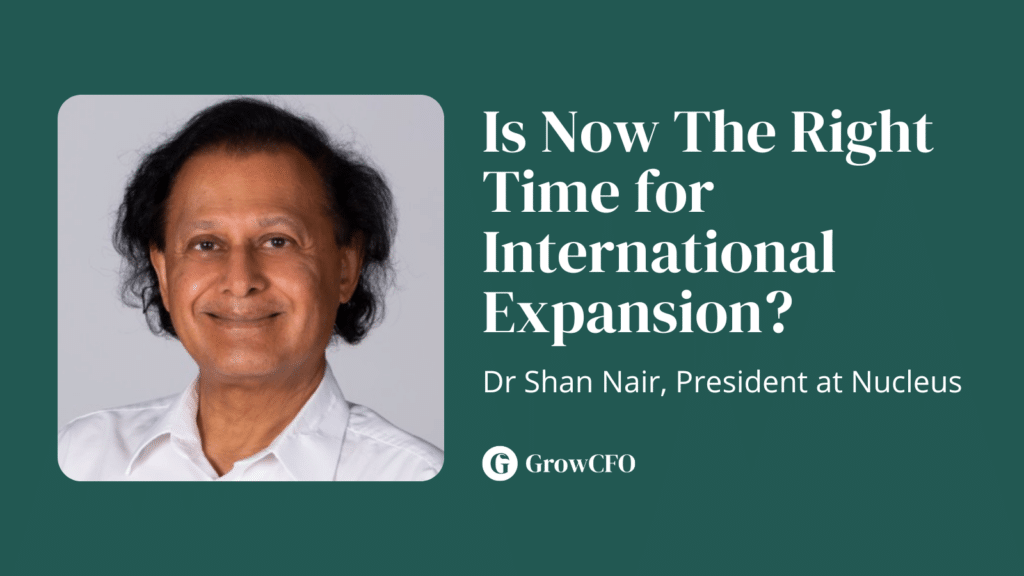 Dr Shan Nair is an entrepreneur and consultant on international expansion. He was the first to spot and develop the niche market of International Expansion Services (IES) which was previously fragmented. In the process, he has worked with many early-stage companies that have since become household names such as Tesla Motors, FaceTime and Sonus Networks. His role is to promote the services offered by Nucleus, a one-stop organization for U.S- based companies who wish to expand globally. Shan has a doctorate in nuclear physics from the University of Oxford. He has received multiple recognitions for his contribution to US, UK and Indian business.
During August GrowCFO will be running a quest to help premium members plan the opening of an overseas office. For many, the overseas office is the first step on the ladder to international expansion.
Shan and Kevin discussed the reasons for international expansion during difficult market conditions. They highlighted factors such as cost-saving opportunities, availability of skilled labour in certain regions, and the importance of considering government incentives and ease of doing business when choosing a country for expansion.
Shan and Kevin discussed the challenges of expanding a fintech company globally, including the need for expert help in navigating legal, accounting, tax, and HR compliance requirements. They emphasized the importance of adequate budget, thorough research, and understanding the specific regulations and liabilities in each target market.
Shan and Kevin discussed the expansion of Chinese companies into Europe and the reasons behind their reluctance to expand into the United States. They also touched on the challenges of operating in China, such as poor IP protection.
Kevin and Shan discussed their experiences in the energy sector, including the challenges of privatizing nuclear power and the issues with ageing coal-fired power stations. They also touched on the financial and technical aspects of their work, such as calculating liabilities and reducing emissions.
Links
Timestamps
What makes you an expert in international expansion? (0:11)
Why is now a good time to expand? (1:43)
Why companies are looking at other countries, particularly Eastern Europe, Poland, Czech Republic, and Slovakia? (5:13)
Why are you looking at people that might want your services in Spanish elsewhere? (8:42)
What's the main issue with expanding into other countries? (10:06)
What are some of the tax compliance requirements that you need to be aware of? (12:58)
What are the five things you're most likely to get wrong when starting a business? (16:40)
Common places that companies in the US and Europe want to expand. (20:39)
Why are Chinese companies looking to expand in Europe more than in the US? (23:41)
Podcast: Play in new window | Download