#139 Providing Fractional CFO Services with Dan DeGolier, Founder at Ascent CFO Solutions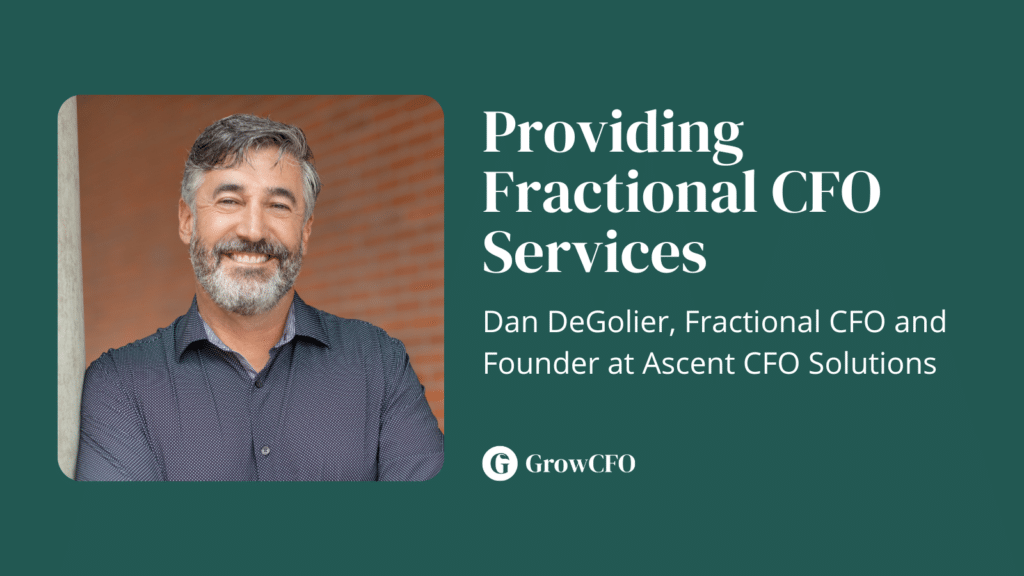 Dan DeGolier joins Kevin Appleby on the GrowCFO Show to discuss the provision of fractional CFO Services. Dan is the founder at Ascent CFO Solutions. He discussed his background and career journey, including his experience in public accounting and working with venture-backed companies. He describes how his firm, Ascent CFO Solutions, has grown to include a team of 38 professionals who provide various financial services to clients, including capital raising and outsourced accounting.
Dan and Kevin discussed the challenges faced by companies in terms of fundraising, cash conservation, and revenue growth. They also talked about the impact of automation and artificial intelligence on their work, with Dan expressing cautious optimism about leveraging AI to improve efficiency and effectiveness.
Kevin and Dan discussed the implementation of automation in finance, explicitly using tools like Power BI to create customized dashboards for clients. They also emphasized the importance of understanding key performance indicators (KPIs) and cash flow management for businesses of different sizes.
Dan and Kevin discussed the importance of planning for a potential business exit and the benefits of working for a CFO firm. They emphasized the need for a thorough understanding of a company during the onboarding process and the ability to provide flexible and varied experiences for professionals.
In the conversation, Kevin and Dan discuss the importance of communication and time management skills in client interactions. They also mention the need for a diverse background and the use of screening tools like the CVI to find the right fit for the role of CFO.
Links
Timestamps
Welcome to the show, Kevin Appleby. (0:12)
Fractional CFO vs. full-time CFOs. (2:48)
How chatbots are changing the way we write. (8:17)
What are some of the biggest trends that Dan is seeing in the industry? (12:03)
How do you determine which data bits are the most important? (14:59)
Why you need to have investors in your business. (18:37)
Working with multiple CFOs and companies. (21:52)
How do you onboard people in multiple roles into numerous clients? (26:42)
How do you avoid making those mistakes because they could be very expensive? (31:14)
Podcast: Play in new window | Download