#33 What Does a Corporate Finance Advisor Do? With Abu Ali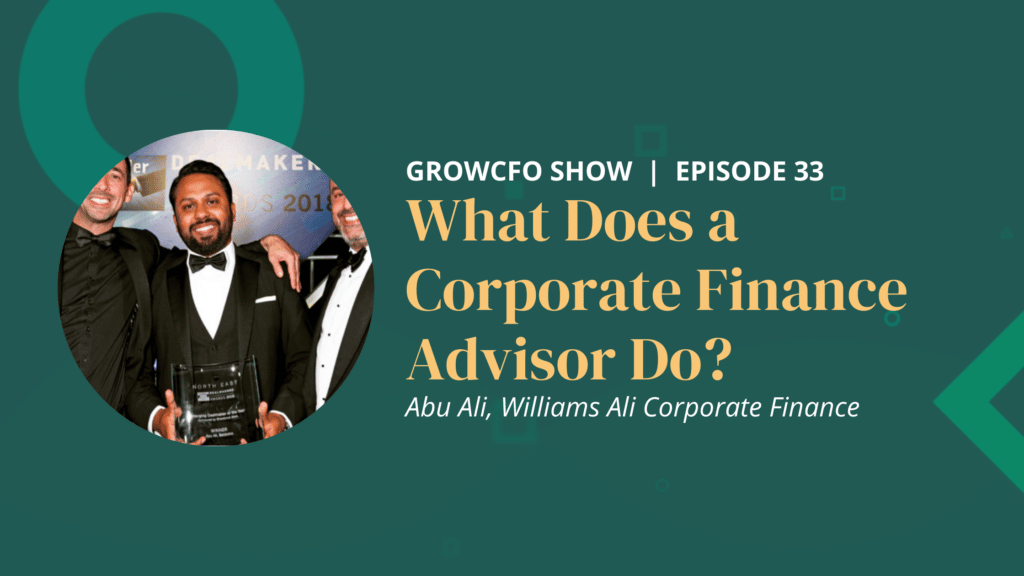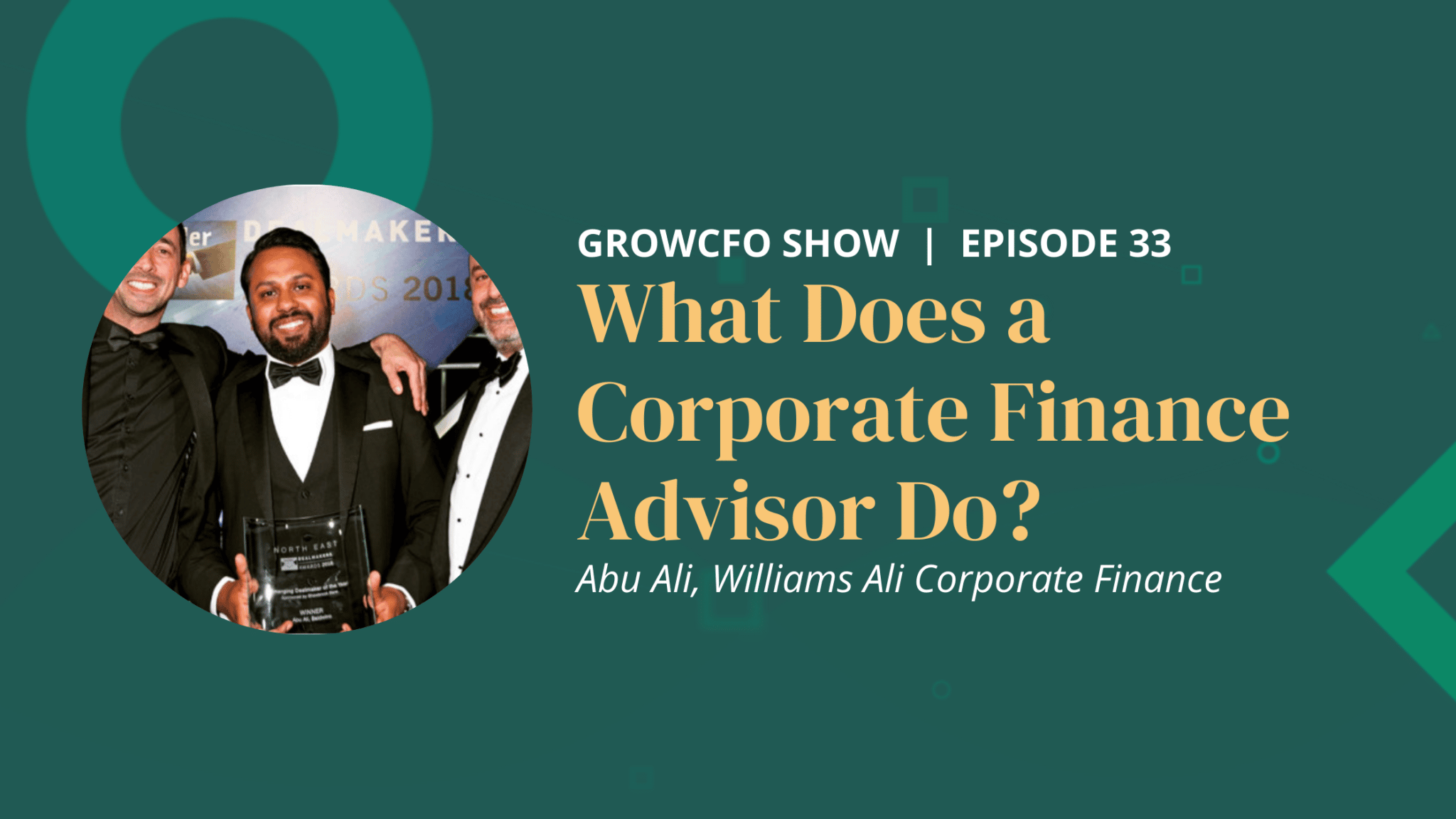 Abu Ali is a partner in a Newcastle based corporate finance boutique, WilliamsAli. He provides strategic M&A and funding advice to business owners and investors.
Abu joins Kevin Appleby on the GrowCFO Show to explain the role of a corporate finance advisor, and the value that working with an external specialist can bring to your business.
About Abu Ali
Abu Ali qualified as a Chartered Accountant with Teeside based Clive Owen & Co. He soon left the world of audit to pursue a career in corporate finance. He gained his initial experience with Ryecroft Glenton Corporate Finance before moving on to become a director at Baldwins.
Running is own practice was always Abu's ambition, and in early 2019 he became one of the founders of Leathers Corporate Finance. In April 2020 Abu and his partner Phil Williams exercised an option to complete the buy-out of Leathers Corporate Finance. This included a full rebrand to Williams Ali and relocation to new offices within Newcastle.
WilliamsAli offers a focused, high quality service to help businesses and their shareholders realise their ambitions. The team has extensive deal experience acquired over many years. They take a leading role in transactions. These include business sales, MBOs, acquisitions, private equity transactions and fundraising.
What is Corporate Finance?
Corporate finance includes a wide range of activities. Abu talked through the variety of activities he supports. He advises a variety of different people. These include:
Shareholders on the sale of their business.
Management teams on Management Buy-Outs.
Acquirers on the identification and purchase of acquisition targets.
Business owners on company valuations.
Abu tells us that it's not just about giving advice. There are many more practical activities he gets involved in. These include:
Helping business owners prepare their business for an exit.
Helping entrepreneurs prepare business plans to attract the funding needed to start up or develop their existing business. This might be in the form of equity, debt or grant funding.
Assisting companies in defining and documenting their corporate and growth strategy.
Who is corporate finance for?
Raising funds for clients is a major part of Abu's role. But Abu doesn't just work with businesses that need to find funding. Some of his clients are very well funded. Clients may be looking to make acquisitions, and have funds available. Identifying the right acquisition becomes the challenge.
Abu spends about half his time helping businesses to sell. People typically don't know what their business is worth . They also don't understand the process of selling and need help. Working with these clients Abu becomes an extension of the management team. He often takes a project management role from start to finish of the transaction.
How do you find a buyer for your business?
You can't put a "for sale" sign up outside your business. Selling can often be a covert process to maintain confidentiality. Abu often finds that its necessary to make sure staff, customers and suppliers don't know a business is for sale until the right time in the process. Often the right time might be when the deal has been done.
Research is very important. Abu will spend a lot of time identifying potential buyers and developing a short list. To do this Abu needs to be well networked, and able to talk to his network about any opportunity he has with discretion.
The network that Abu has built is different from one you would typically build as a CFO. This is one reason why a business with a very strong CFO might still engage a corporate finance advisor.
Find out more about GrowCFO
If you enjoyed this podcast you can subscribe to the GrowCFO Show with your favourite podcast app. The show is listed in the Apple podcast directory, Google podcasts and many others.
GrowCFO is a great place to extend your professional network. You can join GrowCFO as a free member today and take part in our regular networking events and webinars.
Premium members also have access to our extensive training centre. Here you can enrol in our flagship Future CFO or Finance Leader programmes.
You can find out more and join today at growcfo.net
Podcast: Play in new window | Download