#21 The Hidden Job Market with Tony Talbot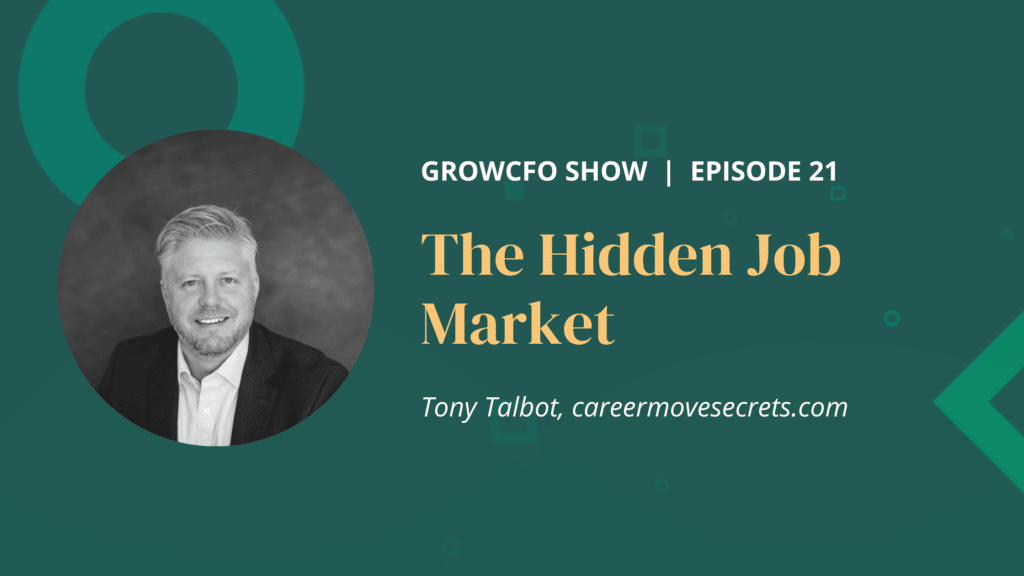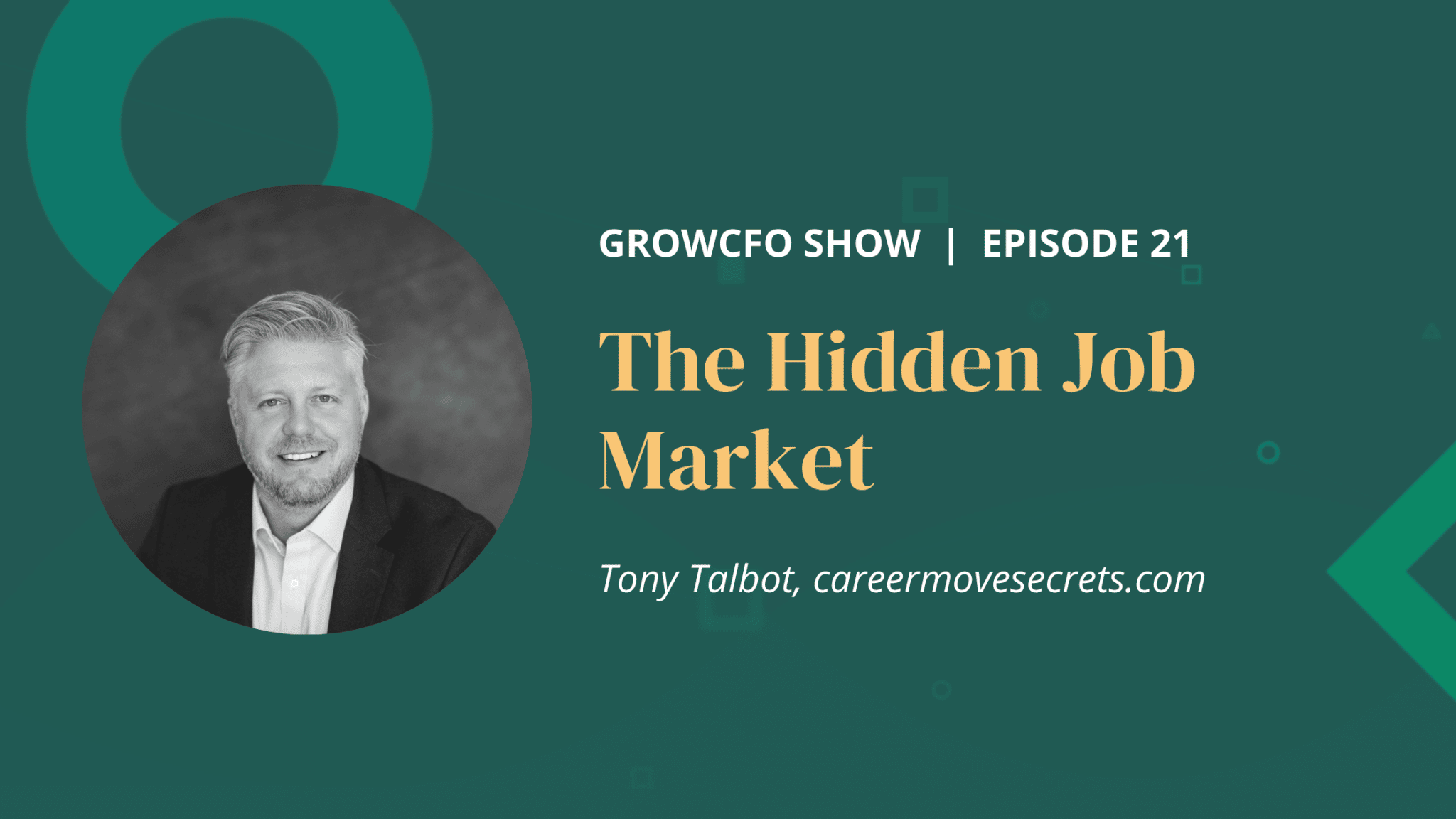 Tony Talbot is an experienced headhunter turned podcaster. He's the host of the Career Move Secrets podcast and he joins me on The GrowCFO Show to talk about the hidden job market. He gives us the inside track on how most senior roles are filled and exactly how a headhunter will draw up a shortlist of candidates.
Tony specialises in helping the owners and leaders of consulting companies hire senior, hard to find, and niche talent. From time to time he also handles c-suite roles.
The advertised job market is broken
Today's Advertised Job Market is BROKEN for senior candidates. Your average odds when you apply to a job online are 250-1.
In reality your Resume is highly unlikely to be read by a real human being as the ATS (applicant tracking system) is designed to filter out 80% of applicants. Worse still many of the jobs online are FAKE, duplicates or filled by candidates from referrals and recruiters rather than job advert applicants.
What is the hidden job market?
The truth is 80% of all hires are made in the Hidden Job Market (the jobs that are not advertised online or anywhere else). The more senior the role the more likely it is to be recruited this way. Far fewer than 20% of CFO roles are ever advertised.
The hidden job market is split in two and comprises:
Roles that are filled by people already known to the CEO and his team, or are recommended by their network
Roles that are filled by candidates sourced through a head hunter like Tony.
CFO roles are commonly filled through either of these two routes.
Networking your next CFO role
Being well connected has never been more important. Lots of c-suite roles are filled by people already known to the organisation or through recommendations of trusted advisors.
Building your network is key. Go out of your way to form relationships with auditors or professional advisors, and with senior executives in your chosen sector. Who you know is important. You should build connections and relationships both in person and on LinkedIn.
You can find out much more about how to build your network in module 5 of the GrowCFO Future CFO programme
Know how to get noticed by a headhunter
If you want to increase your chances of being found by a headhunter you need to know how they operate. Tony went into lots of detail about this in the podcast.
LinkedIn is absolutely critical to the process. Nearly every search will start with Sales Navigator and a key word search. You must make sure your linkedin profile contains the right matches otherwise you will fall at the first hurdle.
There's much more to it than just key words. Once you have made it to the long list an a human is reading your profile you need to stand out. Tony has lots of tips for doing this.
Linkedin is a vital tool in the hidden job market
You must make the most of your headline, it isn't just your job title. Use all the space available to say a little bit more. Then you need top make maximum use of the summary section. Don't just list skills talk about some specific successes you have been involved in, problems you have solved, and other key achievements.
You can elaborate further in each of the job descriptions you include. Make sure you use all the text available to you in each section.
You need to keep your profile up to date. A profile that hasn't been updated for more than a couple of years will soon be discounted by the headhunter.
Show the headhunter you are active and have something worthwhile to say be posting regularly, or by commenting meaningfully on other peoples posts, particularly when key people of influence in your space are posting. That might be fellow finance professionals or leaders in your industry.
About the Career Move Secrets podcast
Career Move Secrets is your insider's guide to getting hired in the hidden job market and beating the global economic downturn.
The show delivers insider advice on job searching, interviewing and career enhancement.
In each episode, Tony interviews a special guest from his global network. Guest include seasoned recruiters, experienced hiring managers and successful individuals who have developed great careers through making great career moves.
Tony adds his perspective to the mix and together with his guests, provides some genuine, actionable advice that will help you land your next senior role.
Podcast: Play in new window | Download