#5 Mentoring for CFOs with Catherine Clark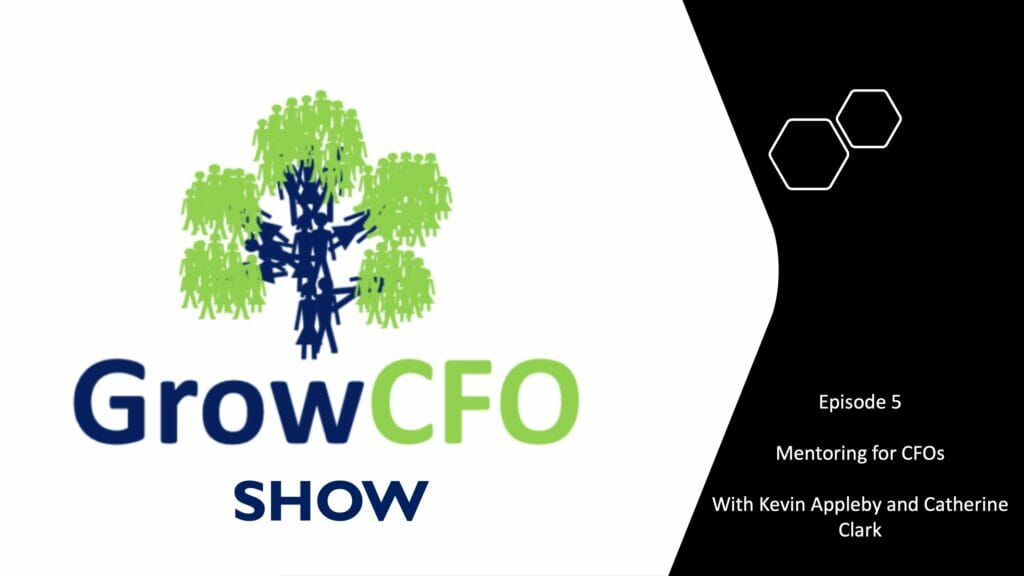 Catherine Clark is this week's guest on the GrowCFO Show. Catherine provides mentoring for CFOs and is part of GrowCFO's own mentoring team. We discuss the role of a mentor, the common issues that Catherine finds with her CFO clients, and how mentoring for CFOs can add value for both you the CFO and your organisation.
About Catherine Clark
Catherine Clark is a chartered accountant, she qualified with KPMG, and worked for several companies before taking on a role as CFO of a global consultancy, giving her 10 years of boardroom experience. During this time she became really keen on both developing herself and her team.
The CFO mentoring her own finance team
Catherine mentored her own team members. She found conversations with the team very honest. Because she saw people every day she knew their strength & weaknesses. Her people knew she was coming from a position of support, so this led to good quality trusting relationships.
Mentoring CEOs in the not for profit sector
Alongside her day job Catherine joined a scheme that matched women from the commercial sector to women CEOs in not for profit organisations. Supporting these CEOs made her realise she had a real liking for being a mentor and supporting other C-suite individuals.
Catherine found she was addressing two common issues; self confidence; and self esteem. She discovered her real passion is to help people overcome these.
These same problems are common across everyone. Catherine finds that its not just CEOs in the not for profit sector, but just about every leader she mentors.
Imposter syndrome is a common problem
At the core of these issues is something called Imposter syndrome. In short, people think they don't deserve to be where they are. This, of course, isn't true. Catherine finds people need to understand what holds them back before she can help them move on. She generally does lots of work on limiting beliefs. Catherine works with people on their strengths, this makes them affirm why they are so good.
One of Catherine's techniques is to take folk back to successes they have had in life, analyse the success, and appreciate the strengths that made it happen.
What makes for a successful mentoring relationship?
A successful mentoring relationship is all about developing trust. This starts with a chemistry call of about 30 minutes. Thats where trust first established, but builds over time.
Mentoring is always confidential. The mentors job is to actively listen and be a sounding board. It's as much about the mentee realising they can get to their own answer as it is supplying the answer.
The mentor needs lots of energy, being present in the conversation is vitally important. Catherine finds she must be in right frame of mind for every mentoring call so can't do lots back to back. She gets into right mindset by maintaining right balance in her life. Yoga, walking and some kind of personal mental or physical activity every day get her in the right place. This way she can turn up in every session as the best version of herself.
Mentoring for CFOs. How does it work?
What does mentoring for CFOs look like? How does it work?
Catherine likes to have a flexible arrangement that can be tailored to the needs of the individual CFO. Mentoring for CFOs will usually happen across 6 or 12 sessions. These sessions usually take place monthly.
Catherine has a structure, but prefers to work on what is affecting the CFO at the time. She works from current issues, but using a toolbox of things that can be adapted to the situation. Its a very practical hands on way of giving support.
What key issues crop up?
CFOs often believe they can't ask for support, so turning to a mentor for help doesn't feel natural. Often the CFO feels isolated, and therefore might need reassurance. The mentors job is might be to validate the CFOs thinking. For example the CFO checking a strategy process is being driven in the right way.
One big challenge is the amount of new stuff the CFO needs to quickly develop expertise in. The development route of most CFOs doesn't help. Its quite common for CFO to rise through financial controller and head of finance roles. The boardroom needs a whole different set of skills. The world changes at board level and a whole load of new stuff comes along. Stuff you never needed to know to pass professional exams, and nothing prepares you for the new role.
Suddenly you need to be a boardroom leader, an influential leader, not just a functional team leader. There are people looking up to you wanting to be inspired. You need to look outwards customers supplier investors, not just the finance team.
You will need gravitas to present new stuff to a new audience. This may need a huge change in style. Often its not what you say but how you say it and what your body language gives away. You need to give people faith that all is ok, or under control.
Catherine loves seeing CFOs rise to these new challenges. People transform, and it can happen quickly once they see the light!
GrowCFO's Mentoring for CFOs Programme
Catherine is working with both aspiring and first time CFOs in GrowCFO, as well as heading up women finance leaders group. The mentoring for CFOs programme provides support to help in the new role. Mentoring is geared to each individual, and is based around each person's strengths and weaknesses
The programme is mentee led. It starts with a chemistry call, one to one, to explore the outcomes required. We use this to make sure the right mentor is in place, the person that can support the mentee. The next step is to go into detail about where the mentee is now and what immediate support is needed.
GrowCFO gives you more than just mentoring
The mentoring programme is supplemented by the GrowCFO Learning centre. There are online programmes for both Future  and 1st Time CFOs. GrowCFO is fully CPD accredited, so you can use these to fulfil your professional body's annual requirements.
Alongside mentoring and online learning, GrowCFO runs cohort groups. These Cohort groups match you with a group of your own peers and you meet together to support each other. Together these 3 ways of learning make a great combination. Group sessions, mentoring, and online learning each play a different part in aiding your development.
In the end though its all about putting stuff into action. This is far more than just an online learning programme. New stuff comes up all the time, thats the fun of being a CFO. We support CFOs in a practical hands on way. It doesn't get boring!
GrowCFO provides both coaching & mentoring. These are very different. A mentor will always be a CFO, been there and done it. Coaching is more question led, and not necessarily supplied by another CFO. Instead it comes from a subject matter expert. GrowCFO has a range of such experts that can be brought in when coaching is needed.
How do you find out more about mentoring for CFOs
You can find more on GrowCFO's mentoring page, but the best thing is to talk directly to one of the team. Go book a free chemistry call. Take a look at testimonials from people we are already supporting..
Think about the time you waste by trying to do it all by yourself. Consider how a mentor can accelerate your progress and give you some time back.
Why not drive value faster in your organisation. Do you always show up as your best self? Can someone else help you do that and enjoy the journey at the same time.
You have to be yourself to be your best!
Podcast: Play in new window | Download