Automate Revenue Recognition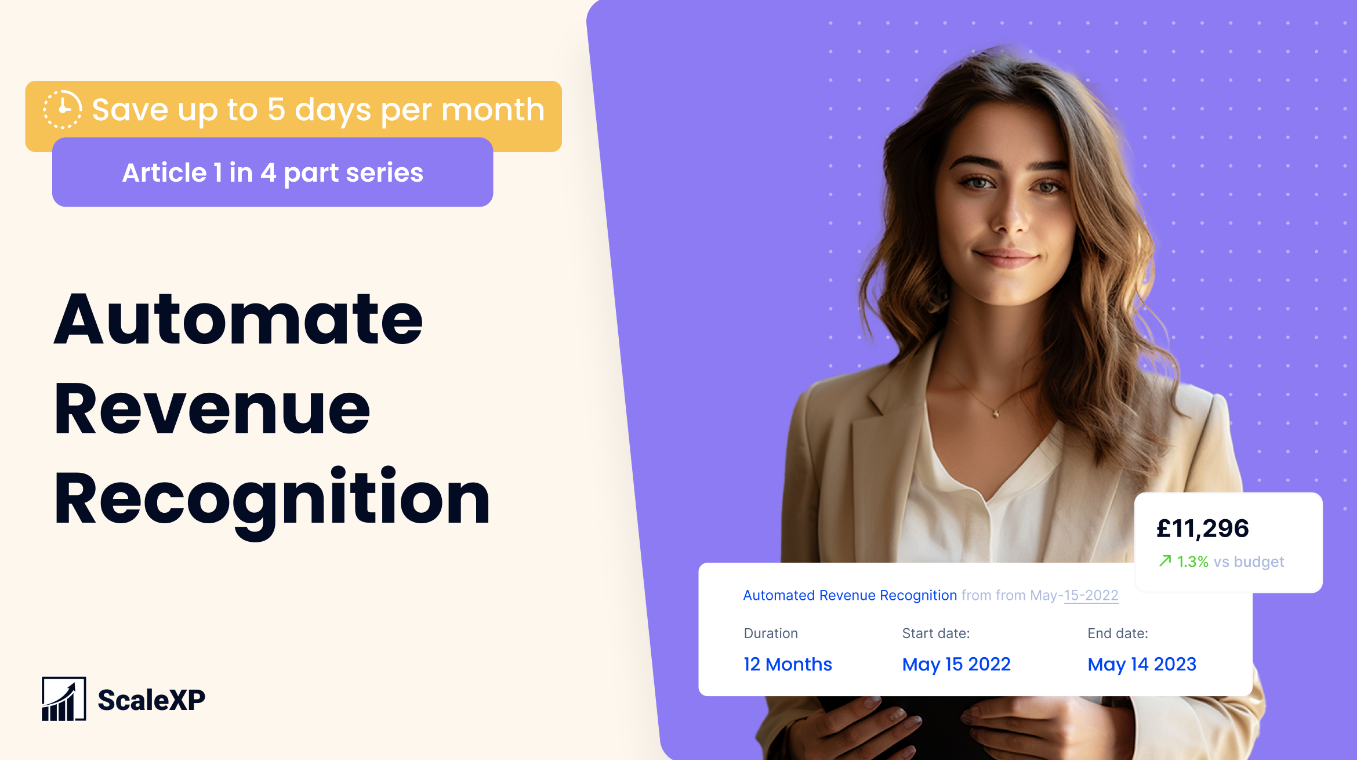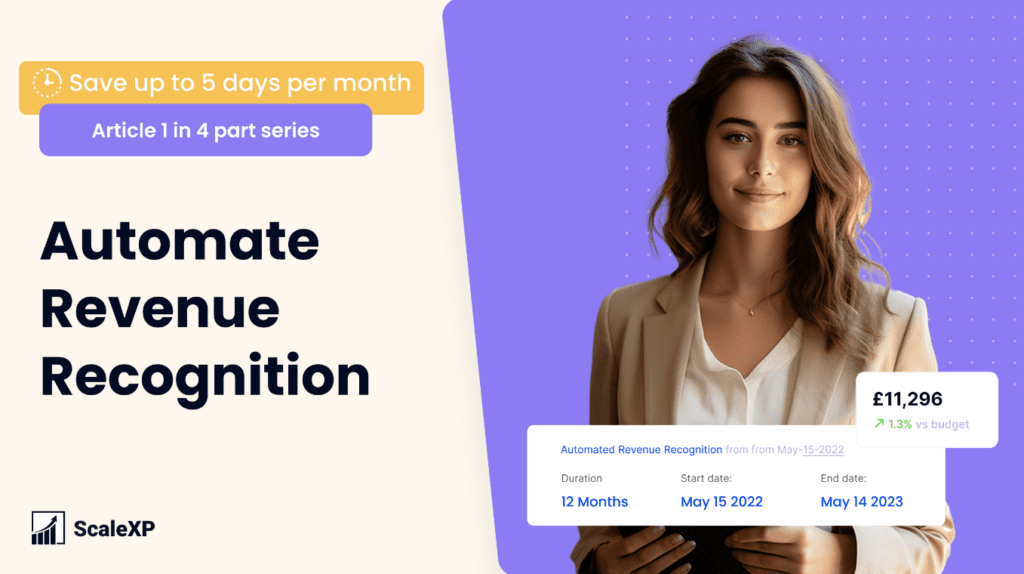 Have you ever paused to consider how many extra hours you have worked in 2023?  What are your expectations for 2024? 

Do you have the tools in place to reduce manual work in 2024, freeing up your time to focus on strategic priorities and increasing shareholder value?
ScaleXP is a finance automation platform, designed to save you time, up to 5 days each and every month.
We deliver impactful time savings by:
Fully automating revenue recognition
Fully automating prepayments
Providing a host of presentations, which are guaranteed to impress
Putting AI powered dashboards at your fingertips
Harnessing the power of your CRM data for forecasting
Over the next four weeks, we will publish four blog articles to show how these features in combination can transform your access to data and save days per month. 
Our focus today is to explain how the system can fully automate revenue recognition.
ScaleXP is a software platform used by SME Finance Directors. The system connects to both accounting and CRM data, allowing a host of manual tasks to be automated.

What do you mean by revenue recognition?
Revenue recognition is ensuring that revenue is recognised in accordance with accounting principles (IFRS, ASC, GAAP).  Deferred revenue and accrued revenue are the best examples.
For many SMEs, particularly those that use Xero, QuickBooks or Zoho, tracking deferred or accrued income is a laborious spreadsheet exercise. These manual processes require that every invoice and invoice line is entered into a spreadsheet.  Revenue is then spread by month and journals are reentered in the accounting system.
Spreadsheet tracking is prone to errors. Late invoice modifications and credit notes can be hard to capture, and foreign currency invoices create further complications. The process is not sustainable for companies as they grow and scale.
How does ScaleXP automate revenue recognition?
ScaleXP is powered by a sophisticated series of text recognition algorithms which read and process all of the data and text on invoices.
The system is able to read dates in any format and decipher any contractual term.  The single word 'annual' or 'quarterly' which allow the system to build a profile of your revenue recognition.
These text recognition algorithms can be combined with other options to automate revenue recognition – based on a variable project schedule or even the portion of work that is complete.
The ScaleXP algorithms are the most sophisticated on the market, and we will work with you to automate revenue recognition based on any data which is consistently available.

How will this save me time?
ScaleXP will fully automate revenue recognition from all of the data and text on your invoices, eliminating the need for spreadsheet tracking. 
But there's more…..
Your invoices have other data which is of huge importance:
Number of new customers
Number of lost customers
Upsells, downgrades
Customers by product or business line
Recurring revenue, including MRR and ARR
Using a series of tagging algorithms, which are easy to customise, the ScaleXP platform provides business critical metrics:
New customer growth
Revenue retention and churn
Customer retention and churn
Net dollar retention (for SaaS or subscription companies)
Who can benefit from this technology?
Any B2B company can use ScaleXP, with any number of invoices (up to 1 million invoices per month).  Xero and QuickBooks customers are the biggest beneficiaries as these systems have limited built in capabilities.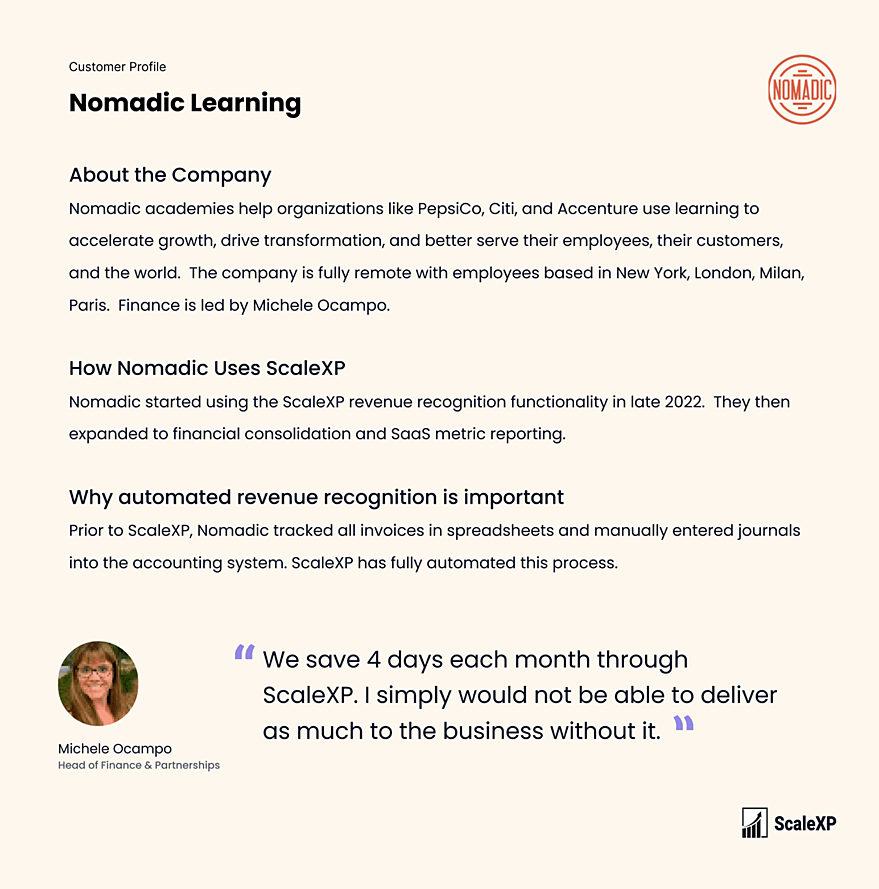 Tell me about ScaleXP; I haven't heard of the company.
ScaleXP is a smart finance automation platform.  The company was created by Suezann Holmes, following her 15 year career as a CFO at larger corporates (Virgin Mobile, Virgin Media) and Tech Track 100 companies (moo.com, James & James).
Suezann experienced first hand the frustration of trying to gather CFO strategic insights from Xero, QuickBooks and Sage. Her goal, through ScaleXP, is to empower all finance teams with the data to create strategic impact. 
ScaleXP automates routine processes using AI and machine learning algorithms. SME finance teams save between 3 and 5 days each month. Business critical KPIs are delivered in compelling dashboards, enabling teams to deliver more shareholder value and support the strategic priorities of their businesses.
Getting started is easy.
If you have complex revenue recognition, just

use this link

to schedule a short conversation with a product specialist.
If you just want to trial the revenue recognition,

use this link

to access a free 10 day trial account.
Finally, if you just have a quick question, just drop me an email. I am always happy to help:

suezann@scalexp.com