#145 What do higher interest rates really mean? With Bill Fink, Executive VP at TD Bank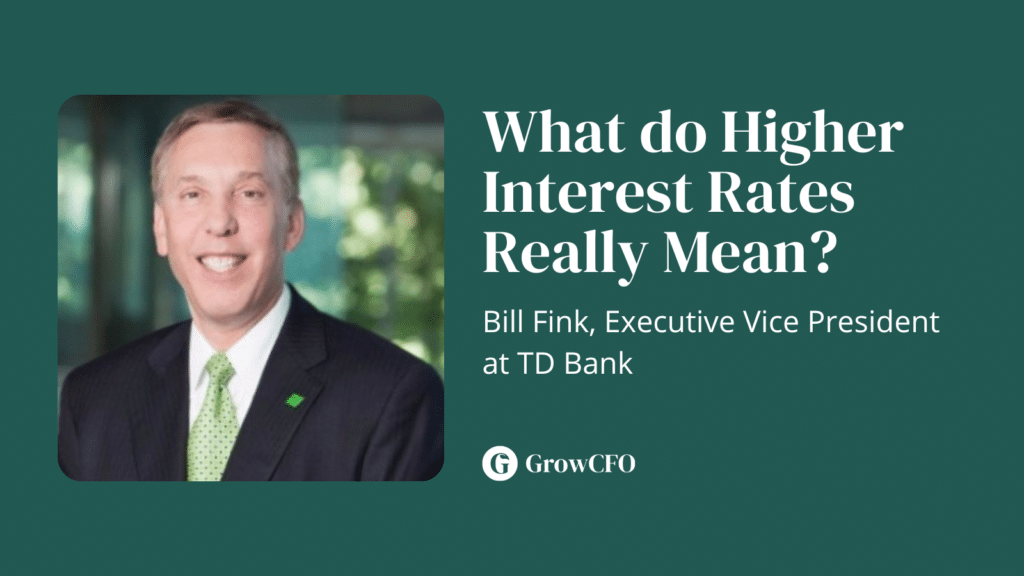 At some point in the next year, the interest rate hikes will likely end. After months in near-constant rate-hike-anticipation mode, CFOs will need to shift their mindset to the new rate environment and the opportunities that will open up. Bill Fink is an expert on this. A commercial banking and credit-risk executive with 30 years of experience, Bill is a frequent commentator on the economy, looking at everything from the impact of inflation and supply chain disruptions to rising unemployment rates and trade wars. His commentary has appeared in publications like MarketWatch, Treasury Today and Financial Advisory magazine, and he's a guest lecturer at Wharton and other schools.
Bill Fink is a CPA and an executive VP at TD Bank. He specialises in the middle market and is highly experienced in facilitating mergers and acquisitions.
In this episode Bill joins Kevin Appleby to discuss:
Ways to be opportunistic with both capital and debt
Why companies need to reassess their capital investment plans
While M&A activity has been reduced by increased interest rates and economic uncertainty, the M&A market may now present growth opportunities for CFOs
Why this could be an opening for companies to foster a new burst of organic growth by taking a new product deeper into an existing market or even expanding into a new market
Summary
Bill shared his experience as a CPA and how it has been beneficial in understanding finance and assisting clients with mergers and acquisitions.. Kevin and Bill discussed the impact of interest rates on the economy, noting that the pandemic-induced initiatives and stimulus measures led to inflation in various countries. They also highlighted the significant increase in interest rates over a span of 14-15 months, which hadn't been seen in the US for 22 years.
Bill and Kevin discussed the impact of high-interest rates on profit margins and the financing market. They also mentioned that while there are challenges, there are still opportunities for strategic acquisitions and divestitures in the current environment.
Bill and Kevin discussed the potential impact of AI on productivity and borrowing costs. They also mentioned that while interest rates have increased, it has created opportunities for strategic acquisitions and growth for well-positioned businesses.
Bill and Kevin discussed the banking crisis and its impact on the marketplace. They concluded that while there may be occasional bank acquisitions or convergence due to liquidity issues, overall, banks are better capitalized now compared to the crisis in 2007. They emphasized the importance of liquidity management, asset-liability matching, and contingency planning in the face of changing macroeconomic factors.
Kevin and Bill discussed the importance of risk management and risk-adjusted returns in finance. They emphasized the need for constantly evaluating and planning for unexpected events, highlighting the value of skills such as building risk-adjusted models and contingency planning
Links
Timestamps
Introducing Bill Fink (0:12)
Becoming a CPA and moving into banking. (1:41)
How interest rates have impacted profit margins. (6:07)
Where is the opportunity for private equity? (10:35)
How to look at M&A. (15:37)
Borrowing costs will start to come down soon. (21:32)
Opportunities that higher rates open up. (26:49)
How do they look at the middle market? (30:33)
Lessons learned in contingency planning. (36:01)
Podcast: Play in new window | Download