#79 Finance for Non-Finance Leaders with Asif Ahmed, Co-Founder, The Finance Department and Acclivity Advisors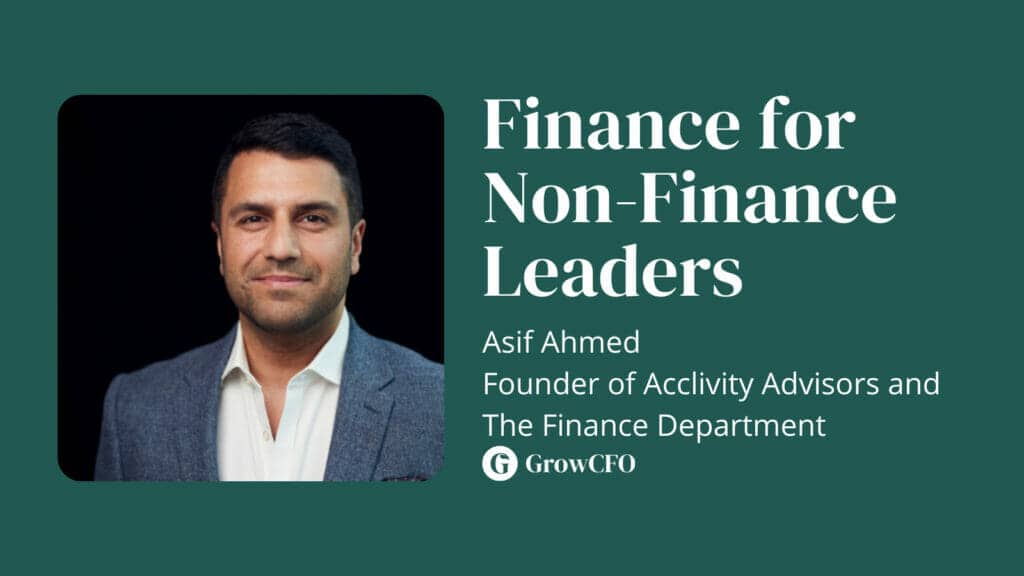 As a finance professional, you are often required to provide financial information to people who are not finance professionals. This can be a challenge. It is important to communicate the information in a way that is easy for non-finance leaders to understand. In this podcast, Asif Ahmed, author of The Finance Playbook for Entrepreneurs joins host Kevin Appleby. We discuss the issues involved in providing financial information to the entrepreneur and the rest of the business leadership team
One of the challenges of providing financial information to non-finance leaders is that they may not have the same level of understanding of finance concepts as you do. This can make it difficult to communicate the information in a way that is easy for them to understand. One way to overcome this challenge is to use simple, clear language when explaining finance concepts.
Another challenge is making sure the rest of the team understands what financial information is important and what isn't. Asif and Kevin spend time talking about cash vs profit, and the need to understand some financial numbers that aren't immediately obvious from the profit and loss account. This includes customer acquisition cost, customer lifetime value, and that often 20% of customers generate 80% of the profit.
Asif Ahmed is the founder and managing director of Acclivity Advisors and co-founder of The Finance Department. He is also group CFO at Labrys Group and an advisory board member at HM Revenue & Customs.
Links
Timestamps
00:43 What does The Finance Department do?
03:27 Communicating financial information to early-stage entrepreneurs
06:23 What information does an early-stage entrepreneur need?
08:47 Information needed for raising funds
10:08 Covid-19: Bootcamp for learning the financial basics
12:15 You can't manage the business using historic data
13:47 Financial vs non-financial data
16:56 Understanding lead generation and the cost of customer acquisition
21:13 Customer lifetime value
24:00 What else do entrepreneurs need to understand?
27:53 Cost of retaining an existing customer vs cost of acquiring a new customer
29:21 Understanding product costs and the tendency to over cost the simple and under cost the complex.
31:40 What's the right time for a startup business to employ its first CFO?
37:05 The importance of instilling the right financial culture and practices
41:06 If 20% of your customers produce 80% of the profit, do you know which customers make up this 20%?
Podcast: Play in new window | Download