#10 7 ways to become a CFO with Dan Wells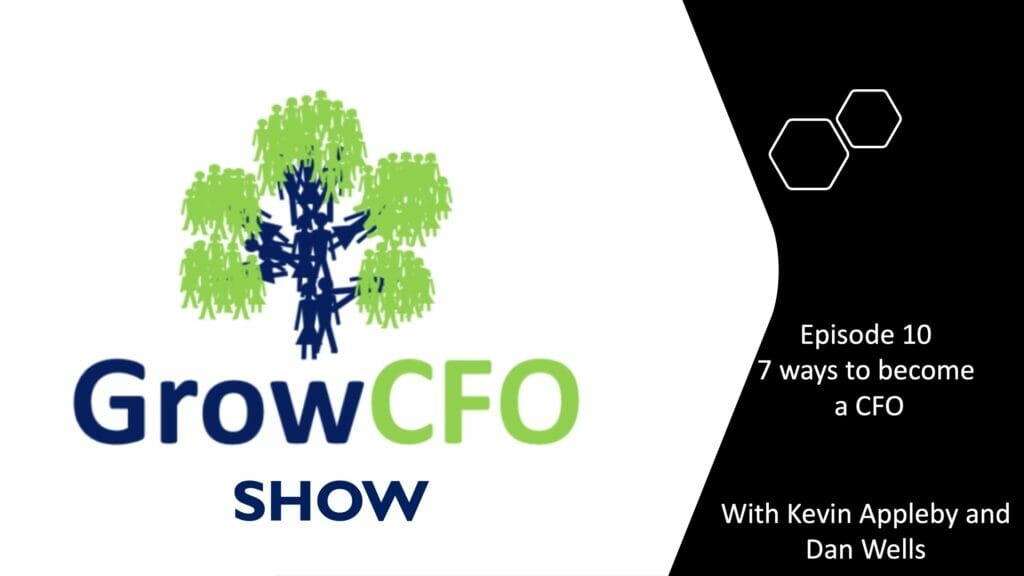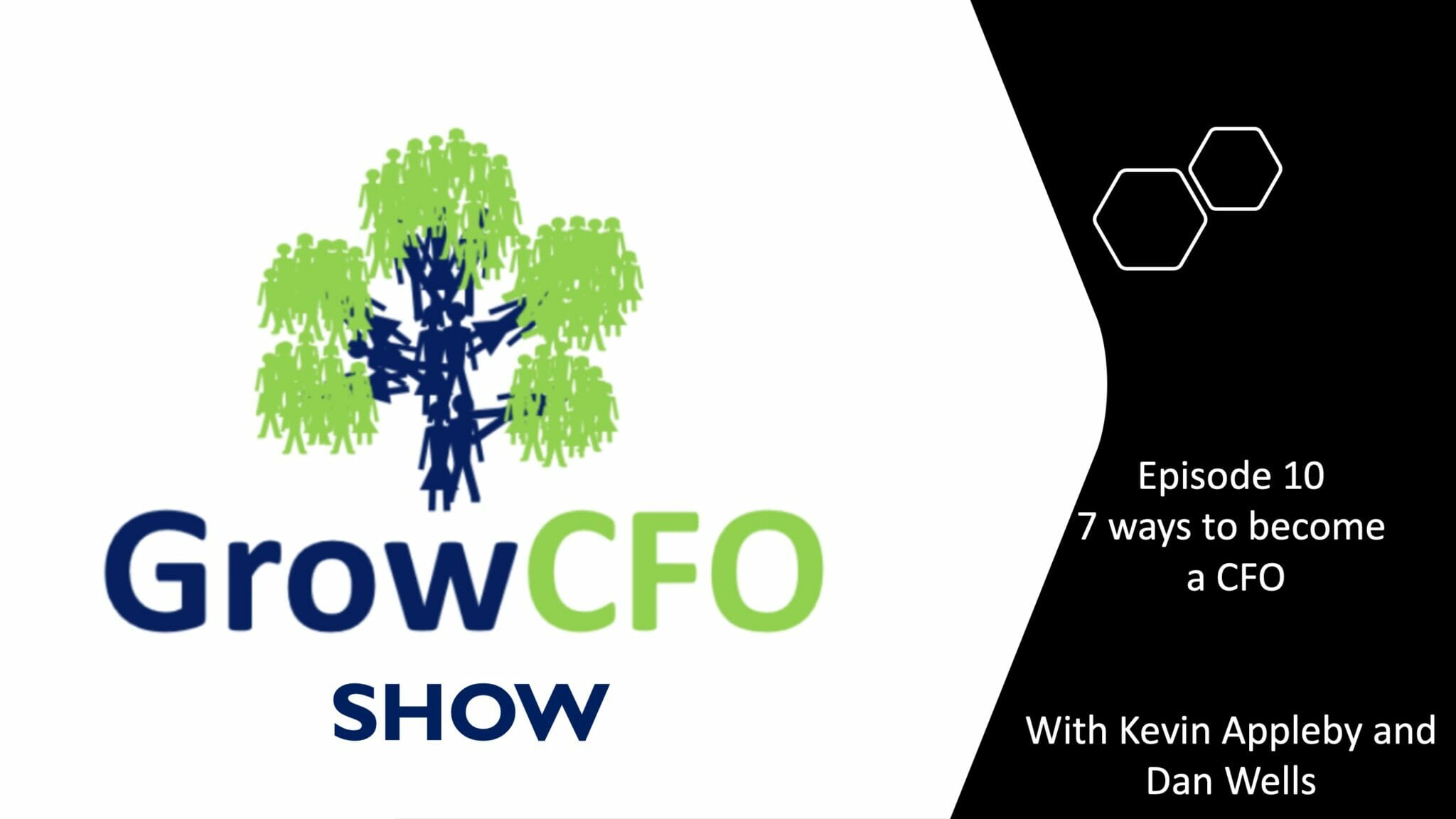 There are many different ways to become a CFO. In this episode of the GrowCFO Show Kevin Appleby explores the seven main routes to that top job with GrowCFO founder Dan Wells. We discuss which route is best. We look at the advantages and disadvantages of each. Then we conclude by looking at what help and support you might need depending on which route you take.
The road to becoming a CFO isn't a straightforward one. Generally when recruitment agencies are engaged to find a CFO they are looking for experience. Most of the time their ideal candidate will already be a CFO. So if that is the case then how do you get that elusive first CFO opportunity?
Fortunately using a recruitment agency isn't the only way to secure a CFO role. You have  a few other options. Dan Wells talks us through 7 different routes to the top job. We look at the pros and cons of each.
1) Become a CFO through internal promotion
In our survey earlier the year 52% of GrowCFO members who replied felt that an internal promotion is the best route to securing your first CFO role. This allows you to build your knowledge of the company's industry and products. You can develop your relationships with key internal stakeholders and grow into the role.
There are downsides to this route. You may be typecast into your previous role and some people may not truly recognise you as the CFO. Its also possible to get held back by still having to perform your old role. If you choose this route its vital that you recruit a good number 2 to support you and backfill your old job.
2) Take a role as CFO in a start up
Joining an early stage company as their new CFO is one of the most effective routes for landing your first CFO role.  24% of our survey responses suggested this was the best way. This involves leveraging your experience of working in a more complex scaled up business in order to become an attractive CFO candidate at a smaller company. The fast growing start up will certainly challenge you. It will stretch you right to the edge of your comfort zone and beyond. You may feel very lonely with little support as you are likely to be the only qualified accountant in the business.
If you find yourself as a first time CFO in a startup then some of the best advice is to find a good support network. A mentor who is an older much more experienced CFO might be essential to your success.
3) A startup financial controller will often grow into a CFO
A good number of people suggest joining a start-up company as their Financial Controller. The FC will lead the finance team and can grow into the CFO role as the business scales.  Many finance leaders have taken this approach. It provides you with the opportunity to take on more responsibility, learn new skills and impress your employers. However you take a risk. The company may fail to achieve its growth target and your role doesn't evolve.  You might not be first choice for CFO. The business recruits another candidate into a future CFO role ahead of you.
4) Become a CFO via a divisional FD role
A divisional FD role can carry a huge amount of responsibility and expose you to many of the skills a future CFO will need to demonstrate. It's likely that this role can give you board experience, and you will be required to support the overall CFO of the organisation. The divisional FD role at a larger company to be a good progression towards a future entrepreneurial business CFO role.  Divisional FDs typically develop a range of relevant skills. These might include data analysis, operational activities and strategic initiatives. Chances are you will need to change employer to progress to CFO, so the downside is you will be up against some very experienced candidates in the job market.
5) Be a part time of portfolio CFO
You might consider becoming a part-time FD for smaller companies. This way you can gain the necessary skills and experience to progress into a future CFO role.  Historically the portfolio role has been the preserve of CFOs winding down at the end of their career. This is changing, and it is becoming a much more mainstream career path. Typically you will provide strategic financial input whilst working on day rates. You will gain good exposure to CFO-related tasks and potentially being recruited as a full-time CFO by one of your clients. One downside of the portfolio role is you might be the only finance person in the organisation. As well as being the CFO you might be the book keeper too!
6) Move to a finance role at a client
You might currently work in professional practice, so one route to CFO is to join a client. Professional advisors often help companies through major transactions and can be very involved in the business. Consultants can work on transformation projects and become very familiar with the way the client's business operates. Its a small step from leading change as an external consultant to leading change as the CFO. Transitioning to a CFO role at a client can be tricky. Its likely you have deep experience in a few specialist areas. While these will be useful to your new employer you may lack some of the broader skills a CFO needs.
7) Get Head Hunted
Not many CFO roles are advertised. Your search of the job market will only reveal a small percentage of roles. Companies engage headhunters to seek out and approach potential CFO candidates. Many are approached even when they aren't actively seeking a new role.
You need to stand out to attract the attentions of the head hunter. You are likely to be well connected and good at networking and you will need a strong personal brand.
How can you improve your chances?
You can do a number of things.
Find a mentor. You should look for a mentor who has already done what you are aiming to do. Lots of experienced CFOs are prepared to mentor the next generation of leaders. If you don't have someone you can ask then GrowCFO provides a great mentoring service.
Join the Grow CFO future CFO programme. The future CFO programme covers all the skills and competencies you will need as a CFO
You should have a clear personal development plan. Understand what you need to do in the next 12-18 months to secure your dream job. The GrowCFO learning centre has tools to help you build your plan.
Take an active role in a community. The GrowCFO community. You should join in events and make sure you are visible.
Podcast: Play in new window | Download