May's GrowCFO Quest:
Build a Robust Risk Register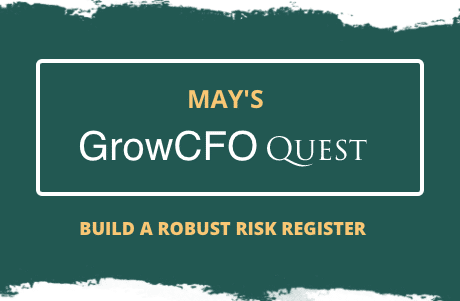 May's GrowCFO Quest: Build a Robust Risk Register
Risk management is an integral part of any successful business and involves the identification, assessment, evaluation, monitoring and control of potential risks that could harm the success of the organization. To effectively manage risks in your organization, it's essential that you create and maintain a risk register.
Our Quest will guide you to creating a board-worthy risk register in just a few hours. With our pre-populated and fully customizable platform, you can create a comprehensive risk register and roll out effective mitigation plans.
In this Quest you will build a risk register and risk management plan by focusing on the following 3-step process:
This Quest will self-destruct on 9th May at 4:00 pm BST so be sure to register to join the Quest before then.
Premium Members
Register for FREE
May's Quest: Build a Robust Risk Register
Buy the May Quest or upgrade to become a Premium Member ($97 a month) and register for the Quest for FREE