#136 My Journey to CFO via International Corporate Finance with Francesco Zappala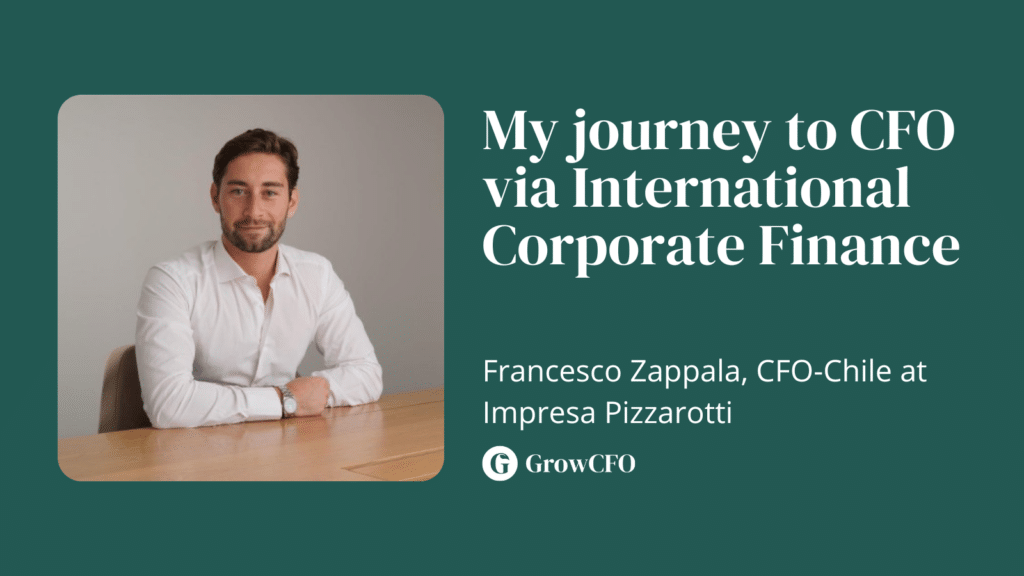 Francesco Zappala is CFO Chile for Italian construction giant Impresa Pizzarotti. His c.v. includes KPMG and Harvard Business School and an impressive career in corporate finance. He joins Kevin Appleby in this episode of the GrowCFO show to discuss his journey and how he became the finance lead and helped Impresa Pizzarotti build a brand new business in South America.
Francesco talked about his journey in building a career in financial services internationally, starting from a trip to the States with his dad when he was 14 or 15 years old, studying in different universities in Spain, having an internship in Madrid, working in a consulting company in Italy, and being offered to go to Turkey for a professional experience, which led him to South America and eventually becoming a divisional CFO in Chile.
Francesco discussed his experience working for Impresa Pizzarotti, a global general contractor, and the challenges he faced working in different regions such as South America and adapting to different cultures and management techniques. He also talked about the company's focus on big construction and infrastructure projects, as well as their move towards renewable energy and technology.
Francesco discussed his background in financial services and how it translates to his current role as CFO for a general contractor in Chile. He also talked about the challenges and growth of the organization, and his involvement in various aspects of the business including finance, accounting, mergers and acquisitions, tax and legal, internal audit, human resources, general services, and IT.
Francesco discussed his role in a company project, from finding the right partner to dealing with financial distress situations. He also talked about the challenges of starting a business during the pandemic and the importance of working closely with clients to ensure project success.
Kevin and Francesco discussed the impact of COVID-19 on the construction industry and the importance of staying humble and getting the job done. They also talked about the possibility of discussing turning around a distressed project in a future conversation.
Links
Timestamps
Introduction to today's guest. (0:11)
What is the most difficult part of moving from region to region? (1:55)
The challenges of working in Chile. (5:55)
What exactly does Impresa Pizzarotti do? (8:40)
How does that translate into what he's doing now? (12:57)
How to bring the best practices from the finance industry to the corporate world. (14:47)
How big was the organisation in Chile when you joined? (19:19)
How involved do you get in individual construction projects? (21:19)
What is the credit cycle like at Impresa Pizzarotti? (25:40)
Francesco's advice for a younger version of himself. (28:15)
Podcast: Play in new window | Download