#49 My fast track to CFO with Paul Marchant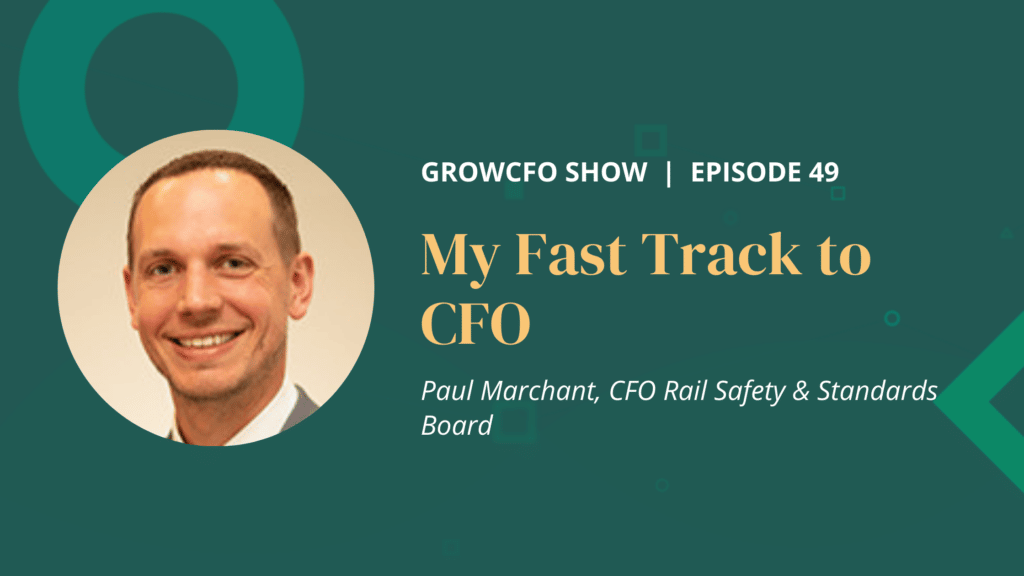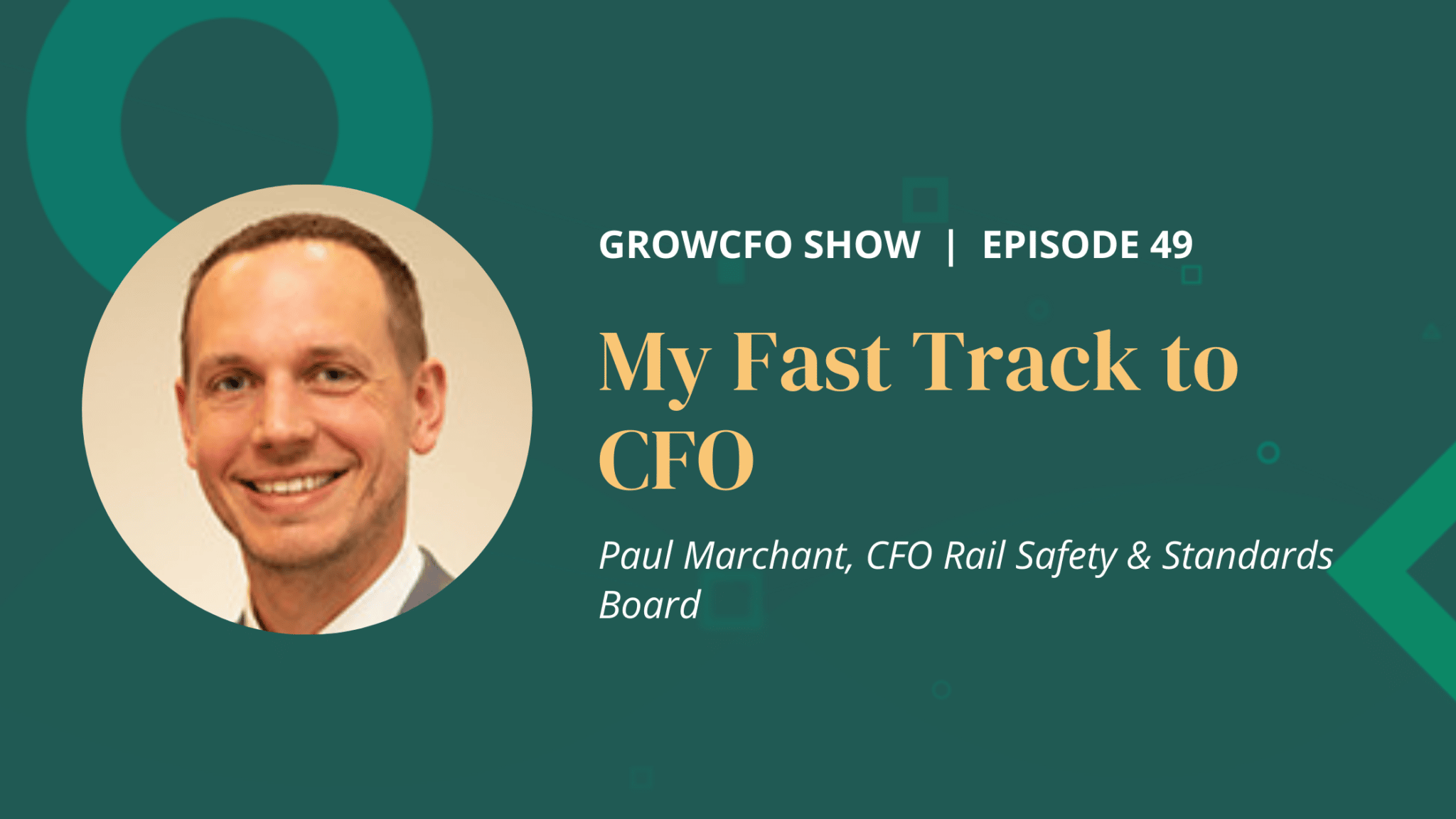 Kevin Appleby is joined by Paul Marchant to discuss his fast track to CFO at the Rail Safety & Standards Board.
Where did the fast track to CFO start?
Paul qualified at a small firm in Birmingham and then proceeded to move into politics for a few years. The political world gave him certain skills that are still useful in his current role. He then transferred back to finance 7 years ago.
Paul's role when moving back into finance was an management accountant role at the RSSB. Management accounting, Paul says, is a good step in. This is because you are dealing with decision making for the rest of the business and providing information for decisions that need to be made. It's an opportunity to not only give data but also show you can provide insight and thinking.
How much of a politician does a CFO need to be?
Paul says a CFO massively needs to be a politician. Similarly to politics, as a CFO you have to deal with different stakeholders and you need to evangelise your position.
The biggest similarity Paul identifies, is the messaging. You need to take complicated concepts and communicate them in a way that people can understand and get on board with. As CFO you know all the numbers but you need to put them into key messages that are compelling.
One of Paul's first tasks he was given after he made his fast track to CFO was to reform the pension scheme. Translating the complexities of a pension scheme to people on the ground is difficult. 2 or 3 clear messages would be most helpful. Within your communication you also have to be empathetic and understanding of the fact you are dealing with people's lives.
What happened from day one that got you that fast track to CFO?
When you join a new role it will take 6/12/18 months to get your head around the new business and how it operates.
Paul explains that he was possibly put on a talent list. 18 months into his role at RSSB, Paul was asked to become a senior management accountant. This was with a view for him to take on the role of head of finance 8 months later.
This is when Paul really felt imposter syndrome. RSSB brought in an interim head of finance with a view of developing Paul into this role.
When you reached the head of finance role did you experience imposter syndrome?
For Paul, he experienced imposter syndrome when moving from management accountant to senior management accountant. This was due to him not having managed line before and suddenly he was in charge of his peers. Your peers can struggle to see you in a new role and this can make you question yourself.
When Paul reached the stage of head of finance on his fast track to CFO he saw the big task that was in front of him. This means he didn't have enough time to think about imposter syndrome. The best way, Paul says, to overcome imposter syndrome is to chuck yourself in and expose yourself to everything. To mitigate it, the urgency around the need for action Paul faced meant he would have to sink or swim.
How did you take onboard skills on how to manage a team?
This is the first challenge you face that you did not pass exams in. Managing people is vital to having a successful team. The people side of things was Paul's biggest driver of imposter syndrome.
Paul had a decent mentoring platform. These were mentors in and out of the business who he could discuss strategy with as he makes more difficult decisions. Paul mentions this being the first time he felt lonely in a role as you have previously been on the same level as others.
He also mentions reading around as being very helpful for him. These books can help you understand different characters and how to manage them.
Lastly, Paul's previous experience in politics means he can spot an agenda being formed early on. You're exposed to certain political environments where spotting warning signals early is very important.
The move from head of finance to the board in your fast track to CFO
Paul had his first board meeting as a young head of finance. He had to tell 13 board members the financial message of the business. Previous to the board meeting, he did not know the members of the board. This left him at a disadvantage as he did not know what angles they would be coming at the meeting from.
Warming up the board is important. It is useful to have certain board members understand your position before you go into the room so it's not a cold delivery. As your confidence begins to build and you begin to the know the board members more in depth, board meetings start being easier.
When Paul first went to the board he went as head of finance. This made him feel almost a bottom amongst equals. There was no CFO position at the business previously. He had to prove he had what it takes to be the CFO. This gave Paul experience and shaped what the CFO role needed to look like going forward.
What was your relationship with the CEO like?
The CEO and Paul had a very strong relationship. There is luck involved with who your leader is and how they look after you. Paul's CEO was excellent and made him realise he could do it so gave him that confidence. He also didn't cover him too much so he still had a voice. The impact a good leader, like Paul's CEO, can make shows how important the mentoring side of the business is.
Paul and his CEO joined their roles at the same time. They both had something to prove and both had a reputation to build. The nature of the issues they had to solve meant they were both bound by the same pains and give each other resilience. This laid the foundations of Paul working very closely with him over the next years.
As you put together a business team, you need a shared set of values. This was shared between Paul and his CEO. Their similar aims also made them work closer.
You need to share with the board where you want to take the business. It is also vital to do work outside the board room to really understand each board member. You need to know what each board member strives for so you can see if they share similar values. Some board members had early disagreements with Paul on strategy. However, you can overcome this by building trust and a value base with the board over years. For most of the time all of the board were rowing in the same boat.
What are 3 bits of advice you would give yourself looking back to the start of your fast track to CFO?
Paul says he 3 key bits of advice he would give to himself at the start of his journey would be:
Don't panic or question yourself so much. You are going to make mistakes and that's inevitable.
Set out your strategy pretty early. It will build your credibility and will show you who will not be on board with your ideas.
Make sure you are a counterbalance to other people in your senior management team or board. You want to offer something different (a USP). Don't only look at this years finances, look years ahead as not every CFO does this.
Find out more about GrowCFO
If you enjoyed this podcast you can subscribe to the GrowCFO Show with your favourite podcast app. The GrowCFO show is listed in the Apple podcast directory, Google podcasts and many others. Why not subscribe there today? That way you never miss an episode.
GrowCFO is a great place to extend your professional network. You can join GrowCFO as a free member today and take part in our regular networking events and webinars.
Premium members also have access to our extensive training centre. Here you can enrol in our flagship Future CFO or Finance Leader programmes.
You can find out more and join today at growcfo.net
Podcast: Play in new window | Download