The GrowCFO Competency Framework
The GrowCFO Competency Framework is your answer to elevate your skillset and effectively execute against the changing role of the CFO. This first of its kind free assessment tool will help you benchmark yourself against your finance leader peer group across nine CFO competencies and 45 skill sets.
You will then receive a tailored benchmarking report which clearly highlights your priority focus areas to operate as an effective CFO. You will also be sent a free 120-page eBook to further enhance your skills and personalized recommendations to help address your three biggest skills gaps.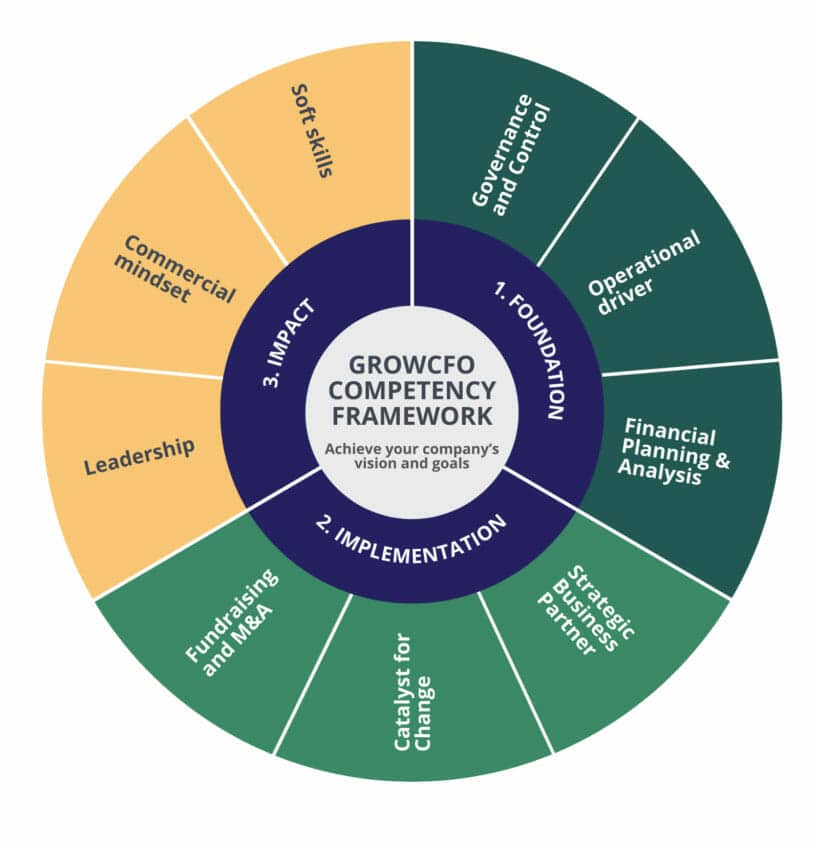 Your finance leader foundation skills are key requirements within your role and support all of your other activities. Most CFOs will have been constantly developing these skills during their career to date, although these are continually evolving and the majority of finance leaders still have various gaps to address.
Foundation skills are broken down into three key competencies:
Governance and Control
Operational Driver
Financial Planning and Analysis (FP&A)
Your finance leader implementation skills are essential for helping you to deliver the business plan. These activities require you to work closely with the wider business, combining hard skills and soft skills with a powerful effect. This is where you will also be creating lots of value across your company.
Implementation skills are broken down into three key competencies:
Strategic Business Partner
Catalyst for Change
Fundraising and M&A
Your impact skills play a hugely significant role in the effectiveness of your day-to-day activities. These contain many of the essential skills that will make you stand out as a high-quality CFO. These can often be the hardest to master and will help you to maximize the value that you create across your company.
Impact skills are broken down into three key competencies:
Leadership
Commercial Mindset
Soft Skills
Complete your competency framework now to instantly access your free benchmarking report and free eBook.