#35 How to Create More Thinking Time with Catherine Clark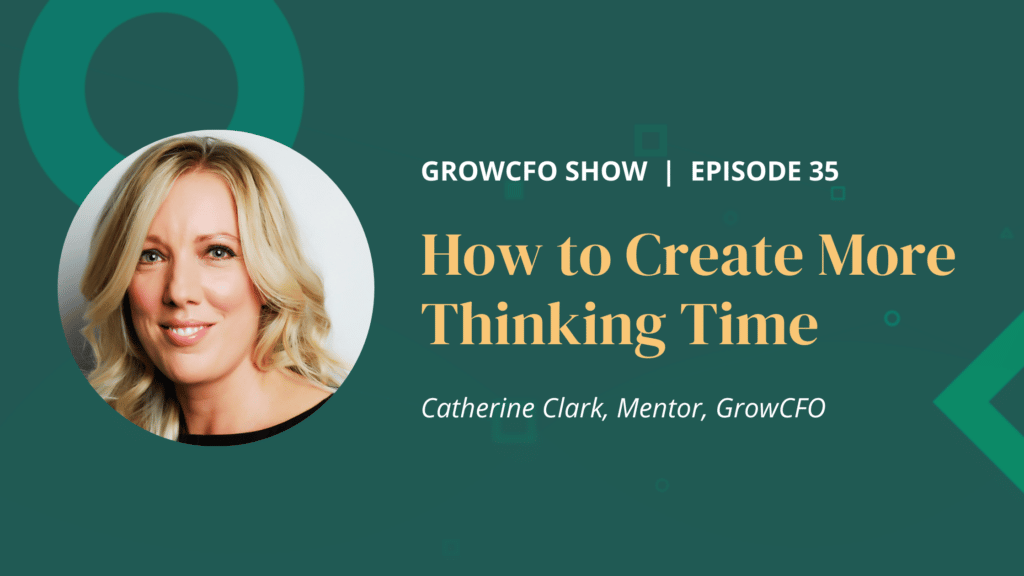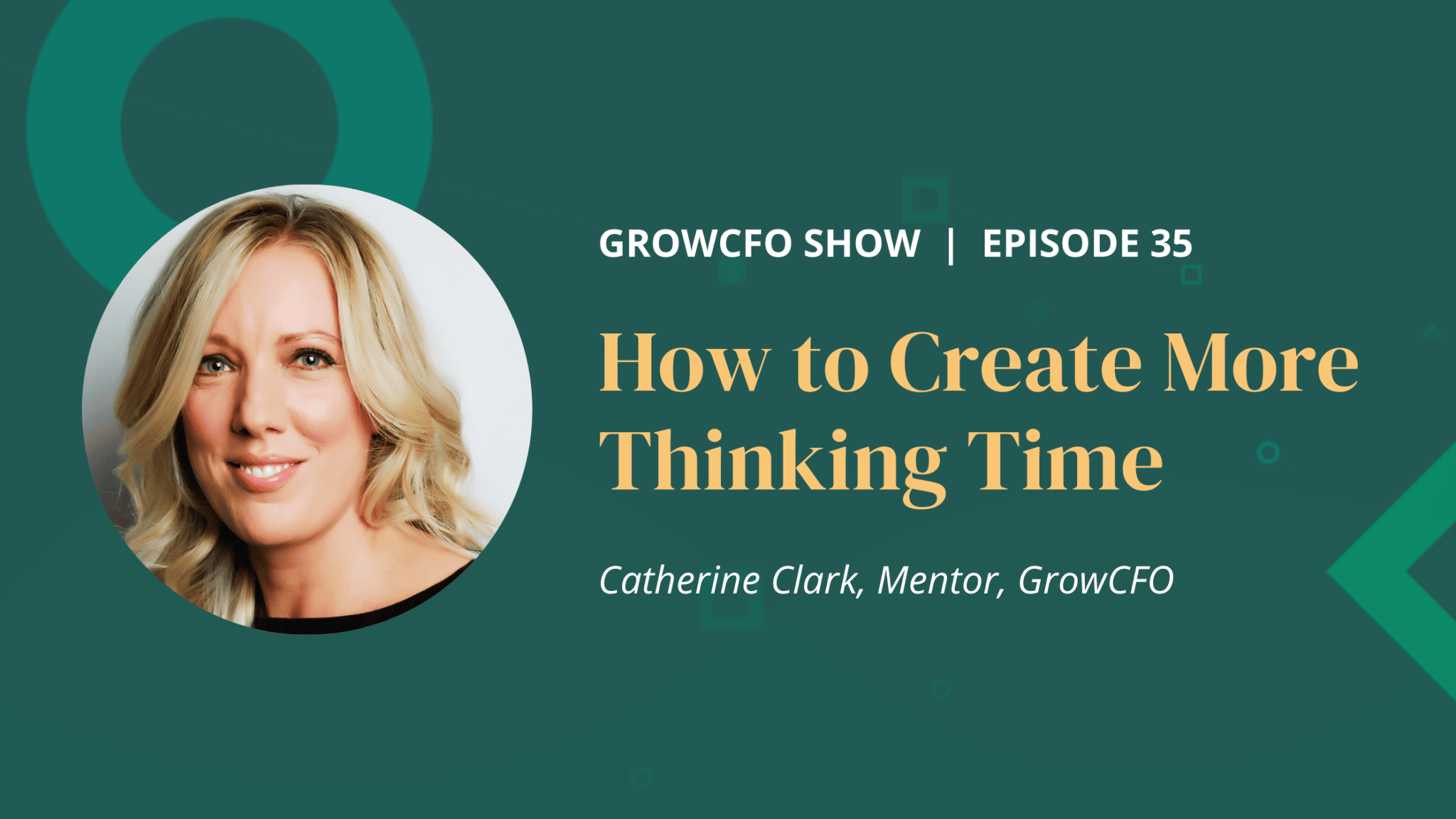 Catherine Clark leads GrowCFO's mentoring team. One thing Catherine discusses regularly with her CFO mentees is how to create more thinking time. Finding the space to think is so important in so many areas. In particular thinking time impacts the quality of the decisions you make.
So in this episode of the GrowCFO Show we're going to talk about decision making and lack of thinking time:
Why is thinking time important for you as a CFO
what can you do to increase your perspective and enhance your performance
How can you reduce the stress that comes with lack of time to think things through.
What are the main issues Catherine explores with her mentees?
The lack of thinking time comes up under a number of different guises. The main issues that Catherine explores include:
Proving you can think and act strategically as a leader
Balancing the day to day with strategic focus
Being stuck in the weeds and unable to see the bigger picture
A struggle to communicate succinctly
The good news is that there's plenty you can do to better equip yourself. Lets take a look in more detail.
Why is thinking time important?
Clarity of thought gives you a wider perspective. It reduces overwhelm, and allows you to focus on what matters.
You need to make smarter decisions. The right decision is critical particularly in times of change. You can add greatest value to the business by making more of the right decisions. Doing more of the day to day rarely adds value.
You are likely finding yourself in a period of huge change. The last 12 months has seen many businesses rethink the way they operate. Its often been a financial imperative so the business survives, and you the CFO have been more involved than ever before in the new ways of doing business.
Not only is your business model changing, so too are customer expectations. Your relationship with employees and how they work has changed, and will likely change again in the new normal. Ongoing change will mean you need to continually adapt your business strategy. You will need to make critical decisions quickly.
Pressure to perform impacts thinking time
Some pressure is good for you, focussing your mind. This motivates you to take action. Too much pressure can do the exact opposite. Too many hours leads to a drop in performance. This pressure will impair attention, your ability to multi task and your ability to think clearly. Your decision making ability suffers.
Stress narrows your focus and perspective. The fight or flight instinct kicks in. Everything looks worse than it is. You forget the resources you have at your disposal and the possibilities available to you.
Catherine finds that this is the key area most people need to focus on. Catherine and I explore this in much more depth in the audio recording and give a number of strategies you can use to both reduce stress and create space. Listen in to find out more.
Find out more about GrowCFO
If you enjoyed this podcast you can subscribe to the GrowCFO Show with your favourite podcast app. The show is listed in the Apple podcast directory, Google podcasts and many others.
GrowCFO is a great place to extend your professional network. You can join GrowCFO as a free member today and take part in our regular networking events and webinars.
Premium members also have access to our extensive training centre. Here you can enrol in our flagship Future CFO or Finance Leader programmes.
You can find out more and join today at growcfo.net
Podcast: Play in new window | Download