#28 Business turnaround with Baz Bedrossian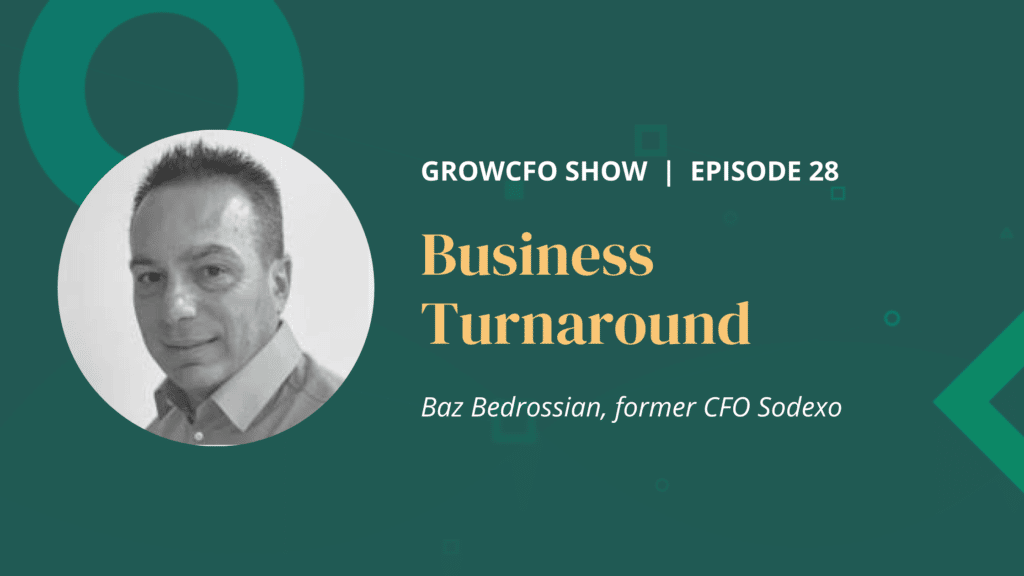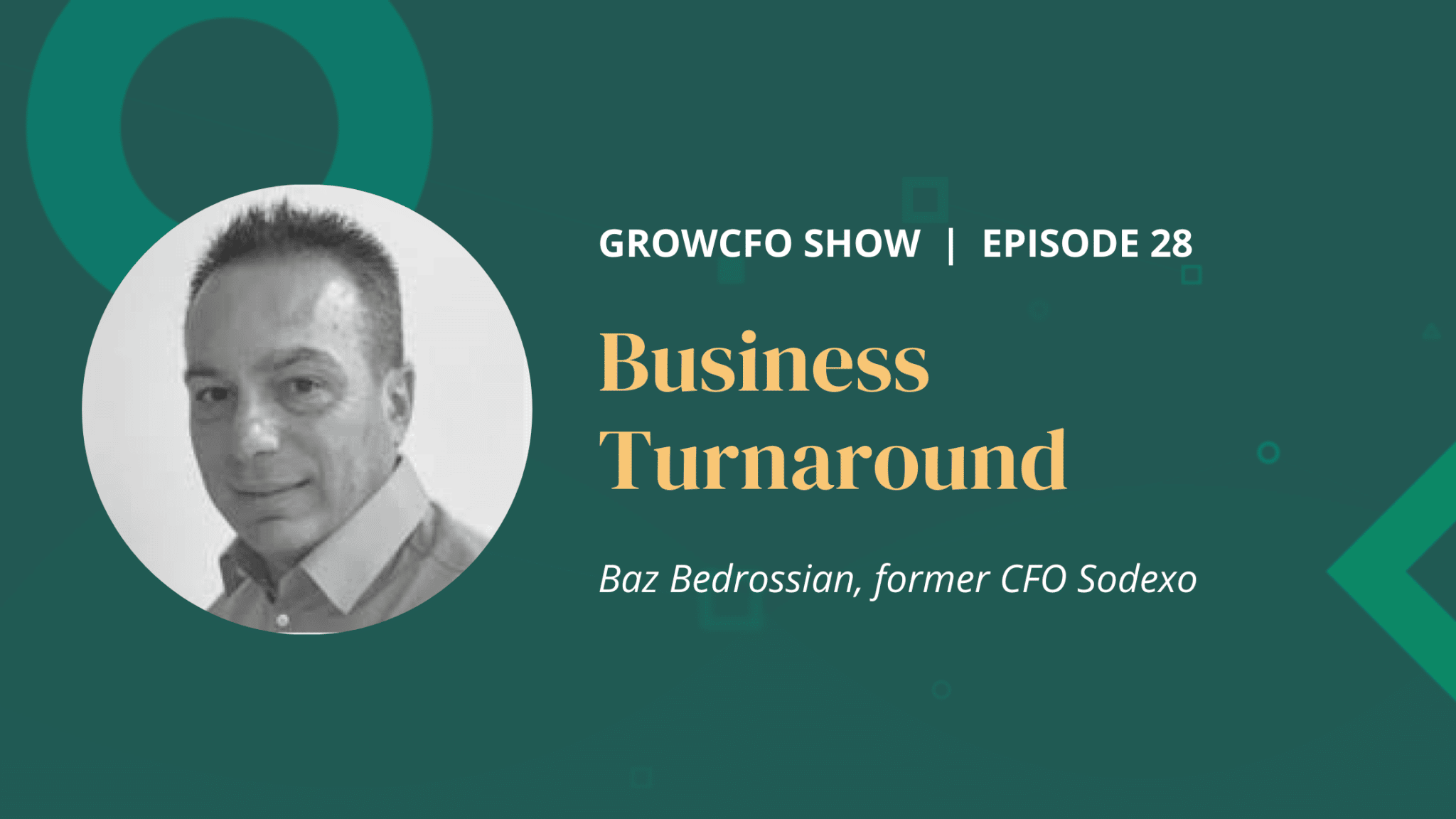 Many businesses have struggled during the past 12 months and need to adapt to ever-changing circumstances. This may require significant adjustments to their business model and operations to help them survive. A business turnaround strategy can help with this.
During this week's podcast episode, I asked experienced CFO Baz Bedrossian to share his thoughts.  Baz has strong experience of supporting business turnarounds throughout his various finance leader roles.
What is a business turnaround?
A business turnaround is the reversal of difficult results through fundamental change. This can take many different forms including refinancing, adjusting pricing and restructuring teams.
What should you do first?
Finance leaders will often be brought into an existing company to implement a business turnaround. You should start by developing a strong understanding of the business and the team. For example, determining what makes the people and the business tick.
You are likely to spend a lot of time talking to people. This includes the stakeholders, Board members, management team and middle management. These conversations will help you to reach independent conclusions regarding what actually needs to be done.
Avoid changing too many things immediately until you have developed a proper plan. Your number one objective early on is to determine whether you have the right people, for example in your finance team.
However, you have most likely been brought in to make a big impact, hence your honeymoon period is only a short one.
Taking some urgent action
During your up-front review, you will inevitably identify some leaks that need to be urgently resolved. Therefore, you may need to make a few urgent tweaks whilst building your transformation plan.
Ensure that you have the right skills in place to deliver the essential finance team requirements. In addition, make sure that your team are fulfilling essential duties such as collecting the cash, paying the bills and delivering compliance.
How do you approach solving the problems?
Business turnarounds can take anywhere from 3 months to around 2 years. You need to ensure that you have the right plan in place when you commence the transformation project.
75% of transformation projects do not meet the timeline or budget. This is often due to not having the right people available to deliver them, due to the requirements of their ongoing business roles.
Consider how you can free up your existing team. For instance, simplifying, automating or outsourcing some of your existing activities.
Who should deliver the business turnaround?
It is essential to select the right people to lead and deliver a business turnaround. Every business has unique circumstances and its turnaround requirements will vary.
Consider the following questions:
Should you free up your best people to deliver it, given their skills and understanding of the business?
Does it make sense to employ interim resources to cover the business as usual activities?
Would a specialist consultant be better placed to support or lead the transformation project?
Alternatively, you may wish to adopt a combination of the above. For example, creating a joint team that includes your existing finance team and external consultants. This provides you with strong business knowledge, specialist expertise and continuity going forward.
Whatever the answer, you will need to be closely involved throughout.
Impact of business turnaround on people
Struggling businesses have a huge emotional impact on people. At times, things can look very difficult for companies, which can cause the workforce huge distress.
As a finance leader, you need to stay very close to people, keep them informed and communicate effectively.  You need to treat people in the way that you would like to be treated.  This involves providing them with ongoing support and reassurance during difficult times.
Taking people on the journey
Implementing a business turnaround initiative is very challenging. It requires strong leadership and soft skills, which you are often not taught during your career. You need to bring along your team to understand what you are trying to achieve.
Baz recommends the following three top tips:
Honesty – always be transparent with people.
Communication – do this again and again and again.
Clarity – clearly state what we are trying to achieve for the organisation.
Making hard decisions
People do not like change and you will have to make some hard decisions.  Implementing change will require people to let go of things that they don't want to.  Existing employees may consider some discretionary spending to be essential when it actually isn't.
It can be very challenging to let people go and this needs to be managed carefully. You need to be sensitive to everybody concerned and also ensure that your actions do not have a negative effect on everybody else.
Always talk about things from a company perspective and how it will help to improve the company.
Final thoughts
Do not try to change everything during your transformation project.  Often, some of the smaller changes can make a big difference.  Be realistic with your objectives and ensure that everything is achievable based on your available time and resources.
GrowCFO covers these topics in more detail during our lessons on change management and finance transformations.
Podcast: Play in new window | Download