#1 Introducing The GrowCFO Show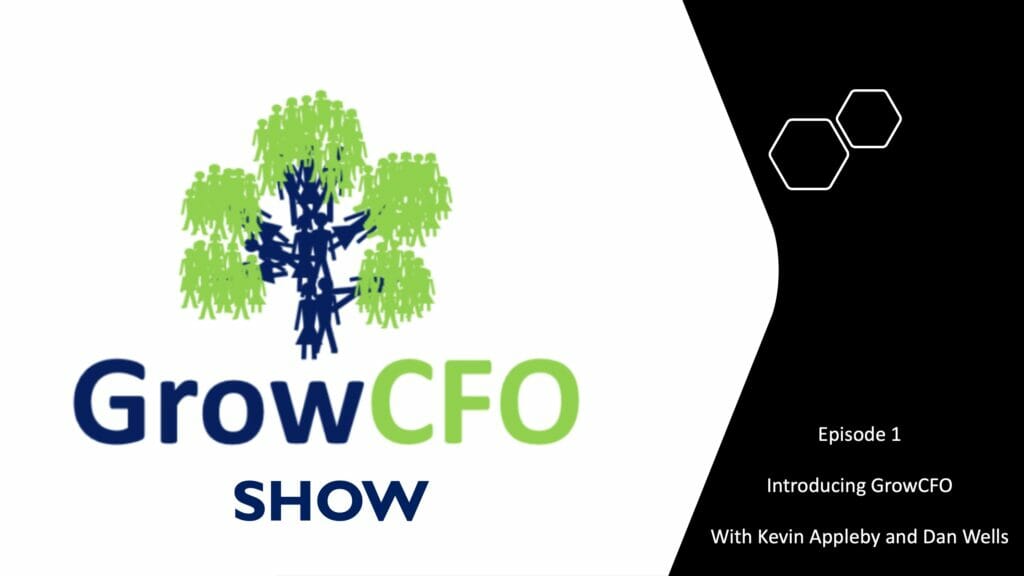 Welcome to the very first episode of the GrowCFO Show. In this episode Kevin Appleby chats to GrowCFO founder, Dan Wells, about why he left the "big 4" to set up the GrowCFO network. We chat about GrowCFO and what it offers to both existing and aspiring chief financial officers.
Play the audio version
Or watch the video
Who is GrowCFO founder Dan Wells?
Dan is a chartered accountant with almost 20 years experience in the big 4. Latterly he was an equity partner in KPMG. His role made him a trusted business advisor to entrepreneurial businesses who have built and sold their companies for a combined billions of pounds. He is an FCA member of the ICAEW (ACA-qualified in 2004) and has a first-class degree in mathematics from Durham University. Dan has a great working knowledge of most common business challenges and opportunities, and a strong track record of supporting businesses and their key executives throughout their life cycles.
You can check out Dan's LinkedIn profile
Why did Dan Found GrowCFO
Dan met many CFOs as part of his last big 4 role. There was a common question that they all asked him. He found that CFOs always wanted to know what their peers were doing. Dan realised the finance community needed a easy way to collaborate. CFOs needed a place they could share their knowledge, network, and talk about shared issues.
Dan observed that CFOs often feel lonely, and have few people to turn to within their own organisation or immediate circle of associates for good advice or to debate issues. Dan decided to do something to solve the problem and started GrowCFO. The initial GrowCFO portal contained interesting articles and allowed the community to start talking and sharing.
GrowCFO arranged many Zoom session, allowing members to chat about interesting topics. These really developed during the early stages of lockdown when CFOs were keen to chat to their peers and find out how each other were coping in crisis.
These discussions lead to GrowCFO developing white papers, particularly looking at how individual industry groups were being affected by Covid-19.
Polls and surveys have followed, and these have been a great way of bringing together the expanse of members knowledge into easy to distil findings.
Who is GrowCFO intended to help?
Dan sees four distinct groups of GrowCFO member
Future CFOs; those that aspire to take on the CFO role in the near future.
1st Time CFOs, still growing into the role and wanting to extend their skills and knowledge
Experienced CFOs with lots of experience to share with the community
Portfolio CFOs, working part time across a number of different organisations.
GrowCFO gives something specific and unique to each of the 4 groups, but the dynamics of these 4 types of finance leader collaborating and sharing with each other collectively is very powerful.
The role of the CFO is constantly evolving, and there are always new things to keep up with and learn about irrespective of your background or years of experience.
The Future CFO programme
The GrowCFO Future CFO programme has been borne out of lots of discussion with our community of aspiring CFOs. The next generation of finance leaders. We realised that something needed to be done to help folk who had moved up through financial controller and head of finance roles to transition from back office to boardroom.
Most business accountants qualify early in their career, and learned about the basics of accounting, law, tax, and financial reporting. They now need to be future facing and operate strategically at board level. The big challenge is learning how to become the catalyst of change in the organisation.
The Future CFO programme is mostly online self paced learning, and can be found in the GrowCFO learning centre. It contains lots of individual lessons, many with video input from our experienced CFO community.
Alongside the programme we offer prospective CFOs the ability to join cohorts of their peers in order to support each other on the journey to gaining that first CFO role. Each cohort consists of 10-12 people who meet monthly on Zoom. Each Zoom session maps to one of the modules in the Future CFO learning programme, and quite a few involve our more experienced members offering advice and guidance.
Many of the experienced CFOs have joined in order to give something back and share their learning, and one reason we created future CFO is to allow experienced CFOs help the next generation gain the right experience & knowledge.
GrowCFO has an active community of portfolio CFOs
Quite a number of portfolio CFOs have joined our membership, and have formed their own active and lively community. These folk will generally have two or three CFGO roles across different companies. Stuart Trood, GrowCFO's own CFO, is himself a portfolio CFO and is taking a leading role in this community.
Many of the portfolio CFOs are towards the end of their career having previously had a full time CFO role. We have seen two trends emerging:
More younger CFOs wanting the variety and flexibility of a portfolio role
More companies wanting the services a CFO can offer, but not being in a position to employ somebody full time ion the role. There's lots of demand in the fast growth companies in the high tech sector.
We see a key future role of GrowCFO in helping CFOs prepare to take on a portfolio role. GrowCFO can support them by teaching some of the sales and marketing skills they might not previously have had need for.
Monday Masterclass and An Audience With
Once a month GrowCFO hosts a Zoom session either with an expert in a subject area who will present to our premium members, or we interview an experienced CFO about his career and cover some of the particular challenges he has faced.
July's An Audience With was hosted by Stuart Trood. Stuart Interviewer Richard Baker about investment strategies. Richard is a partner with Acuity Advisors.
In August Kevin Appleby presented a masterclass on cost reduction.
GrowCFO Women finance leaders group
Women are under represented at CFO level. Only around 20% of CFOs are female. We want to do something about that. The women finance leaders group is now meeting monthly and we are working in conjunction with Helen Cowan. Helen runs the Tall Wall executive coaching service and specialises in helping and advising ladies.
The group is exploring the common issues faced by the senior female finance leader. It looks at issues such as
Juggling family and work
Unconscious bias
Imposter syndrome
Influencing,
Operating in male dominated environment
Polls and surveys
Earlier this year GrowCFO undertook a big survey about Finance Systems. A significant number of GrowCFO members responded to the 20 questions we asked. We wanted to find out what are the right finance systems for different sizes and types of business. Our members experience covered 32 different accounting systems and allowed us to give a very candid and revealing view of the finance systems marketplace.
The survey gives a great deal of information and we will cover it in a future episode of the GrowCFO show.
Since the survey we've been running shorter polls, almost one a week. These ask members about a variety of subjects. Questions have included:
What are biggest tech challenges?
When expect finance fully automated?
Future of finance functions
The finance systems survey revealed our members thirst for information about the future of the finance function. In particular how technology is driving change in the back office. Members have concerns over many issues, and we are gradually, week by week, addressing these.
Chris Tredwell leads the Future of Finance Function. It meets weekly over Zoom. Anyone can join the live Tuesday lunchtime call, and recordings are available for our premium members. We're planning to interview Chris for a future episode of the GrowCFO Show.
Topics covered so far have included:
A detailed review of the results of the finance systems survey
Business change and benefits realisation
Digital transformation
Blockchain
Cryptocurrency
Automation and Integration
Open banking
Selecting the right people for a systems project
There's quite a knowledge library building up, and if you join GrowCFO premium you can listen back to any of the sessions you might have missed.
Its not just about finance
Mark Channon & Andrew Tallents both offer coaching in different areas of high performance. Andrew has run a series of workshops on self coaching.
Mark Channon originally trained as an actor, before becoming one of the first 8 people in the world to become a Grand Master of Memory in the 1995 World Memory Championships. He shows your how these skills can give you an edge in business. Remembering names and presenting without a script are two key subjects he covers
Podcast: Play in new window | Download