Influencing people and obtaining buy-in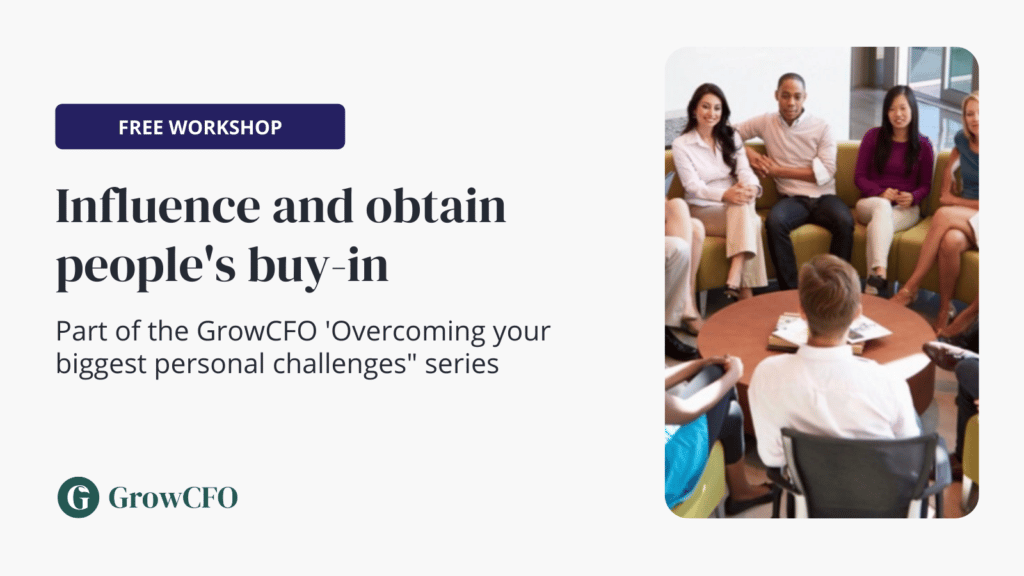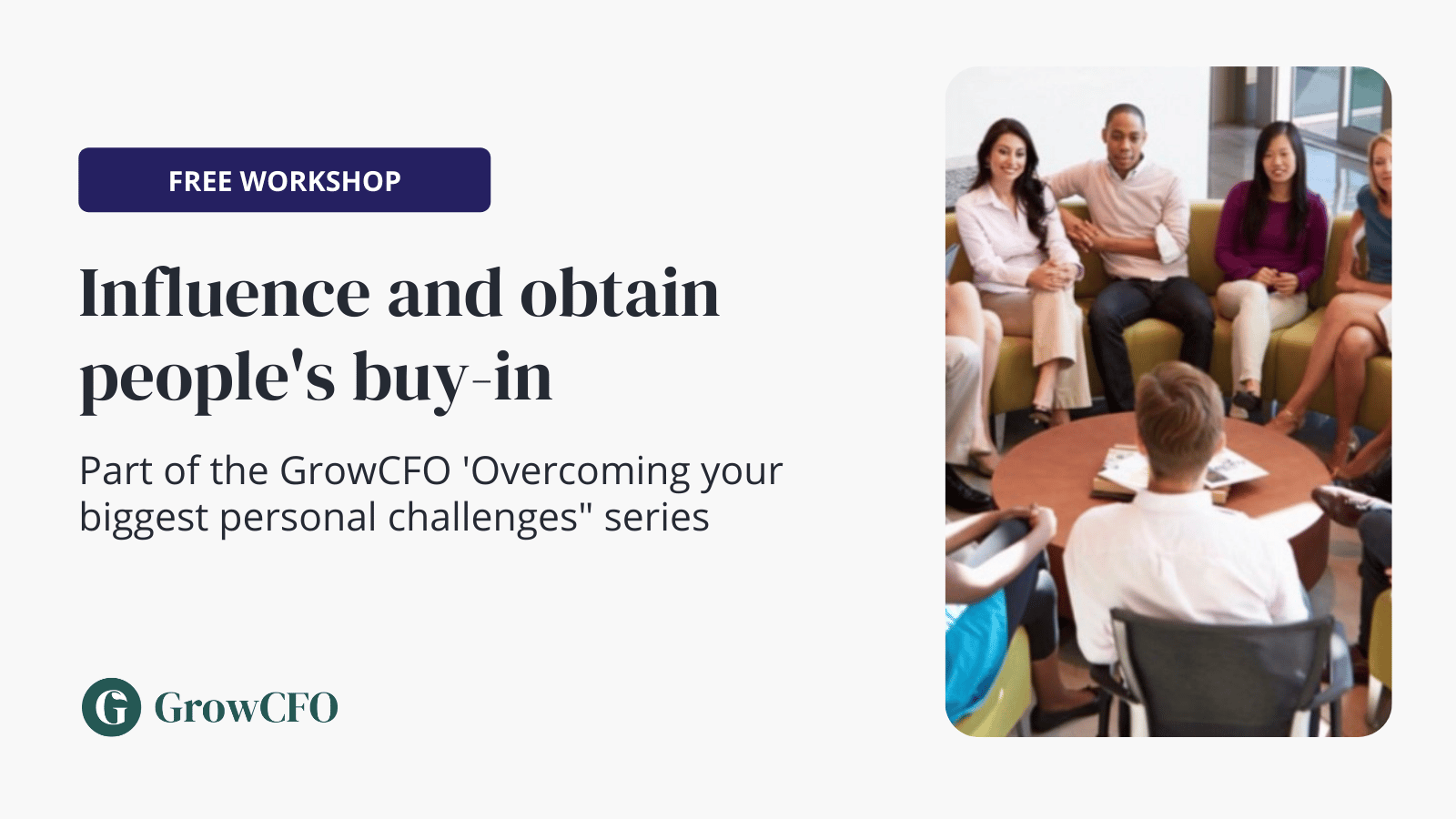 Influencing people and obtaining buy-in: Overview
Finance leaders need to be good at influencing people and obtaining buy-in to make a large impact within your role. You are likely to have a unique financial perspective, strong commercial awareness and the best knowledge of your company's performance data within your management team. This powerful combination makes your opinions extremely valuable and it is essential that you communicate these in an influential manner.
Influencing people and obtaining buy-in: Some statistics
Our GrowCFO community is constantly stating that they struggle with influencing people and obtaining buy-in. This is particularly the case when they possess different views to dominant personalities within the leadership team. In fact, 29% of finance leaders consider this to be one of their top three biggest challenges.
Influencing people and obtaining buy-in: The root cause
As with any big challenge, it is important to start by understanding its root cause.
Here are the typical reasons why finance leaders identify influencing people and obtaining buy-in as one of their main challenges:
Struggling to make yourself properly heard during the decision-making process.
Lacking the confidence to speak up when required.
Feeling like you are constantly the one who has to say no to new ideas.
Being surrounded by more dominant individuals such as your CEO and Sales Director.
Suffering from a lack of commercial awareness when debating key business decisions.
Lacking the soft skills and proven techniques to influence other people.
Most finance leaders recognise the issues caused by not being able to properly influence others, but either lack the soft skills or proven techniques to effectively communicate their messages.
Foundation for influencing
Before you attempt to influence somebody, it is important to note that influencing is a two-way process.
Your desired outcome is to achieve satisfaction on both sides so that your decision delivers its intended positive impact. Otherwise, you will lack other people's buy-in which may derail your decision further down the line.
Once you have influenced somebody and properly obtained their buy-in, you can then make progress towards a winning outcome.
The influencing process
The process of influencing other people and situations is multi-faceted. It needs to be controlled and properly managed.
Effectively, you are trying to play an influential role in the other people's decision-making processes. Your objective is to help them make the decision that will give your desired outcome.
Never assume that your initial views are correct until you have properly listened to the opinion of others. The more you are prepared to give, the more likely you are to achieve your goal.
Your 5-step strategy
The following 5-step strategy will help you with influencing people and obtaining buy-in:
State your view of the problem or issue.
Clarify the views of other people.
Work towards a shared view.
Look for a win-win situation.
Achieve a joint agreement.
To achieve a successful outcome relies upon the quality of your questions and your ability to build upon ideas and proposals.
Remember that your primary objective is to influence people and also obtain their buy-in. Forcing somebody to accept your decision rarely works as they will lack buy-in. This will damage your relationship and make them less likely to deliver their corresponding actions.
Nurture the process
One way of looking at the art of influencing others is to regard it as a journey. Make sure that you start from the best place.
Having a positive intention will motivate every behaviour, including treating the other person as being important.
Two people will see the same thing in a different way – you must be capable of seeing the situation from both sides.
Ensure that you respect their opinions and perspectives. Regardless of how strongly you feel about a decision, remember that the other person may be right. In any case, try to learn as much as possible from each exchange and never tell them that they are wrong!
Communicating with others
Each interface that you have with other people will need clear SMART objectives –specific, measurable, achievable, realistic, time-based.
Communicate clearly and individually tailor your messages to their viewpoint or interest. Be clear on the facts and make your words attractive to them.
Regardless of your approach, it is essential that the other person feels properly listened to and that their messages are being heard. Build upon your rapport skills and deal sensitively with any conflict.
Debate how this arrangement can work best for both sides and ensure that they understand the tangible benefits to both them and your company.
How you show up
Finance leaders need to be confident that the outcome will be win-win. You should remain at ease and calm during the negotiation process, regardless of whether it is progressing as planned.
If someone is being difficult then try to identify the root cause. This is often due to a personal insecurity or some underlying fear, unease or misunderstanding.
Approach each exchange with a positive belief that you will get to a fair compromise and that your point of view will be fully respected and considered. Avoid thinking that this is going to be difficult or that they will never accept what you say.
Remember that people are not their words and behaviours! Your style and approach will have a big impact on how they react to your messages.
Be prepared to compromise if required. Letting go of something small can allow you to regain something much more valuable.
Influencing people and obtaining buy-in: Summary
Here are some summary tips to help you with influencing people and obtaining buy-in:
Clearly define the purpose and what is in it for them.
Talk about the benefits of your proposed solution.
Respect them as an individual, regardless of their views.
Value their opinions and listen carefully to their reasons.
Understand their position and ensure that they feel heard.
Be prepared to learn from each of your experiences.
Vary what you do until you get the result that you want!
And remember to regularly self-reflect upon your performance as you implement this approach.
Your finance leader challenge
Finance leaders should complete the following activities to help you with influencing people and obtaining buy-in:
Develop a habit of reviewing your impact after finishing each meeting.
Obtain feedback and perform situational analysis to keep learning.
Reflect upon the last three influential exchanges that you had:

What did the other person say?

Did you understand what they meant?

Did you achieve your objective?

Did you influence or did they influence you?

Do you feel that you now have their full buy-in?