Maximising your team's performance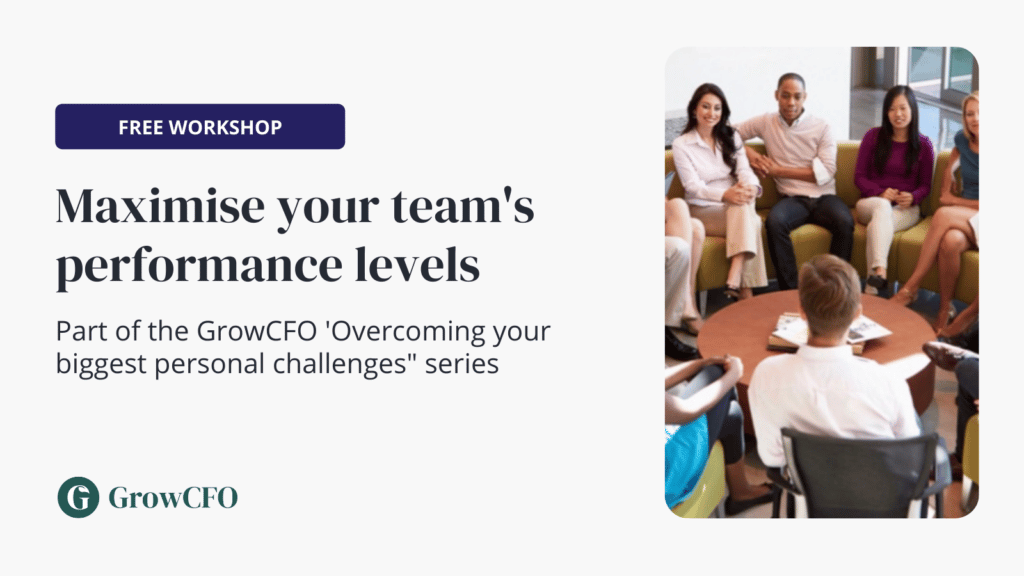 Maximising your team's performance – Overview
Finance leaders need to focus on maximising your team's performance to help you make a large impact within your role. The strength and quality of your team significantly affects your ability to delegate time-consuming tasks to others and to trust your team members to deliver high quality output. However, leading an under-developed finance team will eventually deteriorate your own performance. This will also reduce your ability to create value within your company whilst delivering the business plan.
Some statistics
Our GrowCFO community is constantly stating that their finance teams are underdeveloped and that your cannot rely upon them to fully deliver each of your finance function objectives. In fact, 20% of finance leaders consider this to be one of their top three biggest challenges.
The root cause
As with any big challenge, it is important to start by understanding its root cause.
Here are the typical reasons why finance leaders identify the need to maximise their team's performance as one of their main challenges:
Suffering from an under-investment in your team
Not having a strong enough number two
Failing to address underperformance issues
Lacking the confidence in your team to delegate your most time-consuming tasks
Struggling to provide adequate learning and development training to your team
Not knowing what to do with your best performers
Most finance leaders lack the time, funding or experience towards maximising your team's performance alongside delivering the ongoing requirements of your finance leader role.
Maximising your team's performance starts with you!
Finance leaders need to act as an inspirational role model to your team members. You need to show up with lots of personal energy and create a people-focused culture with a strong sense of belonging and inclusion.
This starts with building strong relationships and communicating effectively to create an open environment. The way that you behave has a huge impact on the emotional state of people around you. You should role model sustainable behaviours to enable others to do the same. For example, taking good care of yourself, getting plenty of sleep and placing value on recovery breaks.
Your values will encourage like-minded people to enable positive change and growth. Your ability to understand your own strengths and gaps will allow you to hire others to cover your blind spots and bring complementary skills into your team.
Showcasing positive behaviours and appropriately dealing with negative behaviours will help to create a high-performance team culture.
Building your team
Finance leaders must build teams with the right skills and attributes to cover both what you need now and also what you will need in the future. Think about how you will drive change as your company evolves and who will be your change champions.
You will need a strong number two to help you deliver your finance leader role effectively. Identify your highest performers and create an environment for them to thrive. Provide them with additional responsibilities to grow in their role and support their career aspirations. In every role, there will come an appropriate time for you to move on and succession planning is important.
Conversely, high growth businesses cannot carry people who constantly underperform. Finance leaders need to quickly deal with underperformers and create action plans for those who do not seem willing to embark upon your journey.
Understanding your people
Each of your team members are individuals and have different needs. Finance leaders need to understand what motivates each person and how they perform at their best. This requires you to actively listen and to observe their behaviours.
Understand the dynamics of your team to determine what they need from you. How do they interact with each another and who is the most influential?
Focus on building strong relationships and being opening with people. This will encourage them to follow your lead and to support your opinions.
Enabling your people
A collaborative leadership style will enable your people to feel empowered. Good motivation ensures that staff are as self-sufficient as possible. They will feel empowered to make robust decisions and to work effectively without constant supervision.
In addition, becoming the person that people want to follow will increase their support towards your change initiatives. Be aware that there will always be different perspectives on the same thing. Understand the mindset of others and make their opinions feel valued. Explain how things fit into the bigger picture to motivate others to achieve great results.
Modify your behaviour amongst different people in different situations. Research suggests that 80% of career success results from soft skills. Demonstrate excellent soft skills throughout your leadership and seek opportunities to develop your team's soft skills wherever possible.
Your finance leader challenge – Maximising your team's performance
Finance leaders should complete the following activities for maximising your team's performance:
Identify your career role models to date and determine who you look up to and why.
Assess how ready and willing your team are to undertake your future change journey.
Determine any missing skills and attributes that are needed to support your future business.
Use The GrowCFO Competency Framework to assess your team's hard and soft skills.
Access finance team training to fulfil your team's learning and development requirements.