Make more impact in Board meetings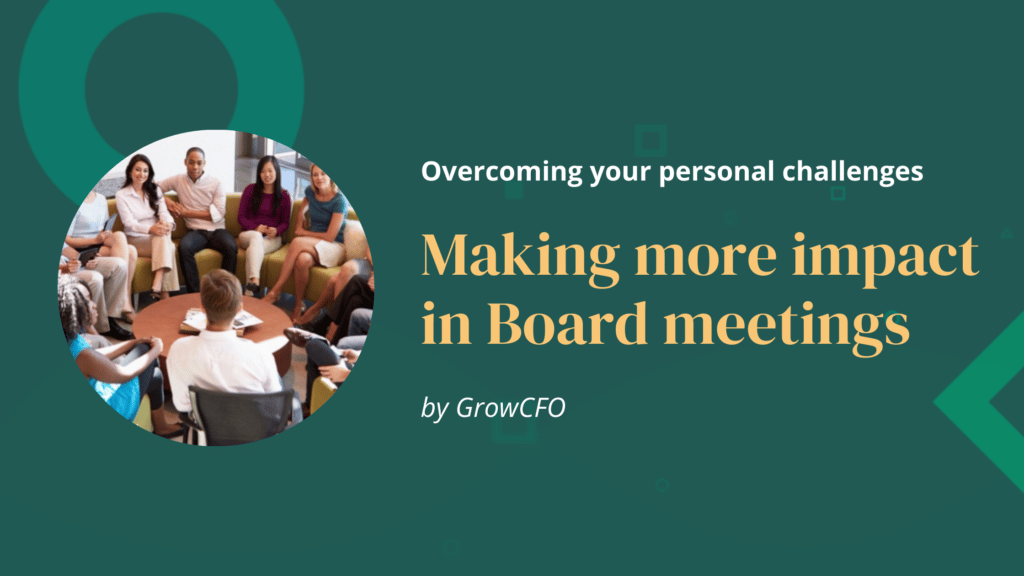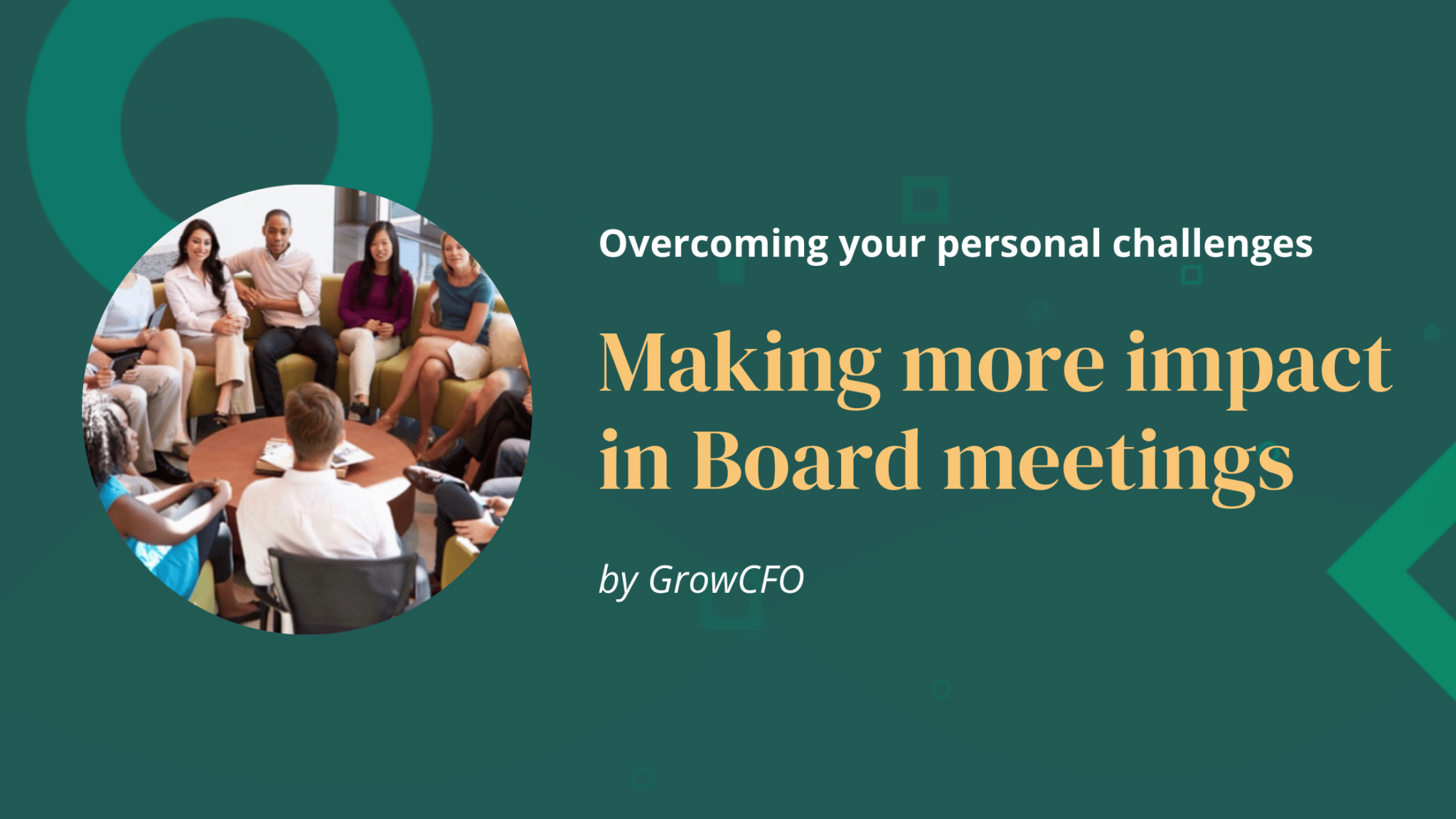 Most finance leaders would benefit from trying to make more impact in Board meetings. This is extremely important for your reputation and provides you with a huge opportunity to influence strategy and change initiatives.
Many people struggle to make more impact in Board meetings due to suffering from Imposter Syndrome.
Some statistics
Make more impact in Board meetings is the fourth biggest personal challenge highlighted within the GrowCFO finance leader community.
In fact, 24% of the community identified the need to make more impact at board level as one of their top three challenges.
The root cause
People are never trained to work at board level despite needing many skills. You may struggle to get key messages across to people.
Part of this might be the perception that you are just the numbers person and you're not really listened to beyond the numbers.
You are often the person tasked with delivering the bad news when the company performs worse than expected. In addition, you may carry a negative perception as the individual responsible for challenging budgetary spend and saying no to new ideas due to financial constraints.
Many finance leaders struggle to build good relationships with tricky board members. Strong personalities can be hard to deal with during Board meetings. Emotions can often escalate during sensitive financial debates, including discussing levels of investment within the business and workforce remuneration packages.
How to make more impact at Board level
Research suggests that people will form their opinion on you within 23 seconds of your first interaction. Once they have formed their opinion on you, it can take months to change this and there is a risk that they will share their views with others before you can win them over.
You have to be in charge of your impact in the room. This can be with your confidence, positivity, energy levels and your voice. Creating impact in the room in turn creates influence outside of the room. This affects the way that people treat you and the likelihood of them liaising with you on important matters.
There are different components to communication which are body language, tone and voice. Around 55% of your communication comes from your body language, therefore you have to display a big impact through your body language. Your words must shine through in your body and voice so that you really demonstrate the importance of your message. Whilst presenting, you need to demonstrate enthusiasm and passion throughout.
Proven methodologies
The first exercise is to think about what your audience at your next board meeting needs to see, hear and experience from you.
Secondly, think about what impact you are wanting to make at this meeting.
The third element relates to how you want to feel. You may want to feel happy and not fearful or less able than others going into the meeting. Focus on what you want to happen, not on what you don't want to happen.
You also need to focus on your confidence, which is a big challenge for many finance leaders who want to make a bigger impact in the board room. You want to keep your thoughts in a calm place as your behaviour will reflect this. It can often help to define what confidence means to you and then determine strategies to help you create this mindset during meetings.
In a boardroom meeting, the best way you will listen and give powerful responses is when you are calm. Your focus becomes narrowed when you are stressed. This may prevent you from properly listening to the different arguments going on around you.
As well as helping your performance levels, being calm and in control are the leadership traits which are most respected by others. If you look at the people you respect, they are usually the calmest people around. This allows them to think clearly, remain in control and provide a broader perspective.
The challenge
When you look around your board colleagues, who are your role models and why? Who in the organisation has made an impact on you and what traits have those people had that you admired?
One part of this is to look back and think of who you have admired in the past. The other part is looking at a current situation. Using your observation skills, listen and watch the dynamics in a meeting to determine who other people listen to.
As a finance leader, your goal is to instigate change therefore you need other people to listen to you. As well as changing yourself, you need to observe the dynamics around you. This is particularly the case within a new role or organisation, as you need to spend the early weeks keeping your eyes open.
The power of three is where you highlight three key points and link each of them to three key facts. Applying the power of three is a helpful approach towards delivering more impact during meetings. When delivering your financial insights, make sure that your messaging is very succinct so that it creates your desired impact.
This approach helps you to focus everybody's attention on the three most important issues that you wish to raise. It also ensures that you powerfully convey the importance and consequences of each message. It will avoid you communicating too much information and potentially losing your most important points in the middle of a long presentation.
When you go into the room, focus on your intention and think about the impact you want to make. If you have visualised it upfront, then it is much easier to make that reality come true.
Think about what you want the other people in the room to take away from your presentation and how you want them to feel after their interaction with you. Most importantly, what do you want them to do differently by listening to you and what will you say to ensure that they do this?