Live Zoom Discussion – Session Summary (16/3/21)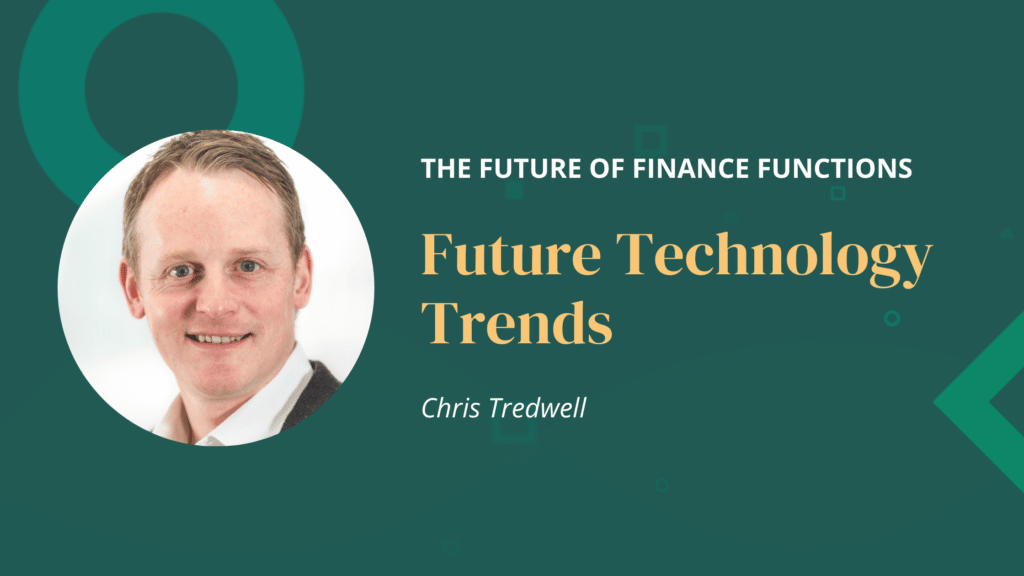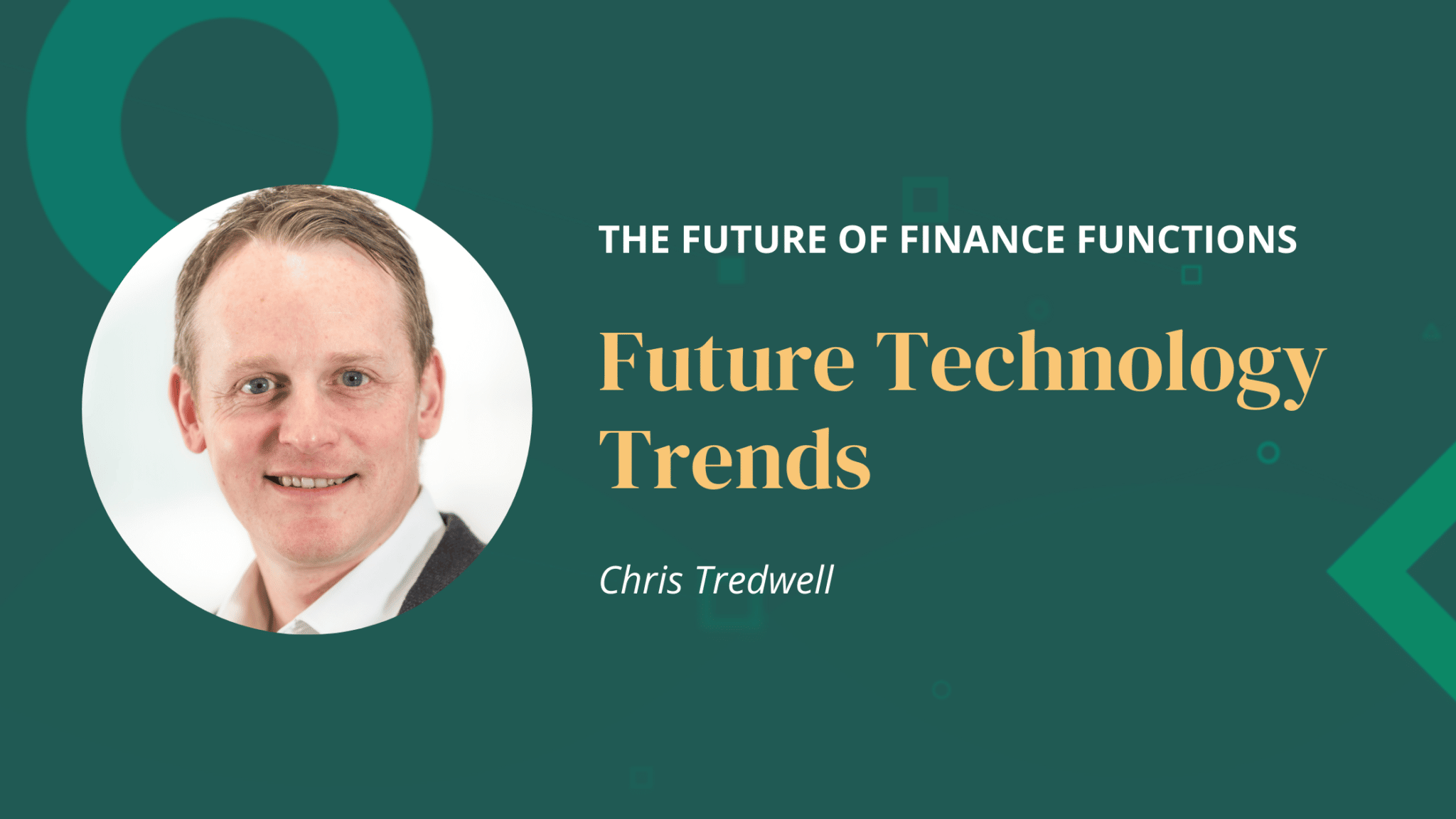 During this session, I took the audience through the key technology I am seeing organisations implement today, as well as the trends and innovations that are going to impact the finance function of tomorrow.
To start with I felt it was important to first understand what is driving technology evolution? In my opinion, it is for one of two reasons; to improve your customers' experience or to identify a competitive advantage. If it didn't, why would anyone adopt it?
One thing is for certain, in the years ahead, finance administration will continue to diminish at the same pace that the time spent on analysis grows . Technology will be crucial in facilitating both.
As we have said in previous sessions; Finance Leaders now need to have an active appetite to understand technology and embrace a culture of continuous improvement. It is no longer a role just for the IT Dept. I encourage you all to make a point of having some involvement in every technology implementation within your business, and not just from a cost or ROI standpoint. Every system in your business will be generating valuable data and you need to be aware it exists. Maybe not right away but know its there for the future. You also need to appreciate what subsequent integrations might impact your team / the wider business.
Whilst I am conscious that people are at varying levels of knowledge and stages of technology adoption within their organisation, as a Finance Leader I think it is studious to have a basic knowledge of all aspects of technology and a thirst to continue your education around this topic.
Current Technology Trends
Let's start by looking at current technology trends that finance leaders are adopting. Our 2020 GrowCFO Finance System Survey told us that 12 months ago the top 5 innovations that finance leaders were looking to adopt were;
Workflows
In addition, some other things I have seen finance departments focus on in the last 12 months include;
Robotic Process Automation – reducing manual, time-consuming processes has become a priority [eg. Expenses / OCR for Invoices etc..]
Forecasting/Scenario planning
[Click here to see a session we ran on this topic a few months ago]
Tech to support flexible/remote working – cloud software, task management, video calling etc…
Data Challenges – Finding one source of the truth!!!
Actionable insight rather than just data – pages and pages of data and graphs are becoming a thing of the past.
Cyber Security – this is no longer a job just for IT dept. It is now an additional responsibility of a finance leader to have an understanding and challenge on this topic. This topic will only grow in importance but we are already seeing Finance Leaders having a heightened awareness around this subject.
Future Technology Trends
We then explored what subjects which will draw increasing focus in the years ahead;
Cyber Security/Risk – an increasing reliance on systems will logically lead to a stricter demand for strong controls.
[Click here to see a session we ran on this topic a few months ago]
Machine Learning – over time the quality of this technology will improve and in turn generate further efficiency and data accuracy,
The use of APIs will continue to increase
[Click here to see a session we ran on this topic a few months ago]
DATA – it is becoming time for finance leaders to consider what data exists to complement the financial information you present to the leadership. Can that be found internally or from third parties? You need to start thinking differently – how can you use data as a competitive advantage or to add value to your customers' experience?
Reporting will evolve into Story Telling rather than just data and graphs.
[Click here to see a session we ran on this topic a few months ago]
Open banking – this new technology will enhance third party software which in turn will lead to further innovations that will benefit the finance function. (credit reporting/ business loans/ banking integration/ business reporting etc…)
[Click here to see a session we ran on this topic a few months ago]
Challenger Banks will not just be popular amongst consumers but offer an appealing alternative for business too.
Cryptocurrency – businesses will build confidence and awareness of the value of using cryptocurrency for global payments.
[Click here to see a session we ran on this topic a few months ago]
Corporate & Social Responsibility (CSR) – businesses will become increasingly environmentally aware (eg. Paperless / Adoption of Cloud Tech due to it being more carbon beneficial etc..)
"When companies move to the AWS Cloud from on-premises infrastructure, they typically reduce carbon emissions by 88% because our data centres can offer environmental economies of scale. Organizations generally use 77% fewer servers, 84% less power, and tap into a 28% cleaner mix of solar and wind power in the AWS Cloud versus their own data centres."
[Supporting article can be read by clicking here]
Wider talent pool – staff will need to embrace change and be willing to retrain. Staff should be giving their bosses a reason to look internally first.
New Job Roles – with new ways of working it is logical to think that new job roles will become popular (eg. Roles to support increasing analytical requirements and technology support)
[Click here to see a session we ran on this topic a few months ago]
Remote social / team building activities – not just a month-end Zoom quiz! With an increase in remote/flexible working, leaders will need to find new ways to ensure their staff engage with their peers. Whilst the older generations may need to work harder to adapt to this, younger demographics will not find this unusual.
Remote development/training – similarly to above, with less face to face time, new technology to support training and development is likely to appear.
An interesting article written by Deloitte shared Eight Predictions for Finance in 2025
[Full article can be read by clicking here]
The finance factory: Transactions will be touchless as automation and blockchain reach deeper into finance operations.
The role of finance: With operations automated, finance will double down on business insights and service. Success is not assured.
Finance cycles: Finance goes real time. Periodic reporting will no longer drive operations and decisions—if it ever did.
Self-service: Self-service will become the norm. Finance will be uneasy about this.
Operating models: New service delivery models will emerge as robots and algorithms join a more diverse finance workforce—think about the integration of freelancers, gig workers, and crowds. (Portfolio AR / AP etc…) ….. Companies will assess the benefits of automation against onshore and offshore operations.
Enterprise resource planning: Finance applications and microservices will challenge traditional ERP. Big vendors will be prepared.
[Click here for an article explaining the evolution of Postmodern ERP]
Data: The proliferation of APIs will drive data standardization, but it won't be enough. Many companies will still be struggling to clean up their data messes.
Workforce & workplace: Employees will be doing new things in new ways, some of which will make CFOs uncomfortable. "Finance talent models are evolving quickly, with a premium placed on data scientists, business analysts, and storytellers."
Another article worth reading on this subject was from Forbes where they discuss The 6 Biggest Technology Trends In Accounting And Finance
[Full article can be read by clicking here]
Big Data – whilst increasing access to data is a huge benefit it will also be an increasing challenge! Establishing a single source of the truth will become even more relevant. It will also force a requirement to be more succinct with the data you report ensuring it has purpose whilst being both insightful and actionable.
[Click here to see a session we ran on this topic a few months ago]
Increased Computing Power – logic suggests that with increasing computer power will come greater capabilities. Coupled with the ongoing rollout of 5G, quicker processing, new innovations and greater advancement in technology will follow.
[Click here for an article that explains The value of 5G v 4G]
Artificial Intelligence (AI) – whilst already creeping into our lives, further advancements can be expected in the years ahead.
The emergence of The intelligence of Things (not to be confused with The Internet of Things)
"When the internet of things, the system of interconnected devices and machines, combines with artificial intelligence, the result is the intelligence of things. The intelligence of things helps finance professionals track ledgers, transactions, and other records in real-time. With the support of artificial intelligence, patterns can be identified, or issues can be resolved quickly. This continuous monitoring makes accounting activities such as audits much more streamlined and stress-free. In addition, the intelligence of things improves inventory tracking and management."
Autonomous Robots
Blockchain will become more widely understood and adopted to securely store and accurately record data.
[Click here to see a session we ran on this topic a few months ago]
Imagine this!!!
I then shared some (maybe not so) silly thoughts of some innovations we might see come into finance in the coming years….
If, as it is expected, storytelling becomes the evolution of reporting, coupled with the next generation of finance leaders being brought up in the online world ….. is it inconceivable to imagine a time we experience Virtual Reality Reporting!
As 5G improves the speed and hence the capabilities of the Internet of Things & Intelligence of Things …… how about a time we might use voice commands to manage finance processes!
"Alexa – run me a P&L Report" …(or)… "Siri – run period close"!
Note – neither of these are in production yet (to my knowledge at least) but maybe you heard it here first !!
Find out more:
If you have any further questions or wish to speak with me in person, I am more than happy to connect on LinkedIn (Found Here) or you can send me a direct message through the GrowCFO portal or via email [chris.tredwell@aqilla.com].